Aanchal Shrivastava took a huge risk when she quit a well paying job to become a full-time singer.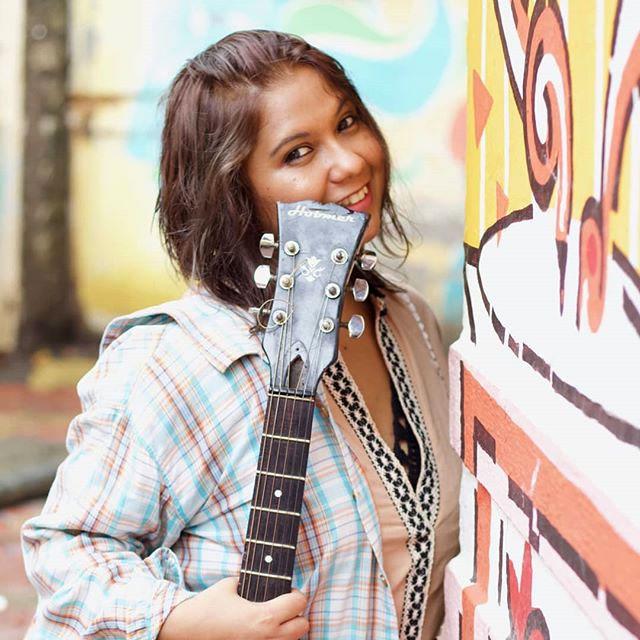 Aanchal Shrivastava was 15 when she travelled with her mother to Chandigarh with dreams in her eyes and auditioned for Channel [V]'s reality show Popstars 2.
She didn't make it to the final round because she was underage -- the minimum age to qualify was 18.
Years later, in 2016, she was one of the 100 finalists at Indian Idol.
The bubbly artist from Gwalior, who says she gave her first stage performance when she was one, believes she was "born to sing" and was willing to go the extra mile to get closer to her dream -- to be a successful singer.
Aanchal, who has an MBA in international business and marketing from the Amity International Business School, is slowly finding her niche as a singer and has sung for television serials, commercials and films.
Aanchal takes Rediff.com's Rajesh Karkera and Hitesh Harisinghani on her musical journey.
"Dad has always wanted me to study -- work, work study all my life. I was working until October 10, 2018," she says.
In 2018, she quit her job to pursue singing full time. "I moved on, saying I will only do music."
"The first time I sang was when I was about a year old. We were living in Chanda (near Nashik in Maharashtra). The song was in Marathi, Asava Sundar Chocolate Cha Bangla."
Aanchal remembers her first performance in the video below:
Aanchal was in school when the reality bug bit her.
"First was Popstars," she recalls about the reality singing show that launched the band Viva.
"I told my friends, 'Next year, I am going to go be a part of them'."
Aanchal was 15 when she found out where the auditions for Popstars Season 2 were happening in Chandigarh.
"I knew I would not be eligible because they were taking people above 18 years and I was 15."
But Aanchal didn't want to give up before trying.
"I cleared a couple of auditions until they asked me for my age certificate."
"The reality fever started from there. Then I applied for Super Singer where I was in the Top 50."
In 2016, Aanchal appeared on Indian Idol and was in the Top 100.
After these musical encounters, Aanchal was clear what she wanted to do.
"I am a singer and I have come here to sing."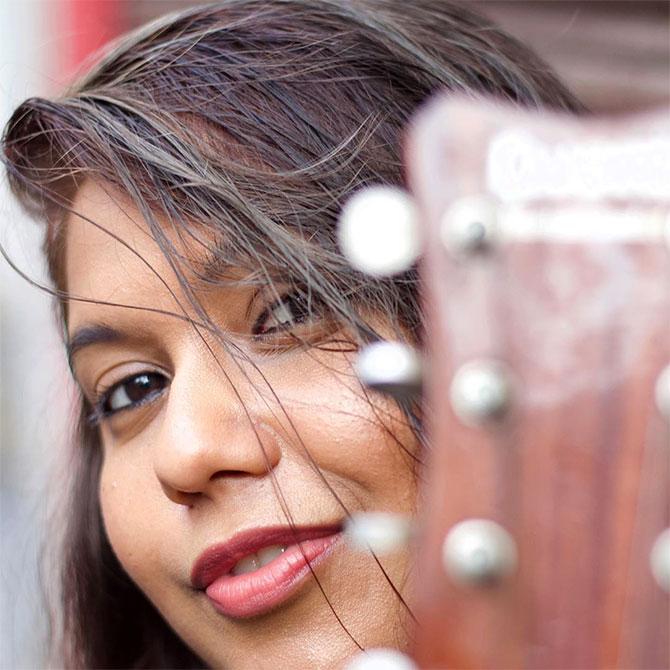 Aanchal is thankful her younger brother Lakshya 'Lucky' has supported her throughout her journey.
"Lakshya is ten years younger. Whatever I am, 90% of the credit goes to him because sometimes you need a push, a helping hand and who better than your family?"
"He's a part of my band. He ensures that my social media is connected, growing, that I'm reaching out to the right sort of people, that my singles are released right. He's my co-founder, my manager... everything," says the 31 year old who recently sung the track Manmauji Re.
Although Aanchal has sung for television and films, she feels jingles are more challenging.
"Jingles are difficult because we are supposed to do a 30 second, 60 seconder. I cannot tweak the composition as per my comfort. In films, composers give you the liberty (to tweak the song)."
"I have a very textured voice, so jingles are extremely difficult for me," she says.
Aanchal worked with composer Mikey McCleary on the Sony Bravia jingle, which she considers one of her most challenging assignments.
"I had to sing Thirke Rang Dham Dama Dham.. Dhum Dama Dum. I also had to sing 10 layers of the chorus multiple times. It took me seven-and-a-half hours to dub the Sony Bravia jingle."
"I dub my playbacks in just two-and-a-half hours," Aanchal adds.
"It took me three-and-a-half years from meeting people to telling them that I sing very well and to make them believe that my sound is different than (merely) making covers (versions of popular songs)."
"Finally, when I'm following my heart by doing originals, by doing my kind of sound, I think I'm getting recognition."
"People want me to sing Manmauji Re, they want me to sing Soona Jahan. They tell me sing Madhaniyan, which I recorded three years ago."
"Believe in yourself and do what your heart says," advises Aanchal, "because that is how you will just take it to the next level."
"Follow your heart. Ask yourself what is best and then you are home. You don't have to do anything else."
"Don't hesitate to fall... but have a strong heart, a strong brain. Don't settle down."