'When women act assertively, express anger or vocalise their accomplishments -- examples of characteristics that are seen among leaders in most organisations -- they often receive pushback because these behaviours do not align with traditionally feminine attributes.'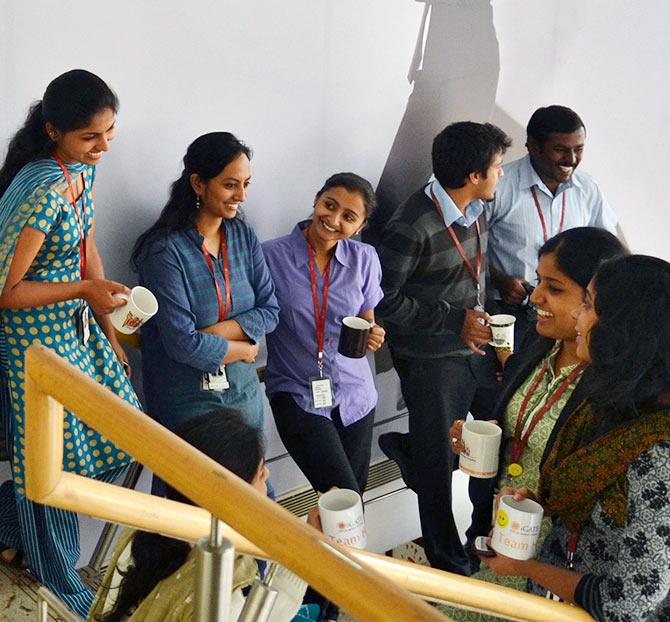 Photograph: Reuters*
Did you know that the rate of unemployment among women engineers in India is five times that of men?
According to the study Walking the Tightrope released in January 2019, 44% men and 30% women engineers have faced bias due to the state or region they come from.
For the study, the US-based non profit Society of Women Engineers surveyed nearly 700 engineers across sectors in partnership with the Centre of Worklife Law at the University of California, Hastings College of Law to understand the problems engineers face at work in India.
45% women engineers who participated in the survey reported that they have to compete with their female colleagues to get the one 'woman's spot' available.
76% of the engineers reported that they have to 'prove themselves over and over to get the same level of respect as their colleagues.'
In an e-mail interaction with Divya Nair/Rediff.com, Roberta Rincon (pictured left, below), PhD, senior manager-research, Society of Women Engineers, elaborates the startling findings of the study, the reasons why women engineers face bias at work and how organisations and managers can help bridge the gap.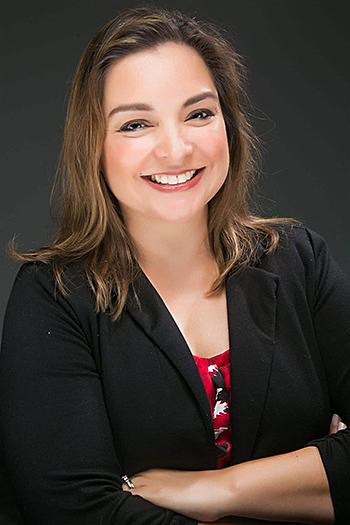 The Walking The Tightrope report says the unemployment rate among Indian women engineers is five times higher than that of male engineers. What, according to you, are the reasons?
Women in India are poorly represented in the labour force, in professional and technical jobs, and in leadership positions.
In urban areas of the country, India's female labour force participation rate is only 21% compared to 76% for men.
One of the major reasons for the high unemployment rate and lower labour participation rate among women centres on society's expectations of women.
The study we conducted in India found that women engineers face social pressure to conform to traditional gender roles, particularly after women have children, as women are expected to be the primary caregiver in the home.
This is in line with prior research that has found that both men and women in India believe that when a mother works for pay, the children suffer.
Another issue facing women is that they feel the pressure to behave in certain ways in the engineering workplace.
When women act assertively, express anger or vocalise their accomplishments -- examples of characteristics that are seen among leaders in most organisations -- they often receive pushback because these behaviours do not align with traditionally feminine attributes.
This can lead to negative comments on performance evaluations, being overlooked for promotional opportunities, and leave women feeling that they do not fit in with the workplace culture.
How can this gap be bridged?
Many companies emphasise their support for diversity in their organisations.
Unfortunately, our findings indicate that many engineers in India do not feel that their organisations truly value diversity.
To help increase diversity within the organisation, including increasing the representation of women, companies must make sure that their employees understand that diversity is a priority.
Supporting diversity involves serious attention to addressing bias in workplace processes such as hiring and promotion decisions.
Real efforts to reduce the impact that bias can have on such decisions can help make women feel that they have equal opportunity to advance in their chosen profession.
What are the other biases that women engineers face?
Many women in our study indicated that they feel the need to prove themselves over and over again in order to get the same respect and recognition as their male colleagues.
This particular bias is common in male-dominated professions.
Because women are few in number, they feel that their work is always under focus.
In other words, when a woman makes a mistake, it is remembered.
Women in our study also reported that their ideas are often 'stolen' or others get credit for their ideas.
What can organisations do to improve and provide equal and dignified work spaces?
One way that organisations can improve their workplaces is by making sure that their employees feel confident that their careers are being driven by merit and not restricted by bias.
Companies should have clear policies regarding processes like hiring, promotions, and performance evaluations that tie to job responsibilities and performance.
Organisations can also seek input from their employees to understand where problems exist and explore solutions.
Encouraging employees to share their experiences, through focus groups or climate surveys, can help leaders identify areas in need of improvement.
At an organisational level, it is often necessary to identify and address biases that exist in workplace processes by looking at different levels within the organisation -- office, department, division, etc.
Women face a lot of pressure -- this has been mentioned in the study as well -- to take on a submissive role at work. How do you advise that they tackle this problem?
One strategy that women can use to try to keep from continuously falling into submissive roles at work is to understand that it is okay to push back on such requests.
In many cases, women are expected to take on certain tasks at work that we categorise as 'traditionally feminine roles'.
Planning office parties, ordering office supplies, taking meeting notes -- these tasks take time away from women's actual job responsibilities and make it harder for them to get ahead.
Ensuring that managers and colleagues are aware of this, and suggesting that such tasks be shared by the group (taking turns, for example), can help reduce the burden on women and change the expectations of their coworkers.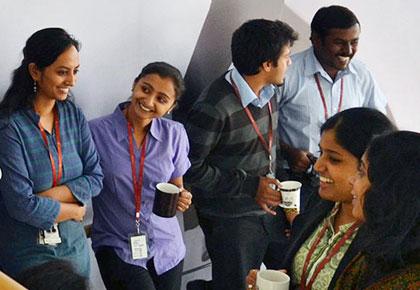 Kindly note that the lead image has been published only for representational purposes