These colleges were the source for entry-level recruitments by the IT industry before the job market began to crash.
Vinay Umarji, Gireesh Babu & Avishek Rakshit report.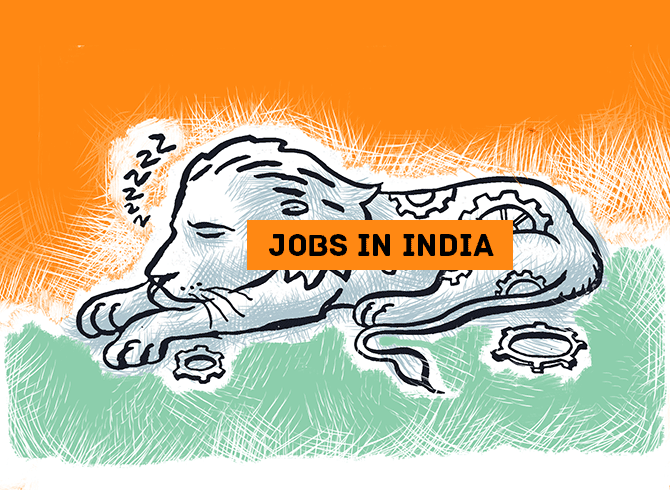 Illustration: Dominic Xavier/Rediff.com
Private engineering colleges are struggling to place their students unlike the Indian Institutes of Technology, which have seen a significant rise in pre-placement offers this year.
These colleges are a source for entry-level recruitments by the information technology (IT) industry. The dull hiring outlook in the infotech industry has not only meant a slowdown in recruitment, but also stagnant compensation packages.
These engineering colleges are trying to improve placements by conducting skilling programmes for students and by inviting other industries such as e-commerce, hospitality and health care to step up their campus hiring.
Hiring experts and placement offices said recruiters were increasingly seeking skilled candidates and were reducing mass recruitment, especially from private engineering colleges.
The effects are visible in the average compensation packages being offered, especially by the infotech industry.
Tamil Nadu College of Engineering, a self-financing college affiliated with Anna University, has seen recruitment by infotech companies slowing down and the average annual compensation declining from ₹3-4.2 lakh to ₹1.5-2.8 lakh.
"Manufacturing companies have also slowed down their recruitment this year," said J Arun, placement officer, Tamil Nadu College of Engineering.
The college has managed to place 50 per cent of its graduating students in the ongoing recruitment season.
At the Techno India Group in West Bengal, the average package for freshers is stagnant at ₹3-3.5 lakh per annum.
The placement process for 1,300 computer science graduates started in mid-September with Capgemini, TCS, Infosys, Computer Graphics India, and Persistent Systems showing up on campus among 30 recruiters. However, no company has committed to the number of engineers they wish to hire.
"Requirement by the infotech industry has dropped by over 10 per cent in recent years. However, major companies are still hunting for talent," said Soumya Kanti Das, senior training and placement officer at Techno India Group.
During the boom years of 2010-2012 Techno India Group's placement record was 85 per cent. This has declined to 60 per cent since 2014-15.
SVNIT Surat, too, expects the average campus hiring compensation package to remain at last year's ₹7.9 lakh per annum.
However, its small computer science batch would be hired in bulk by the infotech industry, said Bhargavi Jagirdar of the training and placement cell at SVNIT Surat.
Recruiters also want more from their campus recruits.
TCS has introduced programming and coding tests.
Wipro not only has a programming test, but also one on writing skills.
Cognizant has two levels of programming tests.
"Automation is taking away infotech jobs, but to make bots work you need human intervention. Companies now need more innovative candidates with technical abilities," said Neeti Sharma, senior vice-president, TeamLease.
According to Sriram S Padmanabhan, director of the career centre at SRM University, recruiters are becoming choosy about the campuses they visit.
"The CGPA requirement is going up or the test is becoming tougher. That is having an effect on the smaller colleges," he pointed out.
In order to fill the void left by the infotech industry, colleges are seeking out sectors such as hospitality, healthcare and e-commerce.
"Hospitality, healthcare and e-commerce companies are hiring for their back-offices and for creating marketplace apps. Smaller towns are seeing the emergence of startups. Other sectors are also hiring," Sharma said.
To address the growing requirements in big data, the Internet of Things (IoT), and Hadoop, Techno India Group is offering skill development sessions in the course-gap vacation period.