'Online teaching requires a new set of skills to be acquired by the teacher.'
'These skills are not like foot sizes or height which can't be improved, but are like muscles which can be developed with some practice.'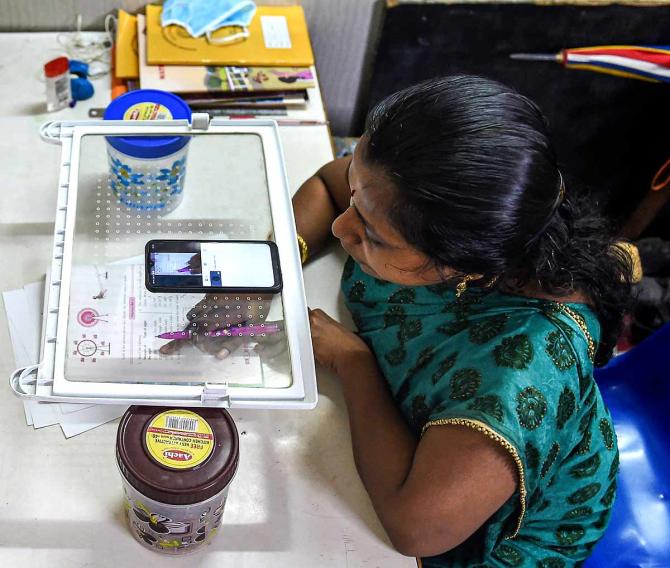 The coronavirus pandemic has forced schools and universities into digital learning.
According to a recent survey conducted by ed-tech firm Schoolguru Eduserve, more than 50 per cent teachers are unhappy with online education.
The report The use of technology and learning in Indian Higher Education Institutes is based on a survey conducted by TeamLease and Schoolguru Eduserve involving 1,200 university professors from across 15 states and 50 universities.
"Teaching in front of a camera brought a lot of discomfort for the teachers. With no formal training on online learning pedagogy most teachers started replicating classroom teaching in front of the camera," Schoolguru Eduserve founder and CEO Shantanu Rooj tells A Ganesh Nadar/Rediff.com.
Rooj, a CBSE all India topper, gold medal from the Institute of Technology, Banaras Hindu University and an alumnus of IIM-Calcutta, founded Schoolguru Eduserve in 2012 with the aim of changing the way open and distance learning is delivered to higher education students in India.
Your survey indicates that 50% of the teachers were uncomfortable with online teaching. What were their challenges?
Most educators would agree that teaching in front of a live class is very different from teaching students online.
Online teaching requires a high degree of digital literacy on the part of the faculty member.
Teaching students on the virtual classroom platform requires the faculty to develop camera-comfort.
It also requires understanding the various controls that s/he has to manage his class efficiently.
Moreover, online teaching requires a new pedagogy to be followed -- just replicating physical classroom in an online portal does not work.
Teachers also need to discover new ways to engage students, build interactivity and assess them continuously using new technologies available. All this and more requires proper training and a lot of practice.
Can you narrate a few instances of the difficulties that teachers faced while taking classes online?
Teachers faced several problems while they jumped into this online learning bandwagon unprepared.
Understanding of the learning management system was the first bottleneck for most teachers.
Not more than 10% of the 15 lakh teachers in Indian universities had ever used any format of online learning before this pandemic.
Evidently teaching in front of a camera brought a lot of discomfort for the teachers.
With no formal training on online learning pedagogy most teachers started replicating classroom teaching in front of the camera.
Lack of training on virtual learning platforms did not help either - teachers did not understand the various controls and functions of these platforms and hence online classes were a lot of chaos.
Universities were not prepared to set up a student support infrastructure to help students navigate their initial problems -- this led to a lot of dissatisfaction among students.
Most teachers did not have any experience or expertise of creating content for online teaching and online courses -- with no opening balance, creating online content started becoming a stressful exercise for most teachers.
Teachers also did not have a question bank which they could use for conducting continuous assessments for their students.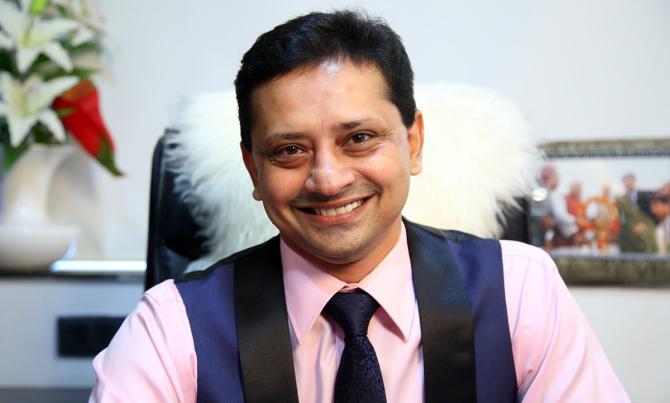 Do you think the concerned Universities and colleges were not trained to make this transition?
The pandemic was unforeseen and impact of this has been unprecedented.
The apathy of Indian policymakers and regulators towards online education has not helped the universities.
The Government of India banned online degrees in 2015 whereas international universities could enroll large number of Indians students for their online courses, Indian universities were left barred.
Most Indian universities and colleges had never used any format of online learning in the classrooms before the pandemic struck us.
This disregard and disdain of technology in education has led to the situation as we see today.
What kind of skills do teachers need to move from classroom to online teaching?
Online teaching requires a new set of skills to be acquired by the teacher.
These skills are not like foot sizes or height which can't be improved, but are like muscles which can be developed with some practice.
Starting with digital literacy and friendliness towards use of the computer, teachers need to be trained on the new pedagogy which can make online learning engaging and personalised.
They need to be trained on the use of a learning management system and the various tools that are available therein. They need to think about new ways of delivering content, new ways of conducting assessments and new ways to foster peer to peer learning.
When you say online courseware, how different is that from the syllabus and textbooks you get for normal classes?
Online courses are taught using multiple vectors self learning material which the students can consume at their own free time, virtual classrooms conducted by the teacher, discussion forums and interactive project work which can facilitate peer group learning, assignments and assessments, chat rooms, online project work and several other.
The self-learning material could be in the format of brief textual material which the students need to go through before they come for the interactive session with the teacher.
Self-learning videos are interesting way to engage the learner - several institutions have worked upon their videos to make them more interactive and interesting.
Since the students do not get to meet their fellow students often, use of self-assessment is a good way to help the learner monitor their own progress.
Digital education is the need of the hour. In your opinion, how can teachers be made comfortable?
Universities and colleges must put forward a project to ensure that the teachers are well equipped and trained to take care of the online classes.
There are several service providers who are conducting training programmes for teachers to get ready for online teaching.
The teachers could also be provided with the required IT infrastructure (laptops/tablets/Internet connectivity) to ensure that they are being able to conduct the training comfortably.
Do you think online classes can make up for classroom teaching?
Most educators believed that online learning has a lot of potential and can transform education.
However years of repackage PowerPoint presentations and textual notes provided to students as e-learning, has disappointed education administrators.
Online learning obviously takes away the physical limitations of a classroom, allows standardisation of delivery of quality learning, facilitates personalisation and individualisation of learning providing each learner with individual learning paths, provides flexibility of time in space to the learner.
The future of learning shall be a life form of education which is always on, on-the-go, online, on-site, on-the-job, multimodal, multilingual, distributed, crowdsourced and gamified. But online learning cannot replace physical classrooms all the time -- there are several courses and curriculum which can be best taught in a face-to-face format only.
We are into the 6th month of the lockdown. That should have been sufficient time in ironing out the kinks?
Just when the pandemic hit us, colleges and university campuses started shutting down, the initial response of universities was self-denial.
Most colleges and universities believed that this temporary phenomenon would pass in the next few months and normal classroom education would resume. Hence most university management teams followed a wait and watch policy for the first one quarter.
Only in the second quarter of the pandemic did some of the colleges start taking baby steps in this space.
Even today most public colleges and universities, where a large number of students are enrolled, do not have a comprehensive digital infrastructure and a strategy. We are miles away from where we should have been by now.
Your advice to students who are attending online classes.
The pandemic has caused several inconveniences to the students and faculty.
With no exposure to online education before the pandemic, the students have shown a lot of resilience and have tried to adapt themselves to this new format of education.
They are struggling to get their equipment, be it laptops, mobiles and desktops, with a continuous Internet connection.
Most Indian households would have only one such device available with them -- which in these times need to be shared between a student, the siblings and even the parents for their work from home requirements.
Hence universities would need to ensure that the online teaching which they are delivering is accessible across multiple types of devices so that the students can use whatever device they have at the disposable to access their classrooms.