Treat your loved ones to these awesome flaky treats that are super easy to make.
Food blogger Nadiya Sarguroh has a recipe for you.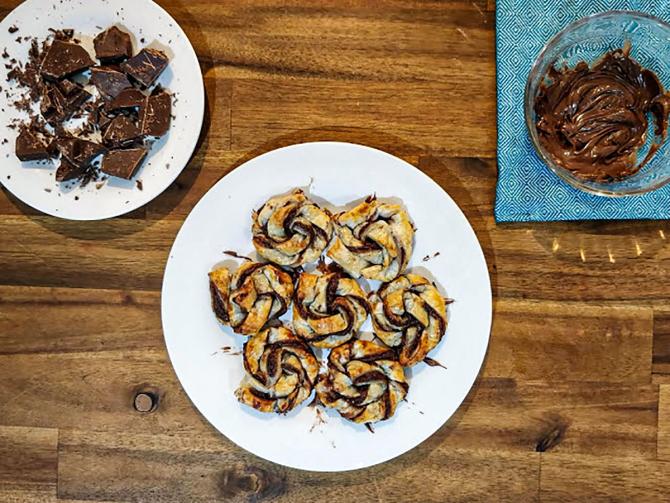 Nutella Puff Pastry Swirls
Ingredients
2 pre-rolled puff pastry sheets, easily available in specialist baking stores and online
2 tbsp chocolate and hazelnut Nutella spread
1 egg
Baking/butter paper
Butter for greasing baking tray and baking/butter paper
Method
Preheat the oven to 200°C.
While the oven is pre-heating, take one of the pastry sheets and spread it out.
Spread a thin but uniform layer of the Nutella on it.
Place the second pastry sheet on top of the first sheet.
Gently keep patting the sheet to flatten both sheets into a kind of a sandwich and seal the edges.
Using a pizza cutter, cut vertical, 10-14 inch strips, along the longer edges of the pastry sheet.
Hold the sealed edge and twist each strip. Roll it into a swirl.
Grease the tray and then line the tray with the baking paper and grease.
Place each swirl on the baking tray, at least 1 inch apart.
Whisk the egg and using a pastry brush, coat the swirls generously with the whisked egg mixture.
Bake the swirls in the oven for 15 minutes or until golden brown.
Take out of the oven and let it cool on a rack, before serving it with a cup of hot chocolate. These swirls can be had for breakfast or as a dessert.
Nadiya Sarguroh lives in Mumbai and publishes the food blog HautePot.