After a heavy New Year lunch, relax with a cup of tea and some savoury Chicken and Cheese Croissants.
Prepared in a jiffy, Nadiya Sarguroh's recipe needs just a few ingredients.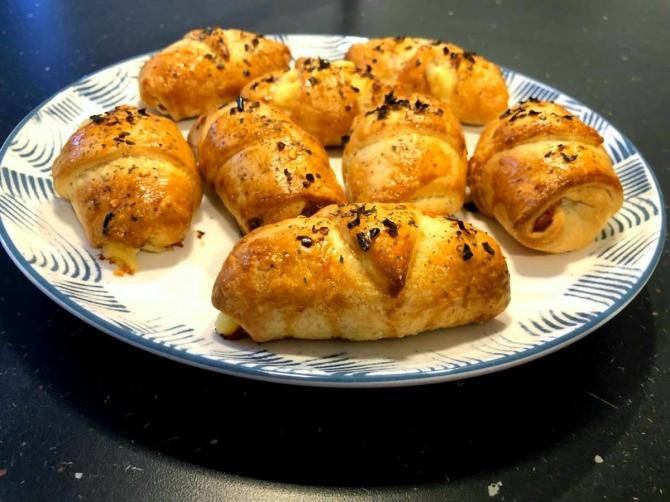 Chicken and Cheese Croissants
Servings: 8
Ingredients
4 puff pastry sheets, available in gourmet grocery stores or pre-order puff pastry dough from a local bakery
8 slices chicken salami
200 gm cheddar or mozzarella or mixed grated cheese
1 egg, beaten
Chilly flakes, for the garnish
Mixed herbs, for the garnish
Butter for greasing the baking tray
Method
Butter a baking tray and line with butter paper.
If using puff pastry dough, roll it out into a rectangle on a floured surface.
Using a sharp knife or pizza cutter, slice into four squares and then cut each diagonally so you have 8 equal triangles.
Pull the two corners at the base of each triangle to stretch it.
If using puff pastry sheets, skip the above steps.
Slice each of the puff pastry sheets diagonally to get 8 triangles.
Place a rolled slice of the chicken salami on each triangle.
Top it with some of the cheese.
Brush some of the egg, using a pastry brush, on the sides of the puff pastry and gently roll it from the base of each triangle into a croissant.
Repeat the process for the remaining 7 triangles.
Transfer the croissants to the butter paper-lined baking tray.
Each croissant should be spaced well apart from the next.
Using a brush, generously glaze the croissants with more egg.
Garnish with mixed herbs and chilly flakes.
Bake at 200°C for 20-25 minutes or until risen and golden brown.
Take out of the oven and cool briefly on wire racks.
Serve warm with chai/coffee.
Nadiya Sarguroh lives in Mumbai and publishes the food blog HautePot.