Say goodbye to forts and palaces... it's time you embraced some unfamiliar, non-touristy experiences in Rajasthan.
We'll tell you how to do it without burning a hole in your pocket.
ALSO SEE: 10 secret experiences about Goa no one will tell you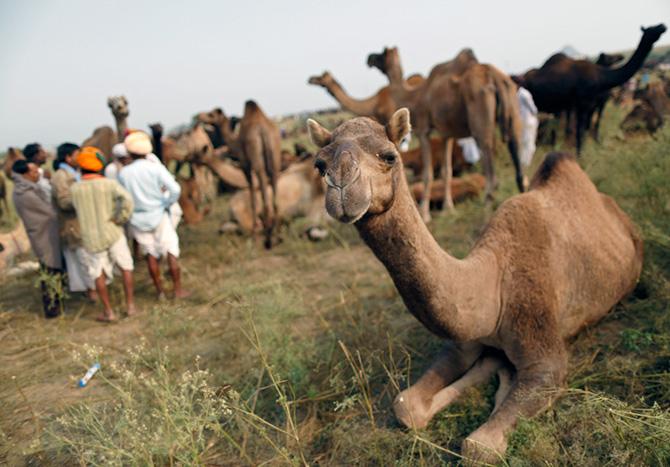 Photograph: Ahmad Masood/Reuters
Rajasthan is popularly known as 'the land of ancient forts, havelis and palaces'.
A visit to some of the spectacular homes of kings and queens -- proof of its opulent history -- will leave you mesmerised.
There's the majestic Amber Palace, the City Palace and the Hawa Mahal (Palace of Windows), known for the invigorating breeze that blows through it, in Jaipur.
In the dusty city of Jodhpur stands the magnificent Mehrangarh Fort -- probably one of the most well-maintained of the many forts that dot Rajasthan -- and the luxurious Umaid Bhawan Palace, a golden sandstone complex with lush gardens.
All these palaces and forts are worth a one-time visit. But, trust us, there's more to this state.
Read on to find out 10 unusual experiences you can enjoy while you are there!
1. Go dune-bashing and stay in tents in Jaisalmer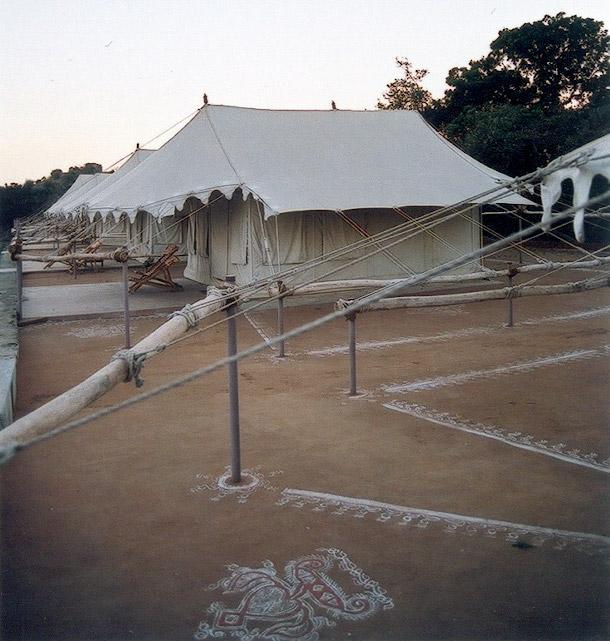 IMAGE: Live differently... try a tent. Photograph: Kind courtesy Vincent Desjardins/Creative Commons
Imagine this: A tent right in the middle of a desert, with camels lazing around, a campfire dinner and Rajasthani folk dancers dancing in the light of a bonfire. Quite an experience, isn't it?
These tents have all the facilities, except for an air-conditioner.
You can always book a stay in a tent close to the sand dunes, away from the touristy areas.
Word of caution: During the night, the temperature dips and there is a chill in the air, especially during winter. So be prepared to brave it out.
Living in tents means answering nature's call in a makeshift structure.
You can also take a camel safari to explore the sand dunes or take a camel ride to watch the sunset.
2. Explore the haunted trail around Jaisalmer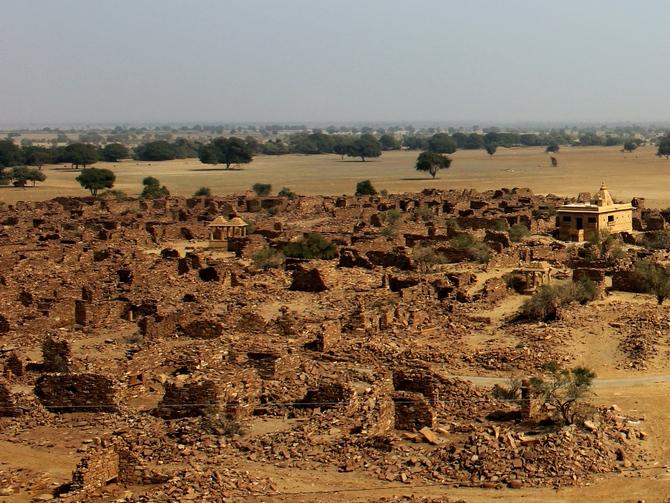 IMAGE:
A ghost town in Rajasthan.
Photograph: Abhishek Mande Bhot/Rediff.com
The locals call it the Ghost Town of Jaisalmer.
Once, it used to be one of the wealthiest villages in Jaisalmer. Today, Kuldhara is abandoned.
As per legend, the Paliwal Brahmins who inhabited this village were threatened by Salim Singh, the tyrannical and debauched prime minister of Jaisalmer's ruler, Mulraj Singh II, who had set his sights on a young girl from the village.
The villagers feared they would not be able to fight Singh so, overnight, they fled, abandoning their ancestral homes.
Till date, the village has not been occupied due to fears that it is haunted -- people have also claimed to have witnessed strange paranormal activities there.
Once you reach the village, you'll notice rows and rows of ruined mud houses and a temple.
2. Get a bird's eye view of Rajasthan from a hot air balloon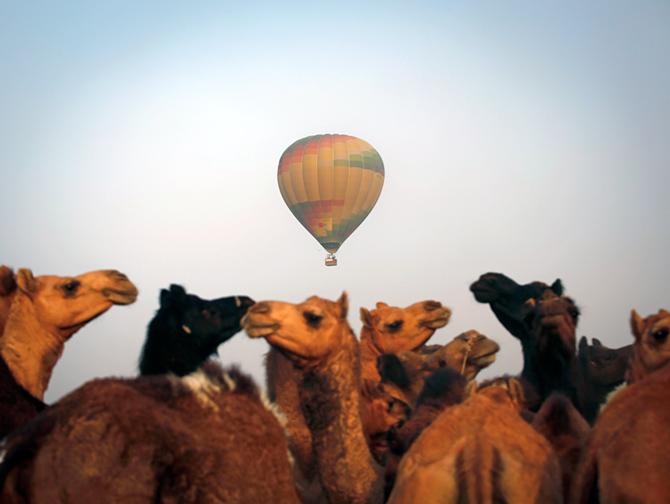 IMAGE: The best way to enjoy Pushkar Fair is from a hot air balloon. Photograph: Danish Siddiqui/Reuters
It's a thrilling way to explore the pink city of Jaipur.
There are hot air balloon rides operating from Pushkar, Jaisalmer, Jodhpur and Udaipur too.
But the most interesting ride is the one where you can watch the wildlife at Ranthambore National Park from a hot air balloon.
3. Sample the Jungli Maas at Handi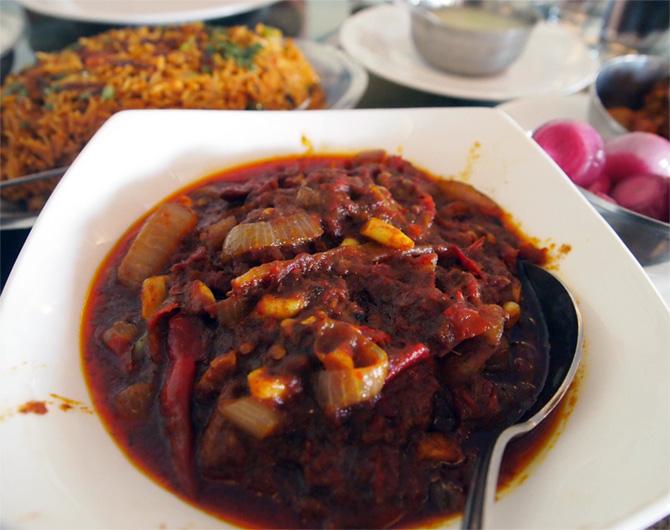 *IMAGE: The Jungli Mass and Laal Maas at Handi restaurant are killer dishes that you just cannot ignore. Photograph: Kind courtesy Gagandeep Sapra/Creative Commons
Everyone knows Rajasthan is famous for its Laal Maas. But when you are there, you must try the Jungli Maas too.
It's spicy and eating it feels like you are biting into 10 green chillies in one go. But once you have had a spoonful of the curry, you'll feel compelled to go back for more.
If you're in Jaipur, we suggest you visit Handi restaurant and taste their Laal Maas and Jungli Maas. Save space for dhaba-style food as well.
Where to eat: Handi, Opposite GPO, MI Road, Jaipur
*Photograph used for representational purposes only.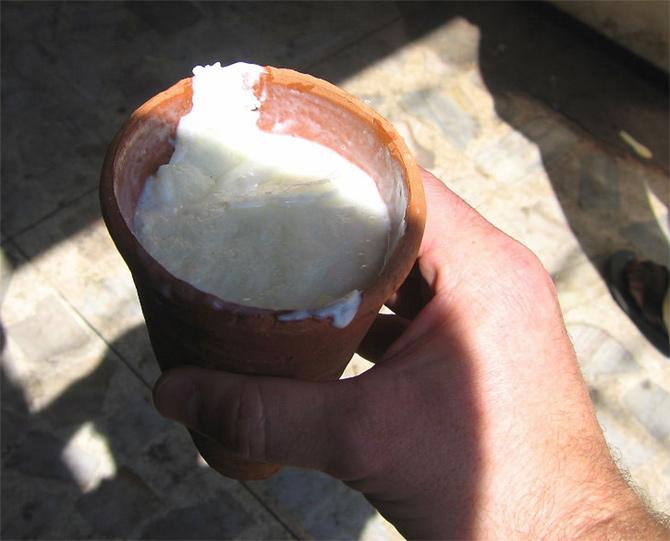 IMAGE: Drink lassi from a clay tumbler once and you'll never want to have lassi any other way, ever. Photograph: Kind courtesy Bryan Allison/Creative Commons
Just across the road, there are dhabas serving delicious food.
You can also bite into a delicious aloo paratha and sip on a lassi, which is served chilled in a clay tumbler.
Jaipur also has delicious ice cream lassi that's worth a try.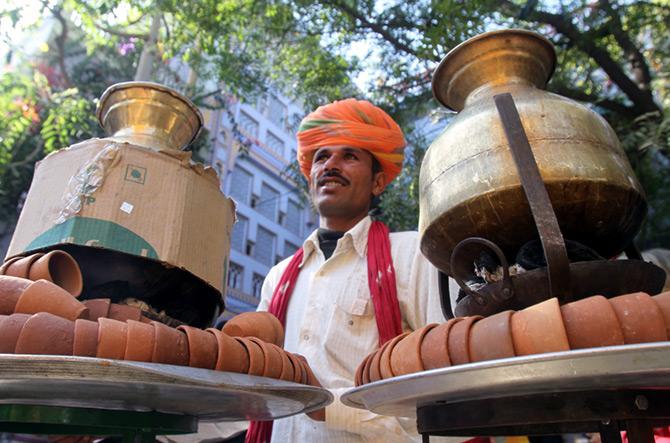 IMAGE: You will get a piping hot cup of chai in a khullar for less than Rs 10. Photograph: Altaf Hussain/Reuters
Don't forget to drink chai from a roadside stall in Rajasthan.
The chai is served in clay khullars. Do ask for a plate of hot bhajias or spicy pakoras to go with your chai!
Rajasthan dairies: Where old meets new
4. Attend a music session at Gadisar Lake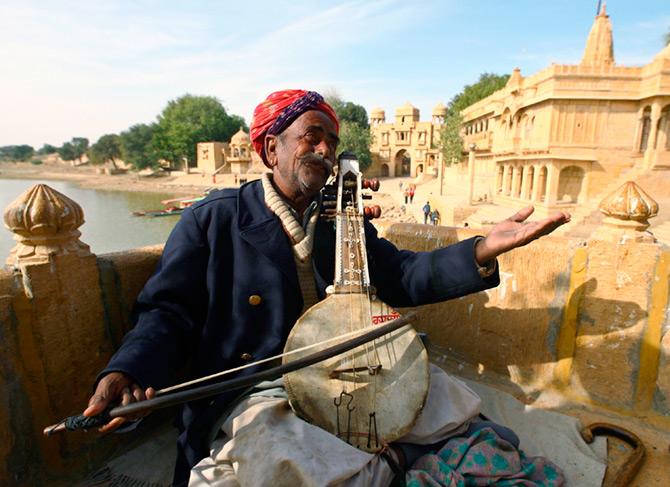 IMAGE: It is rare to find a lake in the middle of a desert. Visit Gadisar lake during the Gangur festival (March-April), when it comes to life with music and dance. Photograph: Vijay Mathur/Reuters
This charming lake looks surreal at sunset.
It is surrounded by beautiful small temples.
You can take a boat ride or just relax and enjoy a musical evening by the lake.
If you do take a boat ride, don't forget to ask your boat rower to narrate the story of Teelon-ki-poli.
5. Visit the temple of rats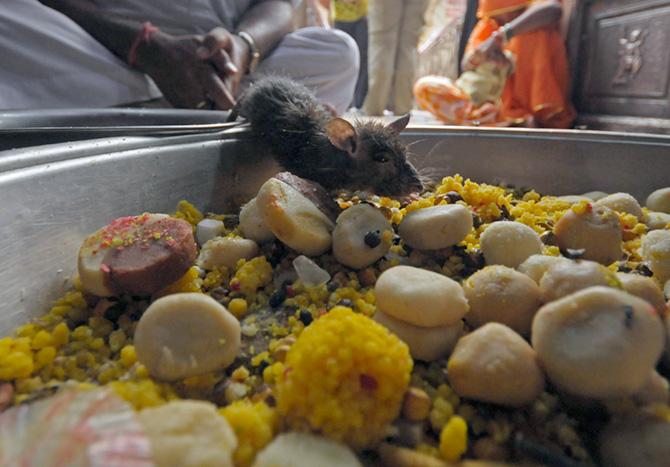 IMAGE: The temple is home to thousands of rats. Don't be surprised if the locals insist that you eat the prasad nibbled by the rats, as it is considered holy. Photograph: Krishnendu Halder/Reuters
Scared of rats?
At Rajasthan's Karni Mata temple, rats are worshiped.
You will see thousands of them scurrying around and sipping milk from huge saucers placed in the temple compound.
The rats are venerated as the holy descendants of Karni Mata, who was worshiped as an incarnation of the Hindu goddess Durga during the 15th century.
How to get there: It is around 30 km from Bikaner.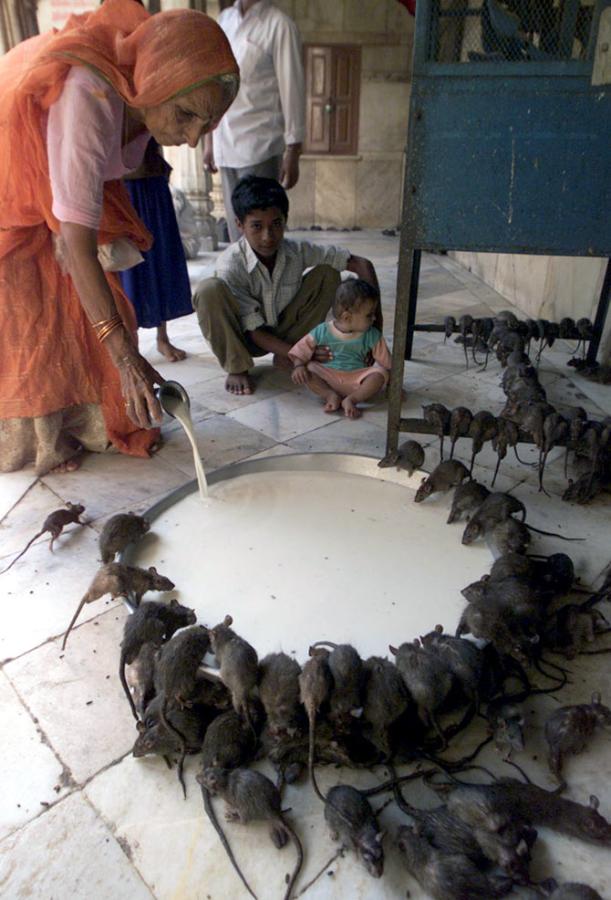 IMAGE: These rats don't mind the presence of humans. Photograph: Kamal Kishore/Reuters
6. Pray at the Bullet Baba shrine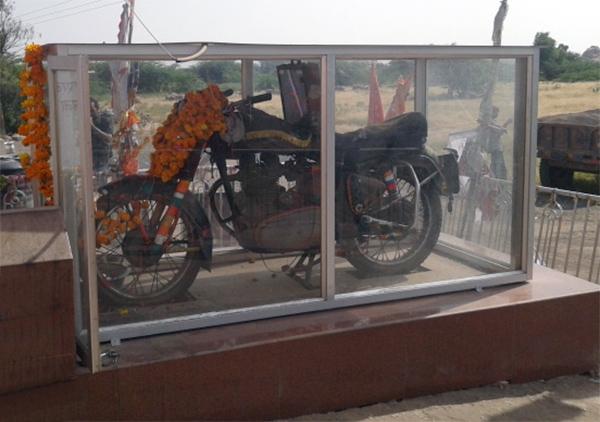 IMAGE: Rajasthan is probably the only place in India where the deity in the temple is a Royal Enfield motorcyle. Photograph: Kind courtesy Sentiments777/Wikimedia Commons
You'll find this unique shrine, devoted to a motorcycle, in Pali district near Jodhpur.
There is a backstory... it is believed that, in 1988, Om Singh Rathore alias Om Banna was killed after he lost control of his Royal Enfield and crashed into a tree.
The damaged bike was then taken to the police station.
But, to everyone's surprise, it was spotted at the accident site the next day.
Since then, the bike has continued to stand at the site which has now been converted into a shrine known as the Bullet Baba temple.
Those of who who've seen the recently released Dhanak would have spotted the Bullet Baba temple in a pivotal scene in the film.
How to get there: It is situated on National Highway 65 in Pali, Jodhpur
7. Spot the Royal Bengal Tiger at the Ranthambore National Park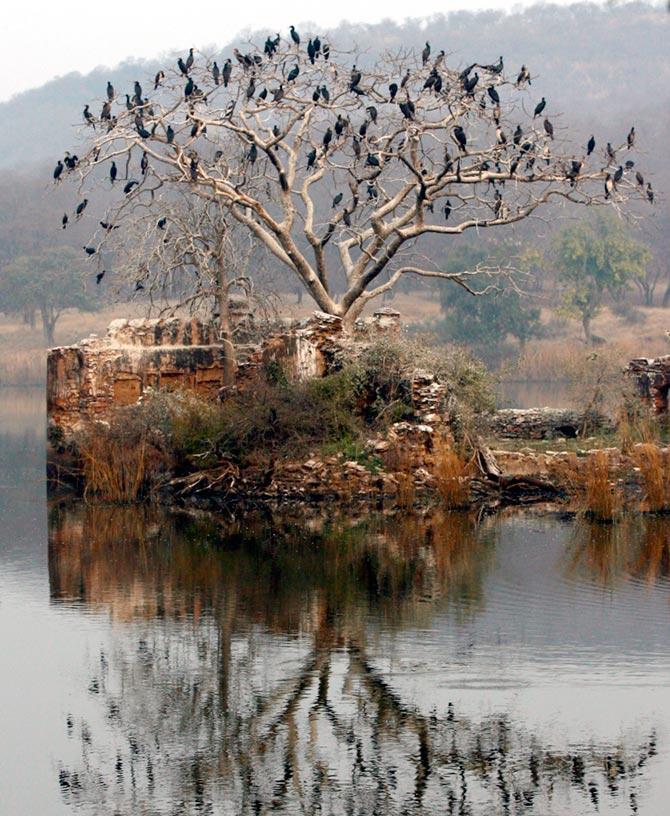 IMAGE: The gorgeous Ranthambore National Park is dotted with magnificent lakes and is home to some rare species of birds. Photograph: Vijay Mathur/Reuters
It's a photographer's dream come true and the best place to spot tigers in Rajasthan. Wildlife enthusiasts need to visit this park once in their lifetime.
Did you know that this national park was once the Maharaja of Jaipur's hunting ground? The drive to reach there is a fabulous experience.
The park is now home to around 300 species of birds.
The tigers here are easier to spot as they are used to human presence. You might even spot Machali, the tigress, who is a celebrity in her own right.
The 10th century Ranthambore Fort is also situated inside the park.
How to get there: Ranthambore National Park is around 11 km away from the Sawai Madhopur railway station.
Well-connected from Sawai Madhopur by buses, it's open from October to mid-June. Be sure that you check their website before planning your trip.
8. Or head to the Sariska Tiger Reserve
IMAGE: The Sariska Tiger Reserve offers plenty of sights worth capturing in your camera. Photograph: Kind courtesy
Situated in the Aravalli Hills, it's a fascinating sanctuary.
In the monsoon, you'll spot peafowls dancing in the rain and, in summer, you might spot the majestic tiger.
The sanctuary is also home to monkeys, sambar deer, wild boars and jackals.
How to get there: Near Kraska, Alwar District, Sariska
Sawai Madhopur is the nearest railway station to Sariska, around 11 km away. There are regular bus services which connect Sariska to other cities in Rajasthan.
9. Take a horse-riding lesson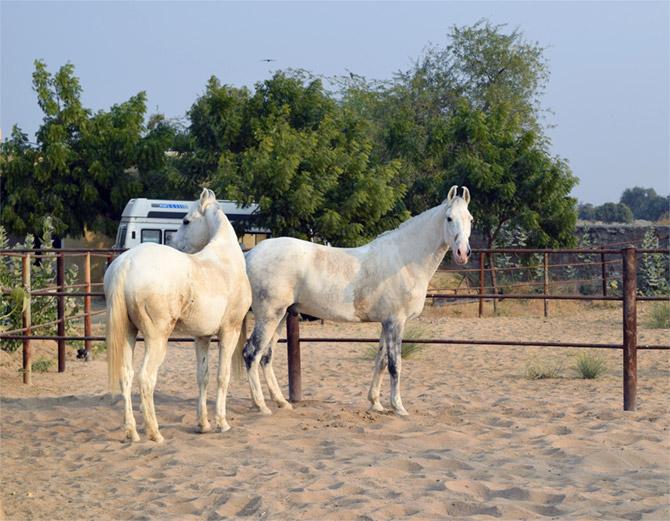 IMAGE: Camel rides are common in Rajasthan, but what about a horse ride? Photograph: Kind courtesy Bombman/Creative Commons
Here's your rare opportunity to travel back in time -- away from the chaos of the busy cities of Rajasthan -- and feel like a true Rajput warrior galloping into a battle on a horse.
If you're one of those who'd love to take riding lessons, head to Pushkar and meet French-Canadian Marc Dansereau of Shannus Hotel and Horse Riding School.
Marc, who has been living in India for the last 27 years, will gladly organise riding lessons and horse safaris for you.
Teaching is free and an hour-long riding session will cost you Rs 600. A crash course will see holding the reins and trotting like a pro.
If you choose to stay over at the ranch, be prepared to roll up your selves and dig into some delicious home-cooked organic meals.
There are riding tours organised during the Pushkar fair too! But the long trip is not for the faint-hearted. Given the heat and dust, travelling for long miles.
Where to do it: Head to Punchkund road, Pushkar, Ajmer district
ALSO SEE
The life and times of a modern princess
#Pushkarfair2015: 12 fantastic reasons why you should head to Pushkar