'As Indians we have pride, as Rajasthanis we have pride and as Rajputs we have pride.'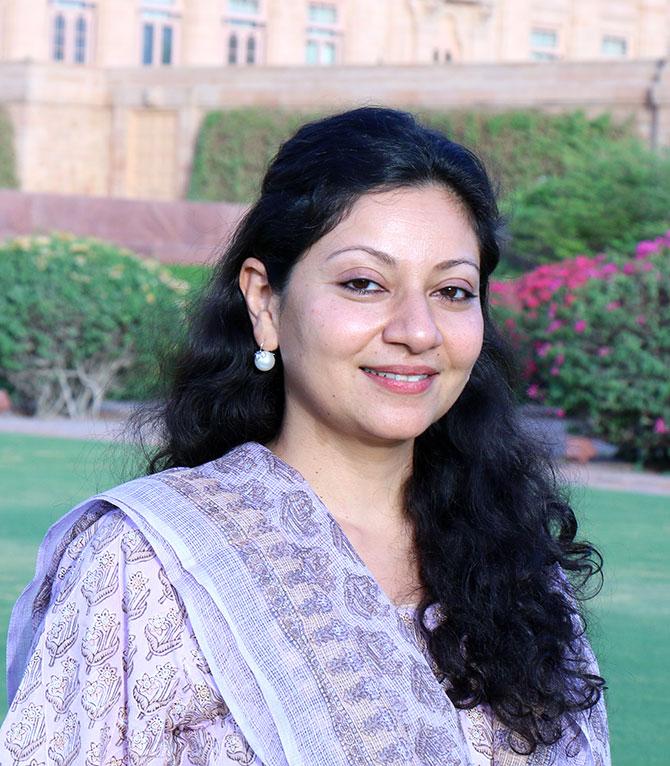 'I am not a fan of the static tradition. As long as it is dynamic, you don't have to go from tradition to modern. It is the same,' says Shivranjani Rajye of Jodhpur.
On the sixth leg of their 2,148 km journey, Rediff.com's Archana Masih and photographer Rajesh Karkera meet the friendly princess who is breathing new life into dead forts and quietly changing the House of Marwar.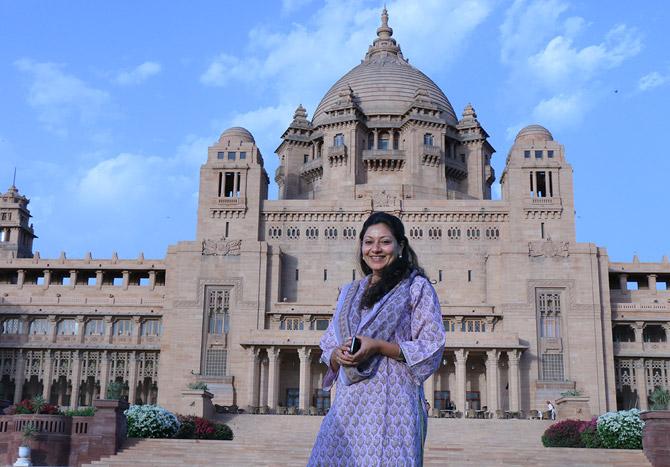 IMAGE: Shivranjani Rajaye, the only daughter of Maharaj Gaj Singh II of Jodhpur, on the lawns of the Umaid Bhawan Palace in Jodhpur. Photographs: Rajesh Karkera/Rediff.com
"Khamma Ghanni."
As Shivranjani Rajye walks through the grand corridors of the Umaid Bhawan Palace in Jodhpur, the staff wish her with Marwar's age-old greeting.
The 41-year-old, Cambridge-educated and only daughter of Maharaja Gaj Singh II, folds her hands in a namaste and greets them back.
"We all wish each other like that. Though it means a thousand apologies, it is not actually an apology but a greeting," she says, leading through the opulent art deco 347-room palace which is one of the world's largest private residences.
The royal office is lined with antlers from past hunting expeditions, photographs of Indian and international royals and classics on religion, philosophy, and magic. An old Godrej safe inscribed with 'Maharaja Umaidsinghji Sahab' stands in a corner, the size of a small cupboard.
Her great, great grand father Maharaja Umaid Singh laid the foundation stone of the palace that was completed in 1943. The entrance has the coat of arms of the Rathore kings who founded the city five centuries ago. The 100-feet high dome is circled with taxidermed panthers and tigers that overlook gilded furniture and those who sit in them.
Outside, a wide manicured lawn stretches out like a carpet of green with bougainvillea bushes neatly trimmed into colourful balls.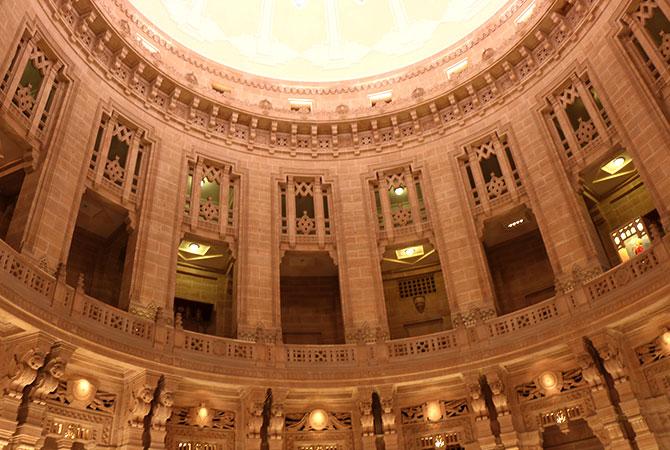 IMAGE: Umaid Bhawan is part residence, part hotel and part museum. The family moved here a little before Independence.
A part of Umaid Bhawan is one of the Taj's grandest hotels, voted the world's best hotel this year. The family's private residence is in another wing of the palace with its own indoor pool, squash court and gardens.
Shivranjani remembers cycling under its dome and taking friends to the whispering gallery when she came home for the holidays from boarding school.
"We had a run of the place. It was such fun," she says with a cheerful smile, as we settle down in the hotel's Trophy Bar for a conversation. An assortment of mirchi pakodas, samosas, pastries and macaroons are served with masala tea, but she prefers green tea.
Dressed in a simple and elegant pastel salwar kurta dupatta, Shivranjani has just come from attending a business meeting with her brother Prince Shivraj Singh.
Ten years since she started working in the family's businesses, she has played an important and transformational role in the ventures of the Jodhpur royals. In doing so, the princess, who is single, has set the trend for women leaders in the family's vast and diverse properties that include palaces, forts, museums and hotels.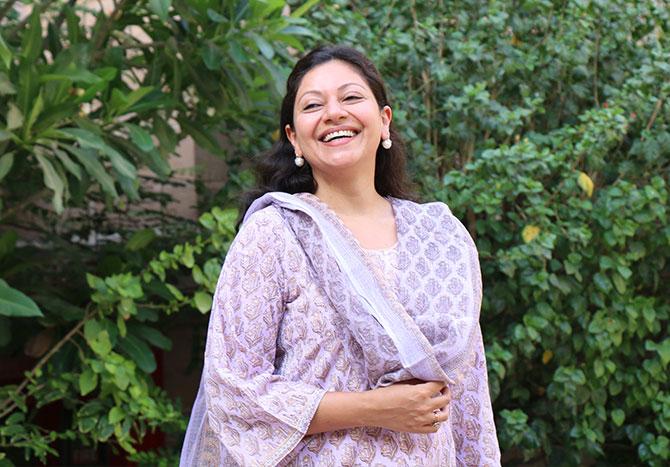 IMAGE: Shivranjani has played a transformational role in the family's ventures.
"Without work I wouldn't have much else to do. With the festivals and hotels, eight months a year, Jodhpur is full with activities. People are coming again and again," says Shivranjani who studied anthropology at Cambridge and filmmaking in New York.
She is actively involved in running the Mehrangarh and Nagaur fort-cum-museums, the annual music festivals and the family's hotel properties. Work is underway on a 20-year project on re-imagining Mehrangarh for future generations.
The trust has also brought on board the UK-based Courtauld Institute to start India's first painting conservation training programme in Nagaur. "For the first time there will be trained people from India to work on sites like Ajanta and Ellora," she explains.
The museum trust also includes advisors like the former head of the British Museum, Neil MacGregor, who The Daily Telegraph said 'made the British Museum truly majestic.'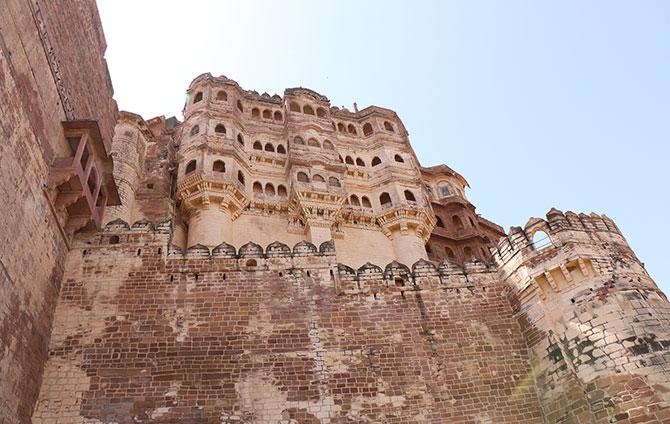 IMAGE: The ramparts of the Mehrangarh Fort in Jodhpur. After the royal family moved out, it was closed for many years. Only bats lived here then.
A visit to the Mehrangarh Fort shows that the team's efforts have borne fruit -- it perhaps provides India's best fort-museum experience, where young school students come to intern during the holidays. It had more than a million visitors last year, says Museum Director Karni Singh Jasol, who has played a pivotal role in transforming the museum.
"Our staff is told that the visitor's experience begins as soon as s/he gets off the car," says the dignified director of the museum. Jasol previously worked with the Smithsonian Museum in Washington, DC and is curating an exhibition on Rajasthan that will travel to Houston next year.
"This entire fort tells a seamless, evocative story -- not only of the kings and queens, but stories of all the other people who lived here."
Some brilliant restoration work has breathed new life into the fort making it hard to believe that bats were its only inhabitants once upon a time. The fort had remained closed for many years after the royal family moved to the modern Umaid Bhawan a little before Independence.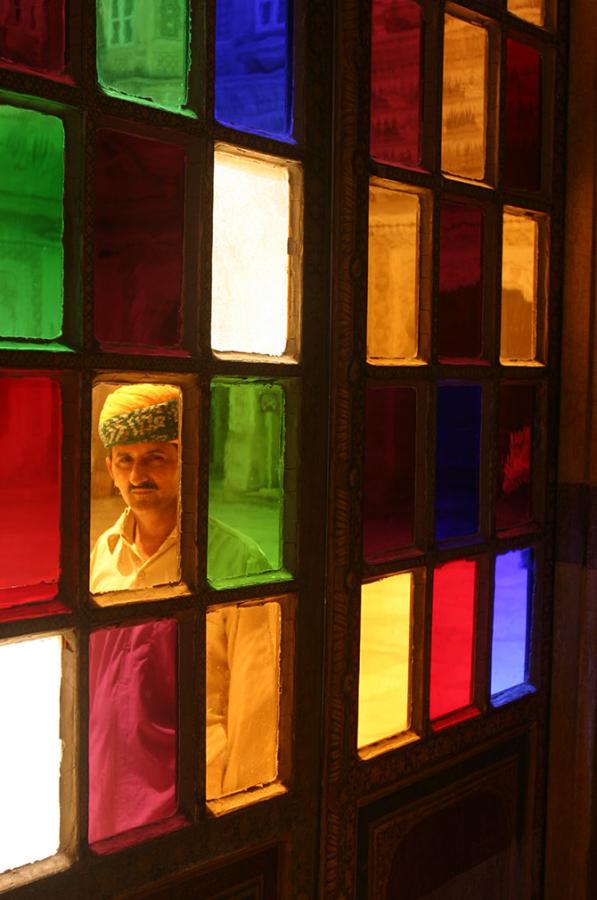 IMAGE: The museum within the fort has been restored beautifully by an excellent curatorial team.
At Independence, as part of negotiations with the new Indian government, royal families retained some historic properties.
Gaj Singh retained Umaid Bhawan and the Mehrangarh Fort, where he was crowned at the age of four. His father Hanwant Singh perished in a plane crash while contesting India's first general election in 1952.
The marble platform and throne where the coronation took place occupies a prominent part in the central courtyard. Rajputs warriors had put a tilak on his forehead after cutting the tip of their thumbs with swords.
Two other ancestral palaces that went to the government are used by the defence ministry, says Mr Jasol. The Indian Air Force base in Jodhpur was what used to be the maharaja's private airstrip. "His highness's father and grandfather were avid aviators," he adds.
For over a decade, Ahhichatragarh or the fort of the hooded cobra in neighbouring Nagaur was leased to the government and used as barracks by the Border Security Force. When the BSF vacated the complex in 1970 it remained unused for a further 30 years.
"I was young when it came back to us 20 years ago and restoration began," says Shivranjani, "The first thing was to open up the spaces because they had made this big structure into smaller rooms."
The Nagaur fort went on to win the UNESCO award for architectural conservation and is considered a model of architectural conservation in India.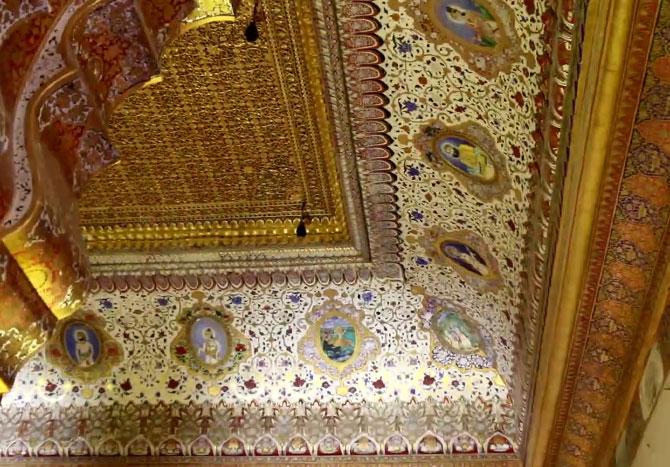 IMAGE: A restored wall painting inside the fort. The museum has 300 staff and sustains itself.
The team is busy with Ship House, another property which will have modern art galleries and restaurant spaces in Jodhpur.
In an example of how government and private entities can collaborate to preserve iconic structures, the Mehrangarh Fort wall was one of the first public-private partnerships in Jodhpur. Recently, the Trust adopted the gates in the old city. Elsewhere in Jodhpur, locals collaborate to clean up centuries-old step wells that had become garbage dumps.
"It was my parents' vision to put Jodhpur on the map and that milestone has been achieved. My father has brought it to a certain level and we are growing and re-imagining it," she says as a front office manager comes in to say hello to her.
"I have followed that path. I bring in a little bit of fun and contemporary ideas as much as I can be contemporary."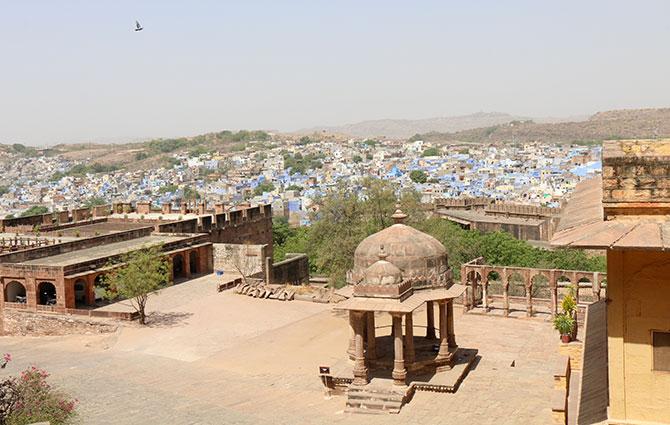 IMAGE: The landscape of the old city from the Mehrangarh Fort. The fort walls have red stained palms of women who committed sati in another time.
Like her Eton-educated father and brother, Shivranjani attended university in England and says anthropology remains her first love. She gleefully remembers a conversation her father had with one of her professors when he came to drop her.
Talking about the family's traditions, he was expressing his concern about his daughter losing her cultural identity. "My professor turned around and told him that what he was talking about wasn't Indian tradition, but the Victorian strait-jacket!" she recalls with a hearty laugh.
In those student days she had fanciful dreams of working in the Caribbean, where she lived as a child when her father served as India's high commissioner to Trinidad and Tobago.
"I just got excited to run wild a little bit. After university, I went to New York and never wanted to return. My father had to get me back. He wanted me to work here," she says in good humour.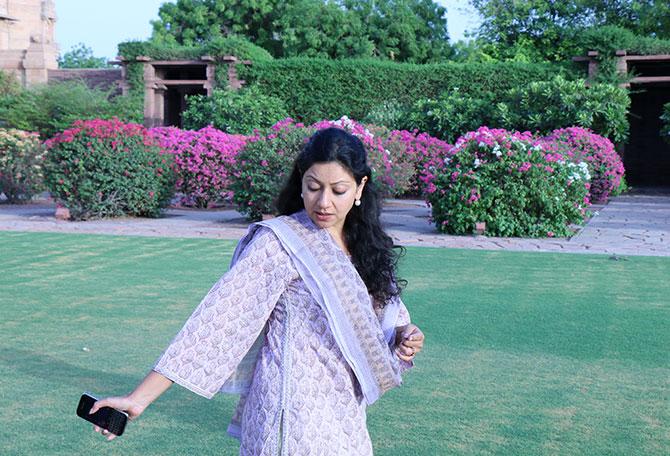 IMAGE: Shivranjani is setting the trend for women in leadership roles in the businesses of the Jodhpur royals.
That was a long time ago. Since then she has helped shape a unique blend of culture, architecture and history from the heritage that belongs to her family. One that people come to experience even on a blazing hot day at the Mehrangarh Fort, sipping from bottles of water as they marvel at the Moti Mahal or take pictures of the palanquin that carried the maharani in London.
Coming from a lineage that is steeped in tradition, Shivranjani has deftly altered the rules along the way. Her stewardship is paving the way for what the future will hold.
Her younger brother Shivraj and his wife have a boy and girl. She says that the children will have to take this legacy forward, and the girl will have to have a role.
The museum and hotel shops sell an expensive perfume Vaara named after her niece brought out by the English house Penhaligon in 2013.
"We are a traditional family. The inheritance is from the maharaja to the oldest son, but if business has to grow, it has to run as a family business with separate heads. That is what I believe in and have said to the family," she says.
There are enough examples of royal rows about heritage properties among the erstwhile princely families. "Heritage properties lose their value when sold or divided. Imagine how Umaid Bhawan would lose its value if it was split in half! If you divide, you destroy heritage."
She had joined the family venture around the time it was passing through its worst crisis, but those awful days are in the past.
In 2005, Shivraj had a near-fatal accident while playing polo when he fell and nearly got crushed by a horse. He spent months in a coma. Unable to walk or talk, he needed speech therapy and underwent rehab treatment in the US. It took two-and-a-half years for him to walk without assistance.
It was a slow recovery, inch by inch, up the hill.
"I have seen him struggle and fight to get better -- to learn it all over again," says Shivranjani. "I learned there is nothing to whine about in life. If he can get through, everyone can."
She says the accident has slowed the pace of his life but he is back at work and his attention to detail is way better than hers. The father-daughter-brother have separate secretariats, but meet about work everyday.
"It's funny how the human mind forgets. So much has happened since the accident -- my brother has got married, has two babies and does a full day of work. It's the good stuff that you look at."
The family still keeps horses which the Yuvraj continues to manage. A lover of the outdoors herself, Shivaranjani says she likes to go to "places, not hotels," and enjoys driving off with her dogs.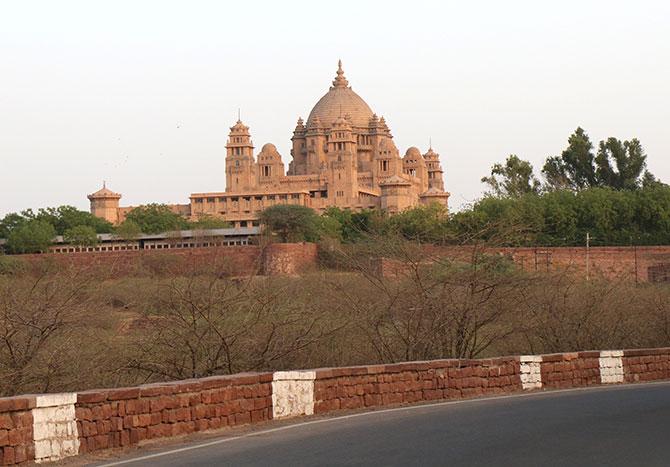 IMAGE: The Umaid Bhawan Palace is located on a hill. It is one of the world's largest private residences.
In the palace office there are framed pictures of the father and son wearing bright and elegant Rajasthani turbans. The family has come a long way from those trying days. Maharaja Gaj Singh, who is known as Bapji, shares a fantastic relationship with the people of Jodhpur, making it a point to attend every function he is invited, she says.
In an interview to The Wall Street Journal, Maharaja Gaj Singh had said that he wanted his children to be a link between the past and the future.
So how do modern royals bridge the distance between tradition and modernity?
"As Indians we have pride, as Rajasthanis we have pride and as Rajputs we have pride. We have a traditional connect to the city, the architecture and the people," explains Shivranjani with a relaxed, unhurried ease.
In a couple of hours she has to attend a birthday party of a relative who has turned 18 at a palace-hotel owned by another branch of the family.
"I am not a fan of the static tradition. As long as it's dynamic and changing, you don't have to go from tradition to modern. It is the same. It's who we are and we keep moving along with it."
---
While in Jodhpur: Keep at least half a day to see the Mehrangarh Fort. It is one of the best maintained and well thought of fort-museums in India. Take the audio guide, it is very well done and tells the entire history of the fort and its people as an interesting story.
Go to the old city and see the restored step wells. They look gorgeous in the night.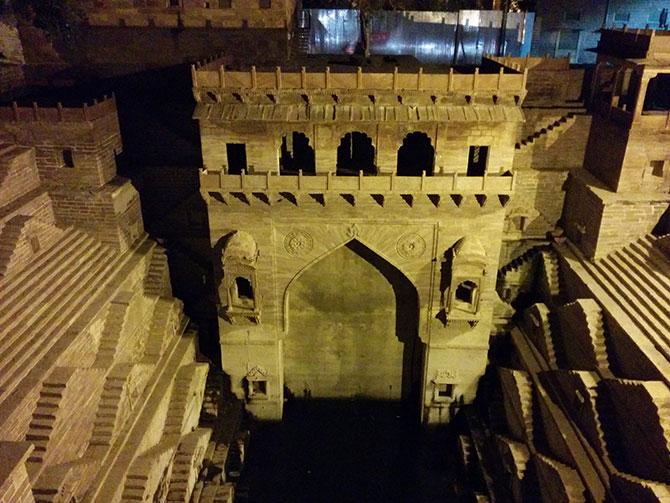 IMAGE: A restored step well in the old city. We are told it was covered with garbage at one point.
Catch some fantastic Rajasthani folk songs and ghazals by the family of Lukman Khan Langa and party at the Ranbanka Palace Hotel. The troupe will leave you asking for more.
Coming next: Ahmedabad, To Gandhiji, wherever he is