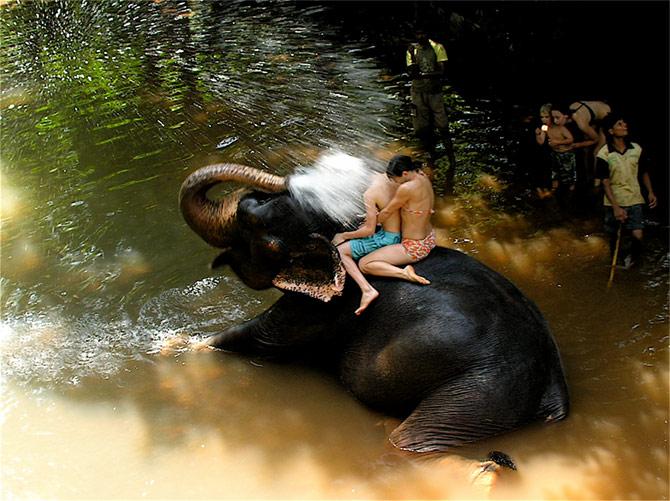 You won't regret including this list in your itinerary.
For many, Goa is known as the land of beaches, hippies and parties that last all night.
But there's more to this popular seaside destination.
Beyond the beaches lies a rich culture with a charming history -- that's what makes Goa such an alluring place.
Read on to find out about 10 unusual things (not in any particular order) you should do on your next visit to this sun-kissed state.
1. Go scuba-diving to spot shipwrecks at the Mormugao Harbour
Photograph*: Pablo Sanchez/Reuters
Did you know that the sea in Goa has plenty of shipwrecks?
The mere thought of diving and exploring the wrecks is fascinating.
This surreal and mysterious experience lets you unravel the mysteries of the past where four ships -- including three German ships and an Italian -- blew up and sank into the Goan sea in 1943.
Apart from these four ships, there are also shipwrecks from the Second World War.
Scuba divers have access to two of these shipwrecks -- Suzy and Davy Jones Locker -- which are situated near Grande Island.
If you're not in the mood to dive into the deep sea, you can always settle for snorkeling. There are plenty of underwater fauna and flora waiting to be explored.
Getting there: Grande Island is a 20-minute ferry ride from Benaulim.
Cost: Rs 3,000 to Rs 5,000
2. Crocodile spotting and elephant bathing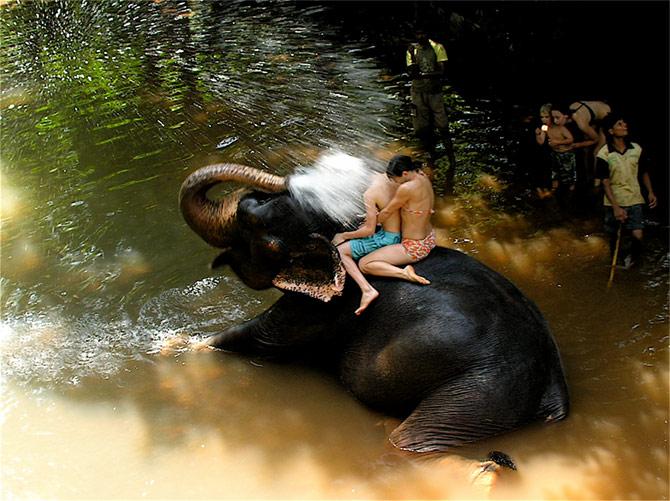 Photograph: Kind Courtesy Jon Hurd/Creative Commons
This could possibly be the first time you are up close and personal with crocodiles.
Scared? This adventure is meant for the brave hearts.
A small cruise along the Cumbarjua Canal introduces you to the wildlife along the river.
The crocs sit patiently, covered in muck, but don't be surprised if you spot one swimming by.
You can also enjoy a day out with elephants.
Ever tried your hand at elephant bathing?
A visit to the Sahakari Spice Farm lets you ride through its outskirts and bathe elephants too.
You will be provided with brushes, buckets and water (of course) to bathe these beautiful animals.
Once you done, the elephants will take you for a ride, fill their trunks with water and splash you happily.
Nature lovers can also take a trip to the Savoi Spice Plantation.
Shraddha Shirodkar, a writer, says, "Savoi Spice Plantation towards the south of Goa is a perfect destination for any nature lover.
"You can spend an entire day walking through the plantation, learning about countless spices, spot birds and even reptiles in their natural habitat.
"The plantation owners also offer delectable meals made from fresh local ingredients sourced from their plantation.
Getting there: Sahakari Spice Farm is situated at Ponda. It is around an hour's drive from Calangute.
Savoi Spice Plantation is situated at Marcel Road, Ponda.

3. Bathe in the fresh water spring at Pomburpa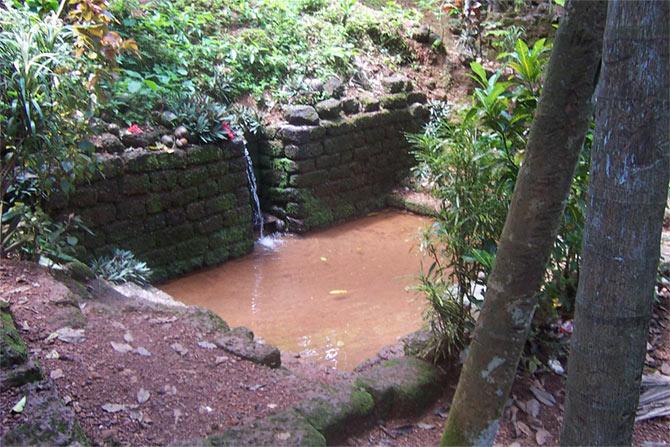 IMAGE: A fresh water spring in Goa; Photograph: Kind Courtesy Haydn Blackey/Creative Commons
Six km away from Panjim is the Pomburpa zor (fresh water spring).
Narrow, winding roads through areca nut plantations will lead you to the sleepy village of Pomburpa.
Right in the centre of the fields stands the fresh water spring. Its waters are said to possess medicinal properties.
It's rare to find tourists at the spring and the locals will gladly step away to let you enjoy a bath.
Worried about returning back to the hotel drenched? Don't bother; the ride back through the fields will ensure that you reach dry as a bone.
Sharon Pious, an avid traveller who went there with a friend, says, "I heard about the place but didn't know the exact location. So I rode through fields and villages and finally arrived at this awesome spring.
"It is quite secluded and there is a stone structure right in the middle of nowhere. There was absolutely no one there so you have lots of privacy. The water from the spring was warm and very relaxing. It is rare to find something like this is in Goa."
Getting there: You can travel to Panjim and then hire a two-wheeler and drive to the spring.
4. Get a mud bath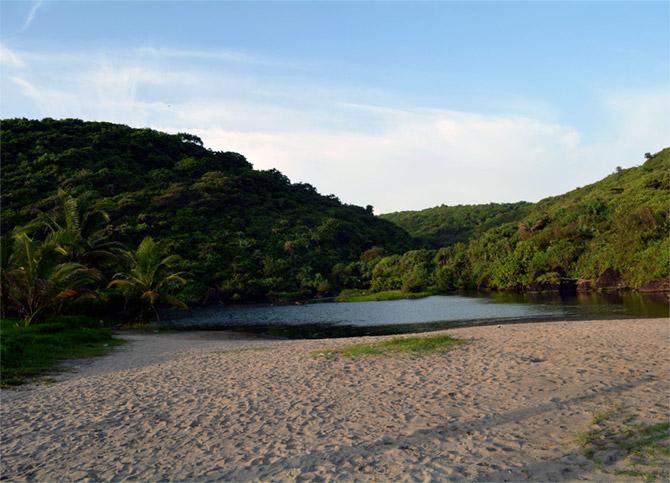 Photograph: Kind Courtesy Shruti Inamdar
Close to Arambol beach is a tiny bay that's cut off from the main road.
Here lies a natural sweet-water lake. It gets its water from the nearby hot water springs.
There's a giant bodhi tree with huge vines that will protect you from the summer heat.
Care for a natural mud bath?
Well, the lake is lined with a natural clay belt. You can cover yourself with mud and get rejuvenated.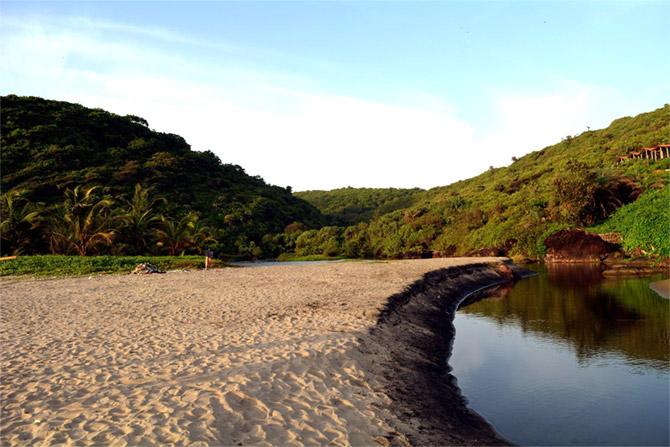 Photograph: Kind Courtesy Shruti Inamdar
Shruti Inamdar, a lecturer at Mumbai's Elphinstone College, says, "I went there last August. It happens to be one of my favourite places to hang out. I lazed around like a buffalo in the mud.
"It is a lovely little lagoon and you can stay there in little shacks. You will mostly find foreigners here. I have a notion that they (foreigners) always find the quiet, peaceful and really beautiful spots to hang out at!
"There is a small eating place too, just in case you don't want to stay but just do a day picnic there."
Getting there: Walk along Arambol beach (further north along the beach coast) and just around the corner (roughly a 15-minute walk) from the main stretch, you will discover the lake.
5. Bird watching on a river cruise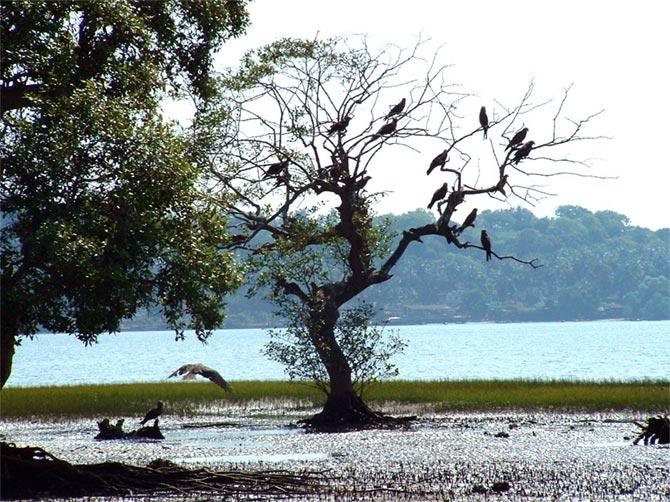 IMAGE: Salim Ali Bird Sanctuary; Photograph: Kind Courtesy

Dominik Hundhammer

/Wikimedia Commons
How does an early morning date with the birds sound?
However, you don't need to head to a forest. Just go on a river cruise down south Goa to the backwaters of the Zuari River.
At the start of your journey, you'll cross forests, fields and villages. As you travel down the river toward the Cumbharjua Canal, you'll spot the stork billed kingfisher, cormorants, egrets, brahminy kites, dusky crag martins and falcons.
If you are lucky, might even spot the white-collar kingfisher, white-breasted kingfisher, flying foxes and night herons.
As you sail further, crossing narrow canals, you are sure to spot marsh crocodiles. Remember to carry your camera along. You don't want to miss capturing these lovely sights.
You can also visit the Salim Ali Bird Sanctuary.
Shraddha Shirodkar says, "When I visit Goa, I like to stay away from the crowds and be amidst nature. The picturesque and green villages of Saligao and Sangolda have myriad birds perfect for bird watching. You can spot drongos, kingfishers and other birds almost always."
Getting there: You have to check with a tour guide about the river cruise.
6. Buy Mario Miranda souvenirs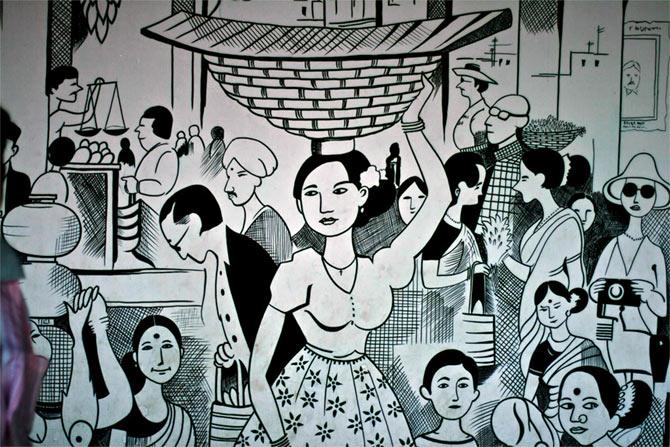 IMAGE: A Mario Miranda painting at Goa railway station; Photograph: Kind Courtesy Gayatri Krishnamoorthy/Creative Commons
Goan cartoonist Mario Miranda is synonymous with Goa. No trip to the land of beaches is complete without experiencing some of his beautiful illustrations.
Almost every cafe and restaurant has his remarkable cartoons depicting the Goan experience. Here's your chance to take home the perfect way to remember up your Goan holiday.
This store is solely dedicated to Mario's work and you will find cups and bowls, ceramic tiles, salt and pepper shakers, illustrated books, T-shirts and several postcards with his illustrations.
You can buy some of Mario's remarkable depictions of the laid-back Goan life on postcards for just Rs 20.
Address: Panjim Location, Near Hindu Pharmacy, Below Aroma Hotel, Duarte Pacheco Road
Timings: Monday to Saturday
10 am – 1.30 pm
3 pm – 7.30 pm
7. Visit the Cow Beach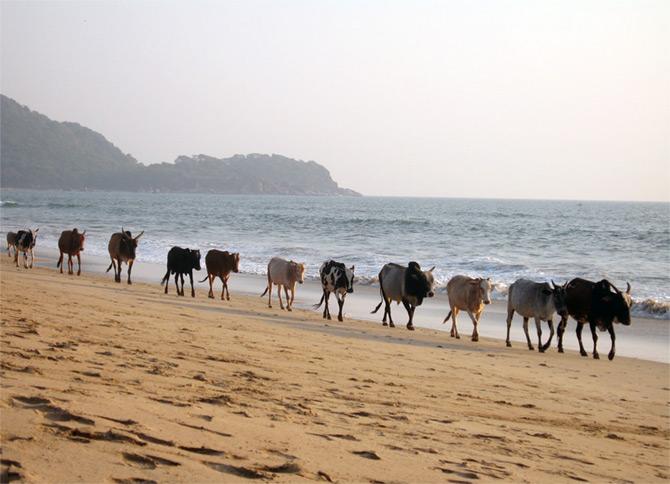 Photograph: Kind Courtesy Nadya Mercado/Creative Commons
Trust us when we say there's a beach in South Goa where you'll bump into cows chilling.
They say the 'best kind of therapy is beach therapy.'
True that! But given the hordes of tourists on other beaches, you will be in for a surprise here.
In groups of five and 10, these bovines lie around on the warm sand, staring at the sea at Agonda Beach.
Apart from the cows, the beach is pretty secluded. So if you want to steer clear of the tourists, head here.
Getting there: Agonda beach is located in south Goa. You can travel in a bus/cab/auto-rickshaw to Agonda from Kadamba Bus Stand.
8. Experiment with food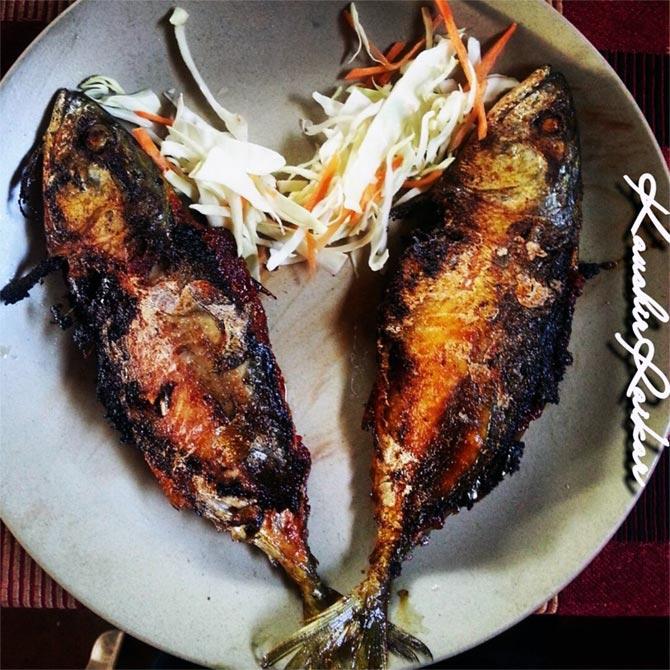 Photograph: Kind Courtesy Kaushir1711/Wikimedia Commons
Taste some authentic, lesser known Goan delicacies like fish in reichado masala.
The word 'reichado' finds it origin in the Portuguese word 'seal up'.
It is an indispensable masala found in every Goan kitchen.
Subhash Allan Oliveira says, "It has a tangy taste. I had the fish in reichado masala at Souza Lobo at Calangute beach in South Goa. It cost me around Rs 200 to 300."
If you're bored of Goan delicacies, you can also taste some authentic Georgian dishes at Genacvale.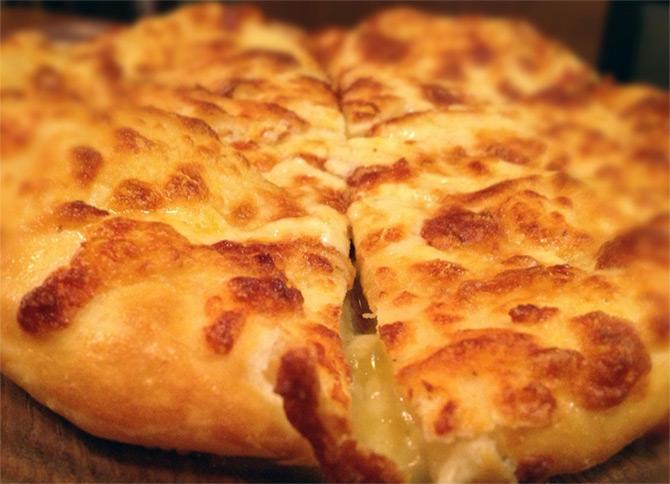 IMAGE: Adjara Khachapuri; Photograph: Kind Courtesy Goa Genacvale/Facebook
You must try the Armenian Khash (a dish of boiled cow/sheep's feet) when you are there.
Their Adjara Khachapuri (bread filled with cheese) and Isanpakhi (spinach with walnuts) is pretty yummy.
It is the only restaurant serving Georgian food in Goa.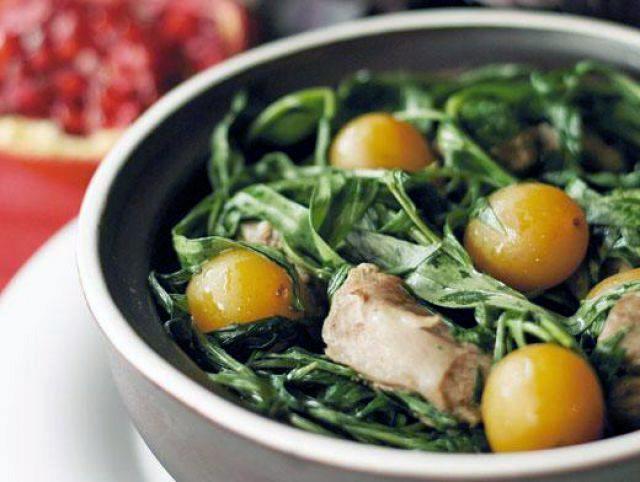 IMAGE: Chakapuli, a Georgian stew; Photograph: Kind Courtesy Goa Genacvale/Facebook
Address: Vagator beach road
We can understand the plight of vegetarians, who complain they can never find a decent meal in Goa. Well, here's the answer to your problem.
Head to Blue Taco at Anjuna beach; a restaurant with its lovely cane and bamboo furniture in shades of blue, green and yellow.
Its menu boasts of vegan and organic food. You must try the wood fire pizzas here.
Address: Anjuna Mapusa road, Anjuna Beach
ALSO SEE: Where to find the best local food in Goa
9. Spend the night at Goa's smallest protected wildlife sanctuary, Bondla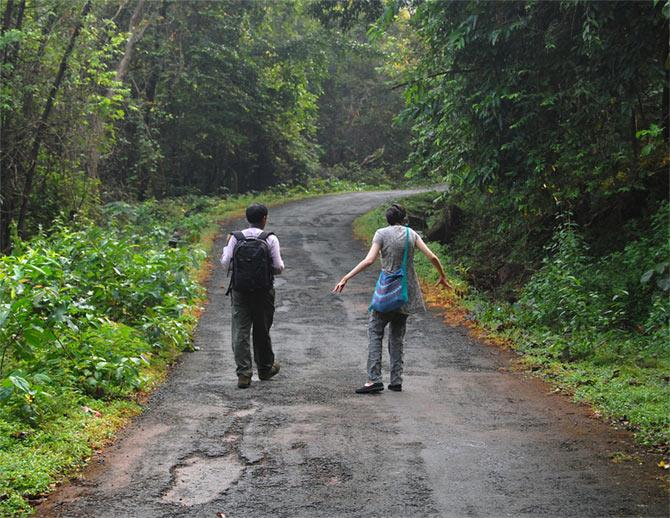 Photograph: Kind Courtesy ptwo/Creative Commons
Bondla covers just an area of 8 sq km.
Home to wild boars, gaurs, monkeys, jackals, leopard and deer, this is the ideal place to visit if you happen to be a wildlife enthusiast.
You'll also spot porcupines, bears, tigers and crocodiles.
Webs of giant wood spiders will remind you of horror movies.
It's got some lovely butterflies and birds too.
End your day at a forest department cottage in the wildlife sanctuary.
You can wake up to the sound of birds chirping next morning and also head out on a bird watching trail.
"It's a really nice place. You can go for a long walk or even a trek in the morning. It reflects and calm and peaceful side of Goa, unlike the crowded beaches. Plan in advance and stay overnight at the sanctuary," says Gautam Patel, who was there last year.
Getting there: Situated 10 km from Usgao village, you can take a taxi from Panjim to Bondla. It's convenient if you have your own vehicle.
10. Visit the chapel inside Tiracol Fort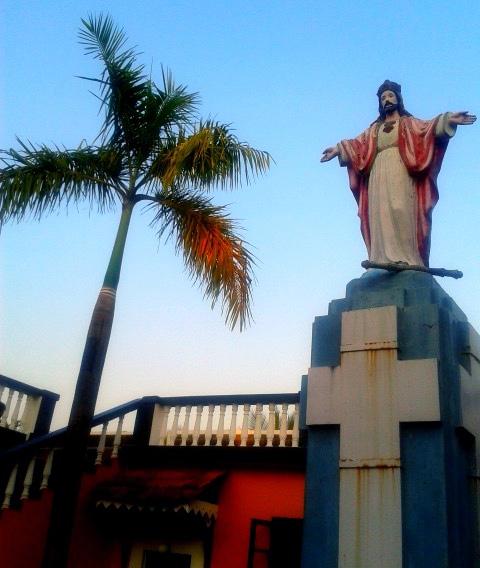 Photograph: Kind Courtesy nikita.pandit4/Creative Commons
We're sure that you'd have visited the popular churches in Goa.
But care to visit a lesser-known church situated inside a fort?
At the northernmost tip of Goa stands Tiracol -- popular among the locals for the feni that is produced here.
You can take a stroll and explore the greenery -- the place is dotted with cashew nut trees.
You can take the ferry to the fort, which stands tall on the northern side of the Tiracol River, and soak in the beautiful view of the sea.
Built by Maharaja Khem Sawant Bhonsle, this fort was captured by the Portuguese who built the chapel.
Renamed St Anthony's chapel, it has a classic Goan facade and its courtyard is paved with laterite blocks.
If you are visiting the fort in the month of May, you can also be a part of the St Anthony's festival celebrations.
Getting there: Tiracol is situated 40 km from Panjim. You can drive down or hire a car. From Tiracol, take a ferry to the fort.
ALSO SEE
Where to find the best local food in Goa
'The sunset at Ashwem is breathtaking'
'The best part about Agonda is the sunset'
Do you have interesting travel photos that you'd like to share with us?
Follow this link to post the best of your #India-Photos and we will publish them right here on Rediff.com and India Abroad!