It's that time of the year when the FIFA lovers will be in full cheer to support their favorite teams in the World Cup 2018.
Ahead of the event, the surge in bookings for Russia have increased with multi-city travel itineraries that holiday goers have picked on various platforms.
Coinciding with the matches where FIFA World Cup is held, MakeMyTrip lists down most frequently booked destinations in Russia this summer season.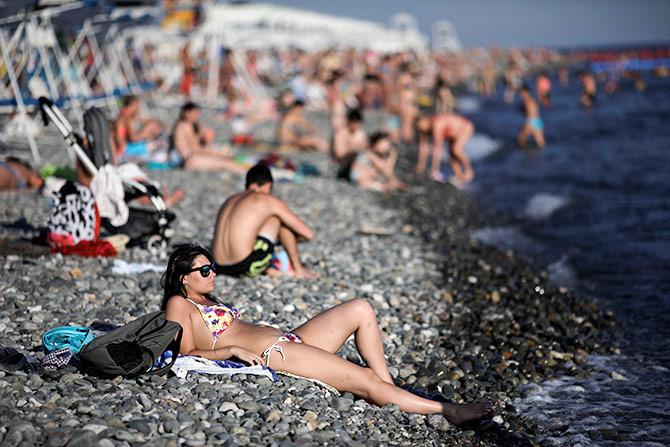 1. Sochi
You can call it the unofficial 'Summer Capital' of Russia, or the Black Sea Pearl.
It is the country's biggest and busiest summer sea resort, attracting visitors annually with its amazing mountainous coastline, endless shingle beaches, warm sunny days, and bustling nightlife.
2. Volgrograd
It lies along the west bank of the Volga River in Southern Russia and attracts many tourists.
It is known for the most important and bloodiest battles of the Second World War.
3. Saransk
A city in central European Russia and the capital of the Republic of Mordovia, it is considered to be one of the most beautiful cities in Russia.
An important tourist attraction, the 2018 FIFA World Cup Russia theme park in Saransk is to open on the main city square.
Mordovia Arena is the stadium which will witness all the matches held in this city.
4. Moscow
It is one of the most travelled city in Russia.
The ancient buildings and monuments with edgy galleries, boutiques and cafes attracts many history buffs.
The 16th century Saint Basil's Cathedral, is practically the symbol of Russia. Otkritie Arena Stadium and Luzhniki Stadium will host matches in Moscow.
5. St Petersburg
It boasts of some of the most beautiful buildings in Russia.
Nowhere is this more evident than in its number one attraction -- The State Hermitage Museum.
One of the greatest museums of the world with an unparalleled collection of art masterpieces, a day spent here is nearly not enough to appreciate it completely.
Football matches in St. Petersburg with take place in Saint Petersburg Stadium.
6. Rostov-on-Don
It is a city in southern Russia known for the ancient indigenous inhabitants included the Scythian, Sarmat, and Savromat tribes.
It was the site of Tanais, an ancient Greek colony, Fort Tana, under the Genoese and Fort Azak in the time of the Ottoman Empire.
The matches in Rostov-on-Don will take place in Rostov Arena.
7. Kazan
A city in southwest Russia, on the banks of the Volga and Kazanka rivers, it is known as sports capital of Russia as it hosts many sports events and championships.
Last but not the least travellers can witness the matches in Kazan at Kazan Arena Stadium.