'This is about children caring for their parents and helping them with assistance.'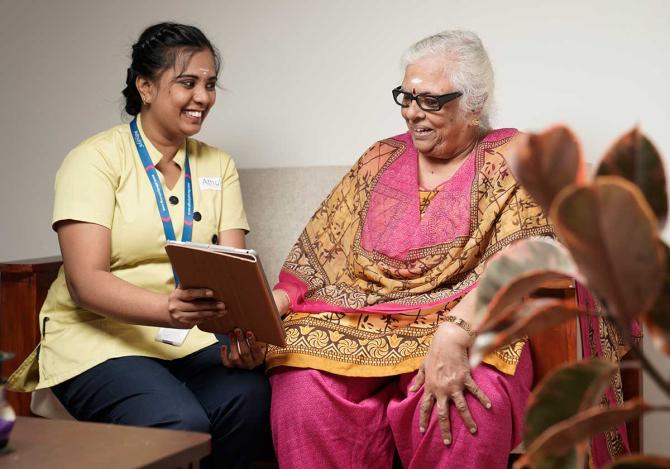 A report by the World Health Organization says India will have the highest number of elderly people in the world by 2050.
According to the UN, one in five Indians will be 60 years or more by 2050.
The HelpAge India Web site says, 'As of 2019, over 139 million people living in India are over 60, which is over 10% of the population.
'The proportion of older people is expected to almost double to 19.5% by 2050.
'It means 319 million people aged over 60.'
Though India is perceived as a young nation, the number of senior citizens in this country is extremely high given the large population.
With the rise in the number of the elderly, the problems these people face are also rising, like dementia, Alzheimer's, diabetes, cardiac problems, etc.
With that, the number of people who need special care is also rising.
G Srinivasan, who founded Athulya Senior Care for senior citizens, tells Rediff.com's Shobha Warrier about the challenges people like him, the society and the government are going to face in the coming days.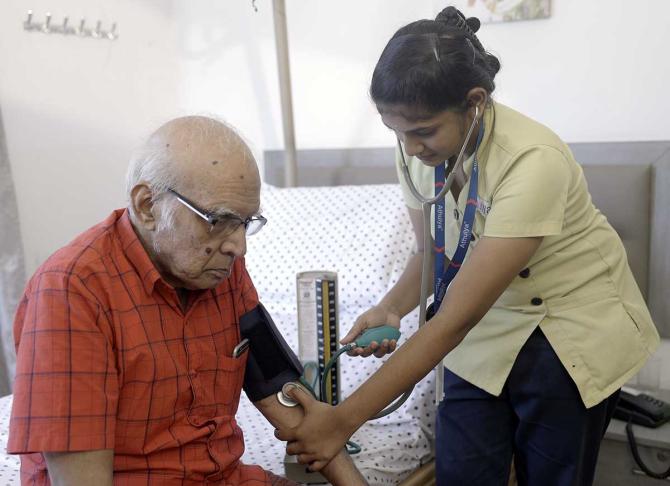 What is the reason behind your decision to start a care home for seniors?
The decision to start Athulya Senior Care was because of a personal experience.
Earlier I had co-founded HealthOpinion with Krishna Kavya, which was a medical tourism firm and healthcare consulting organisation providing solutions for healthcare management consultancy.
Although we were in the healthcare industry, when her grandfather fell down in 2012 and was bedridden, we couldn't organise the services of doctors, nurses and caregivers at home. Because of his age and condition, we couldn't move him to a hospital.
That triggered the question. Why is it so hard for senior citizens in India?
So, in 2014, we renamed HealthOpinion as Healthabove60 and dedicated ourselves to serving the senior community.
We decided to start home healthcare services exclusively for senior citizens as 80% of the people who need home healthcare are senior citizens.
The service we offered was sending doctors, nurses and caregivers for senior citizens. We were home healthcare service providers.
As we cruised, we found that a lot of senior citizens are sitting idle at home after retirement, and are alone. That made us realise that they require a gamut of services as most of them live alone.
That was how I founded Athulya in 2016, and from home healthcare for senior citizens, we transformed ourselves to Assisted living homes for senior citizens.
What exactly do you mean by assisted living?
A lot of people when they retire, go to retirement homes. When they are in their late seventies and eighties, health becomes a major concern. That's the stage they find it difficult to live independently. If they are living alone, in case of an emergency, they feel helpless.
When they need someone's help to go to the hospital or even to the toilet, or need someone to help them with their medication, assisted living comes.
We provide assistance for all their daily needs including food and safety. We also monitor their health periodically. We assist in all their daily needs. That's what we call assisted living.
Does that mean you provide assistance to people who live alone?
No. Athulya is a home where they live and we provide assistance to all their needs.
I would say, Athulya is the next stage of a retirement home where they live independently. But in Athulya, they live with assistance.
Ours is a rental model. So, they do not have to invest anything. They stay for a few months or years which is when they or their children feel they need assistance in their daily life. They only pay for the services we provide them.
Do you think the collapse of the joint family system and the rise of nuclear families are one of the reasons behind this kind of a situation?
Yes, it is one of the reasons. But it is not the only reason.
There was a time going to a different city itself was a challenge in India.
The socio-economic conditions of that period did not give the chance to people to move around. But now, people work anywhere in the world. The boundaries have faded with globalisation, and people grab any opportunity that is available anywhere in the world.
The elderly parents travel with their children when they are in their sixties and seventies. But they reach a stage when they find travelling tiresome.
Then they want to settle in a place. That's when all these problems arise.
Also, people are living longer now. Is that not another reason?
Yes, that's also a reason. The average age of the living has gone up because of the advances in the medical field.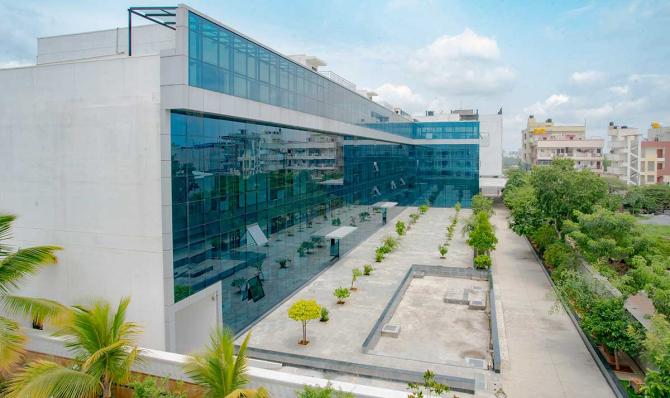 How did people accept the idea of assisted living? Was it very challenging to make people understand the concept itself?
In 2016, when we started Athulya, the stigma about assisted living homes was huge. People didn't want to come out of their homes and live here. The feeling was, even if we had to struggle, we would struggle in our homes, and not elsewhere.
It was all because of the social stigma associated with old age homes.
In the initial days, it was a very big challenge for us to make people accept our concept.
People didn't know what assisted living was. They identified it with old age homes, and as you know there is stigma associated with old age homes.
But Athulya is not an old age home. We are an assisted-living home. This is not a home where children abandon their parents. This is about children caring for their parents and helping them with assistance.
Ours is not an old age home or an abandoned home. This is an assisted living home where we give dignity to senior citizens.
Yes, making people aware of the concept was a challenge in the initial days.
Getting doctors, nurses, caregivers and housekeeping also was challenging then.
How long did it take for people to get convinced and opt for assisted living?
Normally it takes 45-60 days for them to come to a decision, that is, from the time of enquiry to coming to live in our facility.
And whoever opts for our home live in a premium independent accommodation. Our homes can accommodate around 50-100 people in each facility.
The first person who came to live with us was from Kerala and at 98, she still lives with us.
What is the most challenging aspect of managing senior citizens?
They are like well-educated children. Taking care of them physically will be like taking care of a child but mentally, they are well educated and intelligent.
We understand them and they understand us better now, though it was very challenging in the beginning.
We are very clear at Athulya that all senior citizens who live with us should have the same dignity, independence and freedom they always had.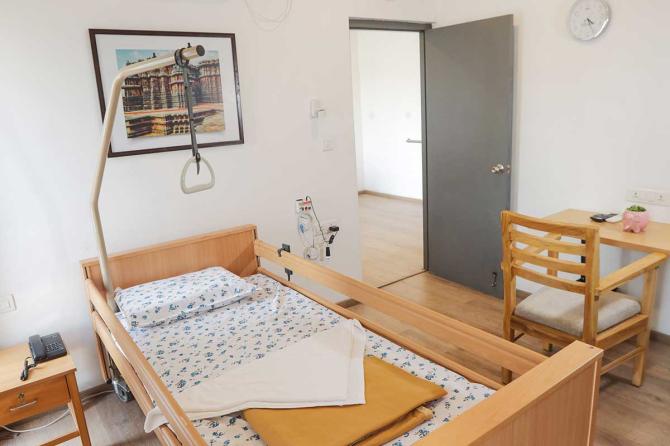 Around 10% of India's population is above 60 now, which will become almost 20% by 2050. It is a huge number. What kind of challenges Indian society is going to face, according to you?
The importance of senior citizens has to be thought about at every level including at the policy level. For example, several countries offer insurance and financial coverage. But in India, the awareness is still not there.
Next is, the understanding of geriatrics is not there. Geriatric training is still at a very nascent stage.
Facilities to take care of them also is not adequate.
When you say, 20% of the population, it means around 300-400 million people! And they will have several health issues like Parkinson's, dementia, stroke, palliative care... the list is long.
So, we need to go deep into special care plans to handle each and every person.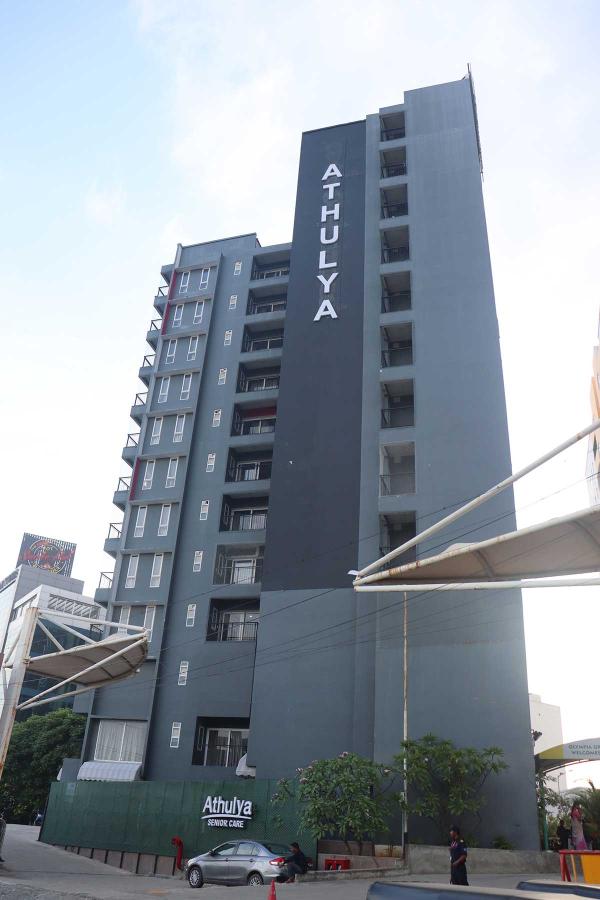 A major problem India is going to face by 2050, it seems, is around 15 million people with dementia.....
Yes. That's why I said, when it comes to senior care plans, we have to realise that their health issues will go to multiple complications like dementia, strokes, Parkinson's, etc.
Is that the reason why you decided to partner with Palliam India (founded by Dr Rajagopal) to provide palliative care to your inmates?
Yes. When it comes to senior citizens, palliative care is very important. Only 1% of those who need palliative care, get it.
That's why we wanted Palliam India as our knowledge partner and they are training our doctors, nurses and caregivers on palliative care.
As you know, they are the pioneers in India on what palliative care is.
Dr Rajagopal used to say that the understanding of palliative care is not there in our country as we associate it with care given just before death. Do you also feel so?
Very true. The perception of palliative is different in our country. In fact, people do not understand anything related to senior care here in India.
When you say assisted living, they compare it to old age home. When you say palliative care, they compare it to cancer care and end-of- life care. When you say dementia, they compare it to mental care.
Basically, we need to create a lot of awareness about senior care.
Feature Presentation: Ashish Narsale/Rediff.com