While it is natural to feel worried about elderly parents, it would be wiser to be well prepared so you can handle situations in a calm and efficient manner, says Dr Vijay Janagama, director, new initiatives, SuVitas Holistic Healthcare.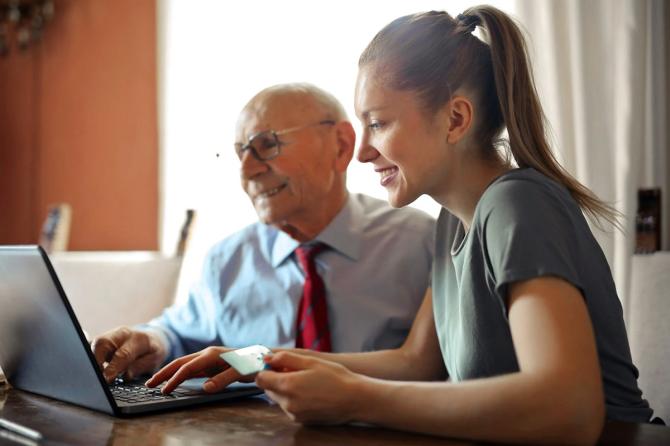 The novel coronavirus has made the world rethink many aspects of life and work.
Most important of these would be the emphasis on family ties.
People have realised the value of spending quality time with members of the family. But for those separated from their elderly parents and grandparents, lock down has brought with it a slew of anxieties.
Are they getting enough local support?
What if they fall short on supplies?
What about their periodic health checkups and medication?
While it is natural to feel worried, it would be wiser to be well prepared so you can handle situations in a calm and efficient manner.
Here are five tips to take better care of your elderly parents:
1. COMMUNICATE regularly
Whether your parents or grandparents are healthy or not, it is imperative to maintain regular communication with them especially if they live away from you.
This is not only to know about their general well-being but also to ensure they feel safe and strong in your physical absence too.
Don't hesitate to take help from locally available friends and family or neighbours in case they need additional support.
2. EMBRACE remote care
Rapid adoption of digital technologies post Covid-19 has led to a cultural transformation across sectors.
If your parents are sick and don't want to go to the clinic for fear of exposure to the virus, there are virtual rehabs through which a whole team of doctors, nurses and recovery experts can now come online.
People are no longer apprehensive about telemedicine practices. The efficiency of virtual healthcare programmes has reinforced the fact that remote care is the need of the hour and future.
Remote care does not always mean having the need to technologically enlighten the elderly.
Something as simple as video calls or phone calls are used by geriatric care experts to monitor symptoms, provide online physio assistance for pain relief, arrange for timely diagnostic tests and vaccination.
However, with the aid of advanced digital health analytic tools, you can still be informed on a real-time basis on your senior family's health and well-being.
Specialised programmes are designed to improve functional independence and quality of life of seniors.
3. ARRANGE for specialised stays
Most elderly members of the family prefer to stay in their own home as far as they can. But if virtual care doesn't seem to be the optimum option considering the need for continuous monitoring, look for specialised residential care packages.
Look for facilities that include healthy meals, 24x7 doctor supervision, support group, recreation activities, exercise and physio sessions along with critical support that may be needed.
For those of who you don't want to take help from friends and family to look after the elderly parents staying away, such facilities can offer ultimate comfort and an opportunity for independent living in home-like environment.
4. EMERGENCY and critical care
In case you haven't arranged for remote care or hired professional help yet, remember a simple fall or sudden health incident can cause panic.
From ambulance assistance to hospitalisation support, in-patient recovery and long-term care support, look for a specialised recovery center that is fully equipped to handle the health and well-being of your dear ones.
Keep their numbers handy on your speed dial.
5. COMMUNICATE with compassion
It is definitely not going to be easy to convince elders, who are going through a tough transition phase, to get accustomed to new care settings.
It is likely that they will protest new decisions you may make on their everyday routine.
Learning and practicing mindful communication should help in settling things down.
Take professional help, if need be, and ensure they get as much freedom. Give them their space.
As important as doing the right things is making sure you don't do few things which may upset your parents and your mental health too. Here are five things you must avoid doing:
1. DON'T lose your cool when they behave differently
Dementia and memory loss are common in old age.
Don't get frustrated even if they forget the same thing you have repeatedly told them. Instead, give yourself a much-needed break occasionally.
Caregiver burnout is a natural phenomenon in most houses. Find time to meditate and unwind.
Don't try to be perfect. Instead of feeling guilty for your slip-ups, try to be more organised with your responsibilities and find contentment in everything you do for your parents.
A professional respite care might help you and your loved ones to cope with new additional requirements.
2. DON'T ignore safety settings in home
Even if you are taking care of your parents yourself, don't ignore arranging safety settings at home.
You could consult an occupational therapist for a home safety evaluation and recommend modifications like grips and bars, anti-slip mats, make home interior adjustments for creating easy access pathways to bathrooms etc.
This will prevent risks of falls and other avoidable casualties, even in your absence.
3. DON'T hastily hire a caregiver
Make sure you entrust your parents' health with trusted care providers.
Don't trust them blindly, do thorough background check and ask for credentials.
Save all helpline numbers on your phone book.
If your parents have chronic health conditions, it is highly recommended to go for an organised care provider than hiring a general house help.
Make sure s/he is empathetic to your parents and is equipped to handle any emergencies.
4. DON'T expect help to come your way unless you ask for it
Taking good care of the elderly without external help can be extremely difficult in nuclear families.
Don't expect your friends and family to pitch in when you need help.
Most people are busy with their lives and can't be held guilty for not being there when you need them.
Clearly communicate your needs and concerns and take help from those who are willing to. Always remember, professional help is just a call away.
5. DON'T lose hope
Care giving is largely family-driven affair in India. However, in most developed countries it is mostly equivalent to formal or paid care.
When family members are involved in care giving, there will be both physical and emotional involvement leading to severe burden of care.
If you have already noticed signs of care giver burn out, don't hesitate to seek need-based support or intervention to ease your burden.
Check the best support available within the yearly budget you can afford.
Remote care will be the new norm. Yet no digital technology can replace the warmth of physical connect.
It would be hence better to partner with a remote care provider which is also capable of handling inpatient care, if need be.
The post-COVID world is likely to retain many new-founded practices including social distancing, refraining from visiting crowded places or traveling to a point of care unless really necessary.
Remote care is accessible, affordable and will continue to provide an incredibly positive experience for both the caregiver and the elderly members of the family.