Music tourism -- travelling for music -- is catching on as a trend, particularly among millennials.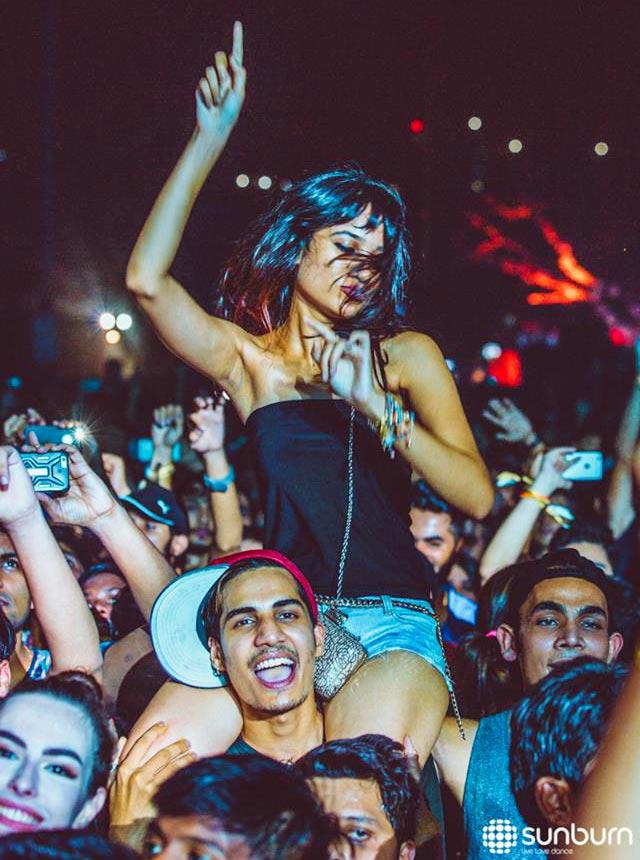 Photograph: Kind courtesy Sunburn
Rock stars in the west have their groupies but big ticket events in India also have their loyalists, taking flight, train or even bus, to travel to different corners of the country for the sheer love of music -- be it top billers Justin Bieber and Bryan Adams or small groups making their own indie sound.
Music tourism -- travelling for music -- is catching on as a trend, particularly among millennials, only those who have some amount of disposable income of course, with festivals and concerts increasing in popularity over the last couple of years.
Canadian singer Bryan Adams' five city series of concerts that began on October 9 in Ahmedabad is the most recent case in point with scores, if not hundreds, of fans buying tickets and making sure they make it to at least one of them.
To attend the "Summer of 69" singer's concerts in Ahmedabad, Hyderabad, Mumbai, Bangalore and Delhi, people booked their travel in advance in accordance with their city preference, said Manmeet Ahluwalia from Expedia, an American global travel technology company.
"We have seen 28 per cent advance booking for Delhi, whereas for Mumbai and other cities it ranges from 20-25 per cent," Ahluwalia told PTI.
The bookings will only increase closer to the date of performance, he added.
But that is not the only travel music lovers are doing this October.
Every October, Jodhpur welcomes a swarm of people for the Jodhpur Riff, which features folk artists and others over five days.
The annual Rajasthan International Folk Festival will be held from October 24-28 this year.
Divya Bhatia, director of Jodhpur RIFF, told PTI that about 40 per cent of their audiences travel from different parts of the country.
To offer a holistic experience, the festival hosts special dawn and midnight concerts, in addition to giving music aficionados an opportunity to interact with different artistes.
"Our festival runs from dawn till late in the night. There is meditative music, soulful music and there is dance music. It's a 360 degree immersive music experience unlike any other," Bhatia said.
There's also the Sunburn festival, which moved from Goa to Pune last year and sees hundreds of people travelling to make sure they are part of the experience.
Some of the other music festivals that draw the crowds are HornBill Music Festival(Nagaland), Bacardi's NH7 Weekender (Meghalaya) and Ziro Music Festival (Arunachal Pradesh).
"During the Hornbill festival in Kohima last year, flight bookings for Dimapur saw the bookings almost triple as compared to normal days, and those for NH7 Weekender, Shillong jumped by 75 per cent," said Balu Ramachandran, head of air and distribution at Cleartrip.
In November 2016, hordes of people travelled to Mumbai, as they did the following year in the month of May. The first time for Coldplay and then for Justin Bieber.
According to a Yatra spokesperson, flight and hotel bookings around key music fests, on an average, go up by 50 per cent and 25 per cent respectively.
"Our enquiries (for Coldplay and Beiber concerts) shot up by more than 80 per cent for hotels," Sharat Dhall, COO (B2C), Yatra.com, said.
For Kolkata-based Subhra Sikdar Nandy, it was the collective experience of being part of a crowd who enjoy a similar taste in music that made him fly across the country to attend the Sunburn festival in 2013 in Goa.
"Sunburn (the venue was shifted to Pune last year) is not only a music festival, it's a spectacle. The experience of being among thousands of people dancing together...it is simply awesome!" the 29-year-old said.
Based in Mumbai, Kevin Hardinge did not have to travel for big ticket artistes like Coldplay, Kygo, Armin van buuren, Hardwell and Skazi.
But easy access to international stars did not stop him from hopping on to a plane to make it to Parvati Peaking, a psychedelic trance music festival in Kasol, Himachal Pradesh, or taking a road trip to Pune to attend the VH1 supersonic.
"You can't be sitting at home and experience music to fullest. You got to be out there to see the setting, watch the installations, move to the tunes and get your spirits high," he said.
What makes these extravagant events "a win" is the "overwhelming" musical experience combined with the opportunity of running into and meeting new people, he said.
"You'll come back home with aching legs, dirty sneakers, drenched t-shirts, photo bombed images, loads of laughter and moments to remember for the rest of your days," he said, adding that his next stop is Jodhpur RIFF.
Rajasthan is also host to the three-day contemporary arts and music festival -- Magnetic Fields -- that will be held in the town of Alsisar from December 14-16.
While the festival boasts of a healthy mix of visitors from across the country and the world, co-founder Munbir Chawla admits that a large chunk of the audience comes from Delhi "because that is the closest metro".
According to him, this new found love for world music that is compelling enough to make individuals travel, can be linked to developing technology.
"As music from all points of the world becomes more and more accessible via technology, so has the extended palette for new sounds, new experiences and therefore people are choosing more music driven holidays and festival excursions," he said.
Last year, Sunandita Dasgupta made an impromptu plan to attend the MTV India Music Summit, because she found it "interesting" to travel to another city just for a musical conference.
"I will always remember the experience of listening to Gurbani by Ashupreet Kaur and sisters at 5 am and the session by TM Krishna which extended to midnight," she said.