We'd asked you readers whether or not you support the breastfeeding campaign.
THANK YOU for your feedback.
Here are some more responses we received from you.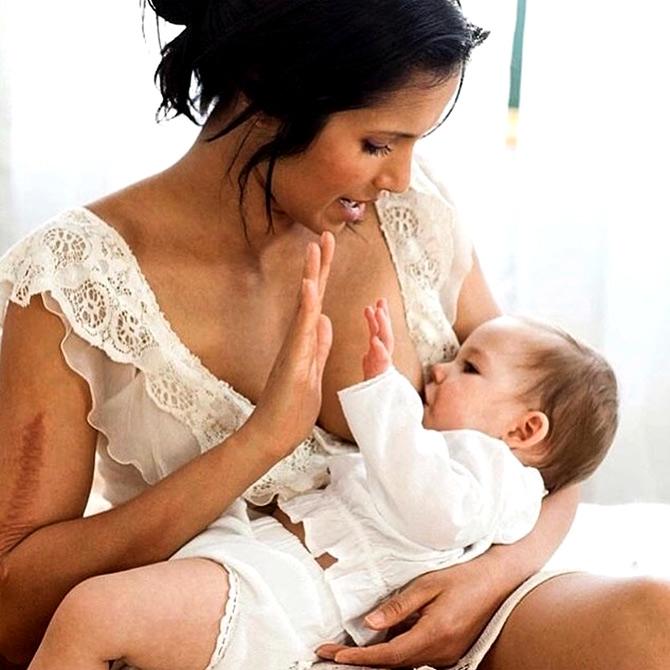 I really appreciate the idea behind the campaign, i.e. to remove the stigma attached to breast feeding in public.
But in reality, it is not possible. The society has not yet matured to understand the difference between exposing of breasts and breast feeding.
We cannot find fault with the people around, as exposing of breasts is considered as an act of arousal.
Breasts may be a part of the sexual act, but there is a thin line of difference between both activities (breastfeeding and sex).
Women can breast feed, but (she must) cover herself to the maximum extent possible.
Many times we see women from villages innocently breastfeeding their children without any inhibitions in public places. Men even try to catch a glimpse.
It is really embarrassing to have men staring at our breasts when we are feeding.
It is better we continue to breast feed at designated places or by covering.
-- Smitha Kishore
---
Dear social animals,
As we all know man/woman are social animals. We understand the difference between awkwardness, feeling of shyness, which differentiates us with other animals.
That's the very reason why we copulate, make love, give birth, attend nature's call and breastfeed in private.
Instead of creating awareness about the importance of breastfeeding, the people in the campaign are giving importance to exposing something that is completely private.
I'd suggest you insist upon breastfeeding and its importance and benefits to both the mother and child instead of showing the breasts out in the open in the name of breastfeeding.
We all have grown up breastfeeding in private. There's nothing new to it that it is being blown out of proportion.
It has become a trend for these movie actors to expose and gain publicity in the name of creating awareness.
Awareness can be done in more innovative ways other than exposing for publicity.
These actors can't gain publicity by their acting skills and so, they do it by exposing their skin.
In India, we respect women like princesses and queens. Like every country, exceptions are there in our country as well, where some people try to exploit women.
I support breastfeeding as was being done since all these centuries in our country, but it should be done in private. There's no need to expose at all.
-- Vikas Thakur, 39, Hyderabad
---
I don't understand what the hue and cry is about a woman breastfeeding her kid.
Women have been doing this since the beginning and they will continue doing it.
I am not against you publishing anything, but, I would like to point out that no woman will bare her whole breast, not even in her home, and feed the child.
A celebrity tweets something and it becomes a national news.
What they do at the leisure of their homes let them keep it within their doors. We don't need to know how they feed the child.
Let this moment be a private one just for the sake of the child.
I, am a mother of two kids. I'd like to add that to support a sensitive moment like this you don't need to publish such photos. (We must) rather encourage and (raise awareness about) breast milk which females are forgetting now, due to size zero figures.
--Pooja, Nashik
---
Feeding the baby is important and indispensable anywhere. But that does not mean that she should do it by showing her breasts in public.
She should feed the baby by covering her breasts either by her saree, dupatta or with a towel.
So far as possible, we should create a culture of mutual understanding and give her full freedom, support and assistance. We must offer privacy wherever possible -- either in train, bus or in any public place -- to feed her baby.

-- KC Antony, 55, Uttar Pradesh


---
It is all about the breastfeeding campaign.
​All these so called open minded people should ask ONE question to themselves. Why they have opened the article? What was the Interest?
​Even the photographer or magazine or editor have seen it with marketing angle, not with the mindset of a mother and child.
​Try imagining the lady working as labourer who feeds her kids in the shadow of a tree or wall during the little break she gets along with hovering eyes of her contractor/ supervisor.
She is not going to ask for a campaign. This is her love and she is also feeding her baby like everyone else is.
​All these campaigns have become a publicity stunt. Otherwise, Anoushka Shankar is not required to show the world that she is breastfeeding.
To all such campaigners: Just ​imagine your mother doing this and publish your reaction.
-- Naveen Dimri, ​Gurugram
---
I fully support the cause. I think the campaign has been deliberately started with a daring photo.
This is bound to generate controversy and criticism, but the beneficial spinoff is that the matter will be discussed across the length and breadth of the country.
People will be jolted out of their complacency and forced to think on this issue.
It's a great way to focus the attention on this very important issue.
To those who object to the picture, I would like to say this: Women who are fully dressed have also been raped.
It is the sick mind and not the clothes (or absence of it) which is responsible for rapes.
-N Viswanathan, 60, Mumbai
---
I want to let you know that I do support the said campaign, as it is quite natural and necessary.
At the same time I do not support to post a selfie of breast feeding or printing such pictures in magazines or newspapers because by doing such things you are only exposing women.
Some days ago there was a campaign where you were asked to post a selfie with a sanitary pad in your hand. We saw many celebrities posting their photographs.
I think it is the basic necessity of every woman to use a sanitary napkin, but it is pointless to show the world that you are using it.
I feel there are many other ways of creating awareness about such things.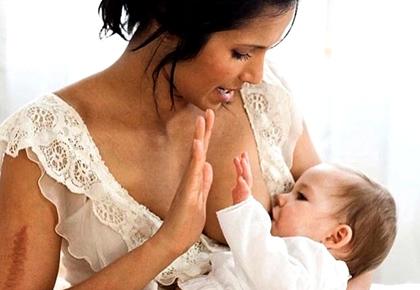 Dear readers, do you support the idea behind the breastfeeding campaign? Or do you think it is a bad idea to feed your baby in public?
Dear mothers, have you breastfed in public? Did you face any criticism? How did you deal with it? Tell us.
If you support this campaign, you can share a photograph of you breastfeeding and share your views.
If you disagree, you can also tell us why and what is the appropriate way to do it.
E-mail us your views, photographs and suggestions on getahead@rediff.co.in (I support Breastfeeding) along with your NAME, AGE and LOCATION. We'll publish the best responses right here on Rediff.com