We'd asked you readers whether or not you support the breastfeeding campaign.
THANK YOU for your feedback. Here are some of the best responses we received from you.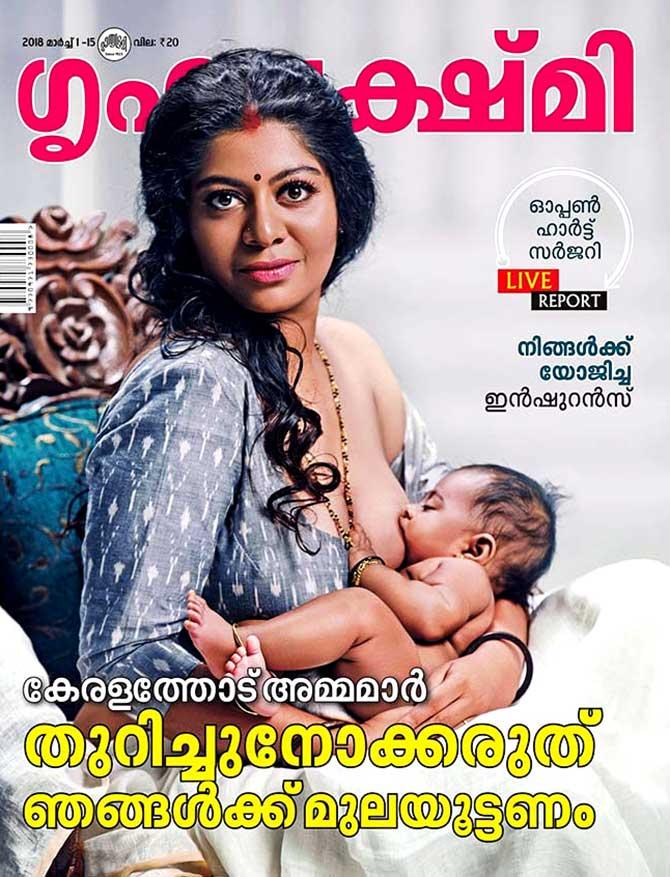 Photograph: Kind courtesy Mathrubhumi Grihalakshmi magazine
Malayalam magazine Grihalakshmi's March cover features a model breastfeeding a baby with a message to people of Kerala. 'Please don't stare. We want to breastfeed.'
The campaign aims to encourage breastfeeding while requesting society to end the stigma and not be judgemental of women feeding in public.
This is what Rediff readers think about the campaign.
---
I truly believe that a mother should be able to feed her baby anywhere. I don't support that she should do it by showing her breasts in public.
Feeding the baby is important. This campaign should aim at breast milk awareness.

If our campaign deals with urinating in public then will we post such a magazine cover showing (it) explicitly?"
--Gayatri Devulapalli
---
To whom it may concern,
I am a very open minded person. However, I strongly disagree to start a campaign where women are openly breastfeeding in public.
India is a country where in Haryana, Bihar, UP and Delhi, girls, children and women are getting raped if they wore short clothes, that too in broad day light.
Despite Nirbhaya Movement, this has not changed.
In these circumstances, now instead of combating the mentality of those uneducated perverted people, you are trying to entice them more by making breastfeeding open in public ?
First fix the obvious and THEN you can think of these things.
Remember those women in rural parts of our country or middle class women are not Anushka Shankar.
-- Sagorika Bhattacharjee
---
We must do all natural things without embarrassing and hurting others openly.
It should be graceful.
-- Nandkumar Rayanker
---
Yes, I support this campaign.
A few years ago I was traveling in the general coach of a train from Ahmedabad to Mumbai.
In my compartment, I saw a woman who wanted to feed her child who was crying continuously.
The compartment was very crowded and she was feeling very uncomfortable.
Despite the situation, she ignored everything and tried her best to feed her kid.
I realised how all women have to undergo such social pressure. I also wrote a small poem on this.
I thought strongest was HE, who could lift mountains over an edge of a finger.
I thought strongest was HE, who has a strong body, shaped with muscles and ebbs.
I thought strongest was HE, who didn't fear, not even from dogs or dacoits.
I thought strongest was HE, who never cried, no matter what.
I thought strongest was HE, but I think I was wrong.
Strongest was SHE, who dared to feed in public because her child was hungry.
It is very important that we create a culture of mutual understanding and give full freedom, necessary support, and privacy to all the women.
--Mihir Rambhia, Ahmedabad, Gujarat (Currently in Munich, Germany)
---
Every child has a right to have his/her mother's milk at least for 12 months. Unfortunately urban, corporate employed mothers do not follow this because of selfish reasons.
-- Uday, 55, Bangalore
---
No one can beat nature.
Breast feeding of milk to infant in all mammals is a nature-given protection.
The young one gets the best unadulterated food and required ingredients to support the body's immunity system, from the mother's milk.
Why should a mother feel shy to feed the child in open to keep the young one well fed?
It will be immoral to look at a woman breast feeding her child with other thoughts by male perverts.
A good magazine and a bold woman have done a great help in bringing respect to breast feeding.
The same idea being shouted from roof top by a medical professional would have failed to get the response and debate which this cover photo could possibly do.
It is also important to educate that artificial and untimely restriction of secretion of milk will do harm to mothers.
A healthy breast and one which has allowed a good secretion of milk will have lesser chance of getting affected by cancer.
Kudos to Rediff's efforts to get the message across to more and more people.
I am a 67-year-old father. Both our sons grew up well on their mother's milk.
--Sundar Raman, Coimbatore
---
Dear readers, do you support the idea behind the breastfeeding campaign? Or do you think it is a bad idea to feed your baby in public?
Dear mothers, have you breastfed in public? Did you face any criticism? How did you deal with it? Tell us.
If you support this campaign, you can share a photograph of you breastfeeding and share your views.
If you disagree, you can also tell us why and what is the appropriate way to do it.
E-mail us your views, photographs and suggestions on getahead@rediff.co.in (I support Breastfeeding) along with your NAME, AGE and LOCATION. We'll publish the best responses right here on Rediff.com