As Katy Perry began her first concert in Mumbai, all thoughts of the heat and the need for water quite literally evaporated, says 17-year-old Maya Dominic.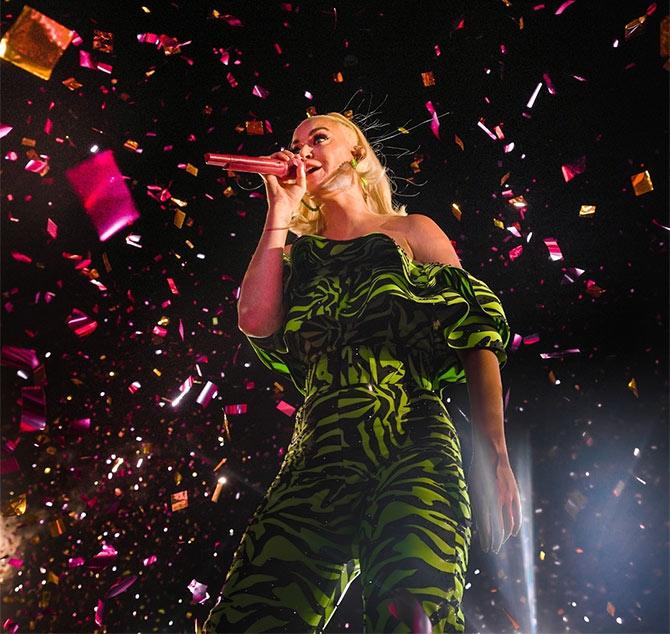 India's first-ever OnePlus Music Festival took place on November 16, 2019, at the D Y Patil Stadium in Navi Mumbai.
With multiple Indian and international acts, it was a cool blend of genres.
The stadium started filling up almost as soon as the gates opened.
People had travelled from all over India to Mumbai for this fest. Music truly does bring people together.
The concert started at 3 pm, under the blazing November sun; yet, everyone forgot the heat and the sweat trickling down their backs as they danced and cheered each performance.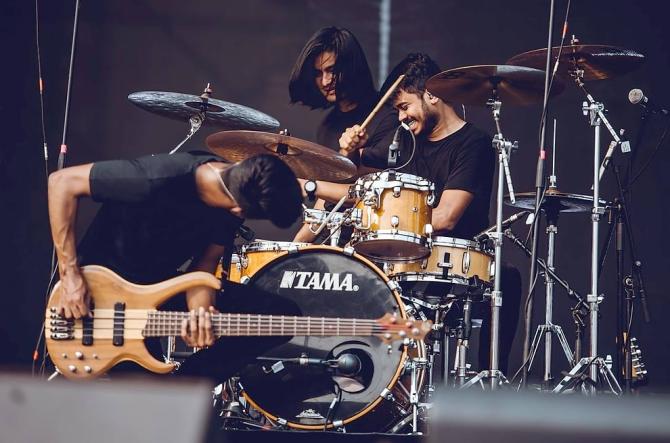 The opening act was performed by aswekeepsearching aka AWKS, an Indian modern post-rock band that had the crowd on their feet, headbanging to the music.
Next came The Local Train, an Hindi rock band from Delhi, who performed their most loved tracks.
The best part of their music -- apart from the amazing instrumentals -- was the raw emotion in their vocals.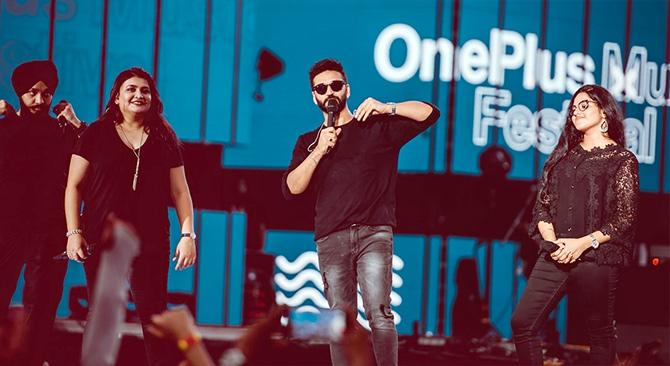 Music director, singer and lyricist Amit Trivedi -- whose music ranges from angry rock to authentic classical music -- came up next.
Along with his group of singers and musicians, he performed songs such as Love you zindagi, Udta Punjab, and London thumakda among others.
While the crowd was enjoying these pre-acts, they were eagerly waiting for the English pop sensation, Dua Lipa, who was also performing in India for the first time.
And she rocked the stage the minute she entered. Dua was as incredible as I'd expected her to be!
She drove the crowd wild with New rules, One kiss and her latest Don't start now, with everyone singing along and cheering her.
After her smashing act, Pune-based artiste Ritviz -- known for his funky EDM music -- took over the stage to render one of his most popular tracks, Udd gaye.
The concert had two additional surprise performances -- from Indian singer Dhvani Bhanushali and BlackLight, a Texas based hip-hop artiste.
Sweat. Heat. Humidity. That's Mumbai when it's not the monsoon or winter.
By now, everyone was sweltering and tired.
And that's when we saw the top of Katy Perry's blonde head as she made her way to the stage.
All thoughts of the heat and the need for water evaporated. Quite literally.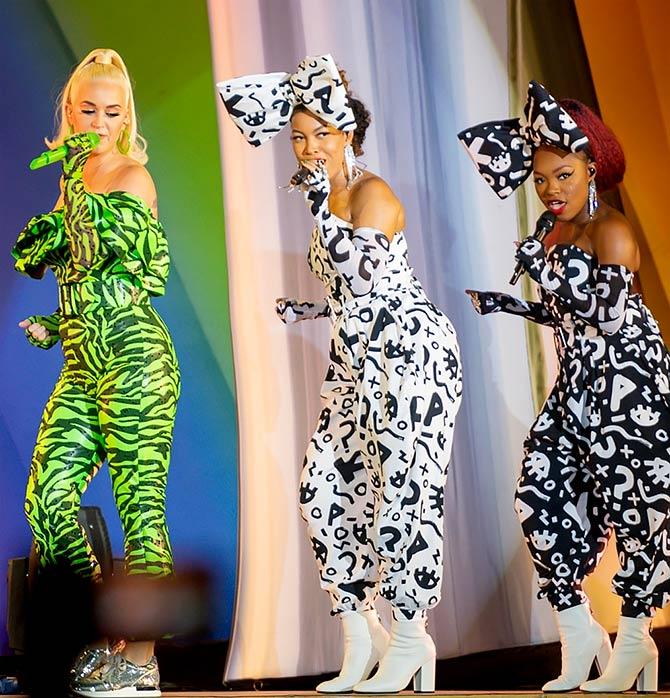 If queen Katy's around, can her props be far behind? There were huge, colourful balloons, including a giant rainbow, a dark horse-themed balloon and an arm holding up a planet.
She was dressed in an eye-poppingly vibrant costume.
Would it even be a Katy Perry concert if there weren't funky costumes with elaborate props?
Katy sang almost all of the crowd's favourites, including Hot and cold, Teenage dream (which is what this concert was for me, a teen dream come true), Never really over and her new single, Harleys in Hawaii.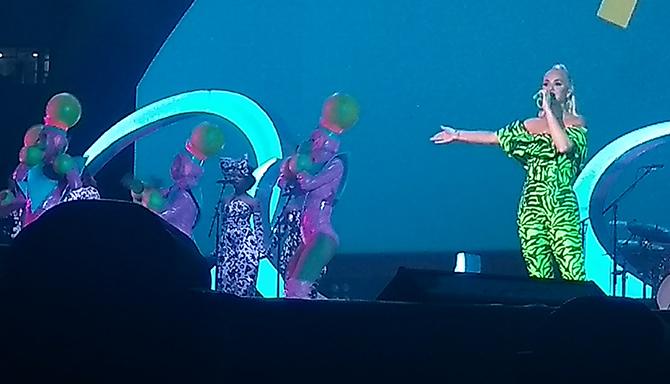 Before she sang Part of me, Katy went backstage for a costume change and returned a while later, laughing; she was sweating so much that her costume wouldn't come off.
Katy ended her concert with a bang, performing two of her most popular songs, Roar and Firework, with streamers, sparkles and fireworks lighting up the sky.
The whole arena seemed to vibrate as she sang and the crowd sang along with her, in a euphoric frenzy.
Sigh! Could the night have been more perfect?