The singer has her audience on its feet during a performance that lasted over three hours.
Rediff.com's Rajesh Karkera brings you amazing glimpses from the event.
From 11.26 pm to 2.00 am -- that's the duration singer Sona Mohapatra kept Mumbai on its toes; specifically, those who had come to attend the second season of the Paddy Fields concert at Goregaon, north west Mumbai, earlier this month.
The event, which hosted performances by renowned singers entertaining music lovers over two evenings in Mumbai -- such events normally don't take place in this part of the city -- more than lived up to its expectations!
The Paddy Fields concert, which focuses on folk and fusion music, celebrated womanhood this year with performances by Sonam Kalra, Susheela Raman, Sunita Bhuyan, the Nooran Sisters, Shubha Mudgal, Kalpana Patowary, Tipriti Kharbhangar and Sona Mohapatra.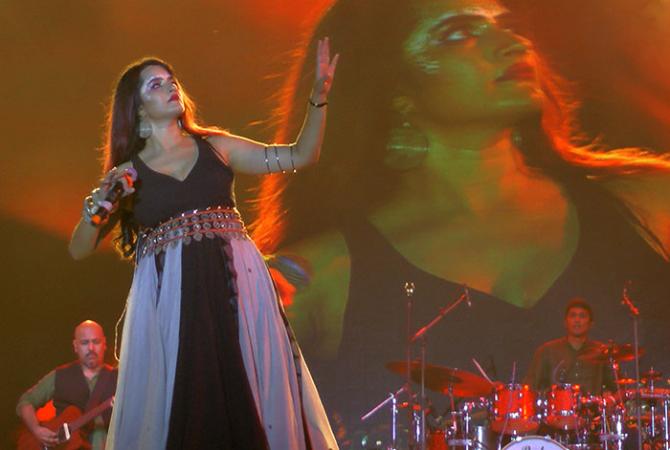 We walked out with the fondest memories of Sona Mohapatra who kept us on our toes till 2 am and surprised us with her unending energy.
While it would be impossible to recreate the aura of the live event, here's a glimpse of her performance where she walks into the crowd and her sister -- who is in the audience -- suddenly joins her.
The thing about a Sona Mohapatra concert is that it's never just a performance; it's more like an interaction where she makes sure you are completely involved with what is happening on stage.
This video gives you a glimpse of the beginning of her performance, which she begins with Gaye jag mangal gaan.
And then gets the crowd on her feet with Aaja Ve... :)
She makes conversation with the crowd even as she shifts the tone of her performance to Sufi -- "gospel qawwalis," she calls them -- saying, "This is what makes the fabric of India special."
Another Sona quote: "Folk music for me is roots music... music that goes beyond just having fun. So all the artists in this country who have brought about change play a big role in my life."
Inspired by Aamir Khushro, Sona digs deep into Sufi music and performs Main To Piya Se Naina Ladayi Re.
Sona then speaks about the power of womanhood.
"I would like to be free of my gender and not be patronised and given a platform in every music festival saying 'Women and Music', as if we are some special creatures."
"I would like to be in a festival anywhere across the world and do a better job then anyone else, and not just be in a special group of women who are getting a chance together."
"Let us all -- men and women -- be on the same platform and celebrate artists and not their gender."
"We don't need a special space to breathe. We are 50 per cent of the population... we don't need this patronage."
Delving into the intricacies of folk music, she explains that, like there are ragas in classical music, there are maands in folks music.
She loves the song Padhaaro Maare Des because she learnt the maand on which it is based from her teacher, Ashwini Bhide.
Sona says she considers her teacher to be a "devi" and pays Bhide tribute with the section she calls Songs For The Soul.
This gig was particularly special for Sona because her parents were present in the audience.
Her passion for being rooted to the earth, she says, was instilled in her by them.
"The common thread among all the artists I am performing with and poets I am inspired by is that they were not just writing beautiful melodies to just make us feel happy."
"Happiness is an important goal for music. But I believe that music can be a positive change for society and all these artistes have very subversively pushed for that change."
"An original song from a milestone in my life.... Oh Re Chiraya (the title song of Aamir Khan's television programme, Satyamev Jayate) -- our attempt to creating urban folk music and music that reaches out to make that change."
Like we said, a Sona Mohapatra concert is not just about the songs.
It's also an interaction where she builds a relationship between the singer and the audience, talking about the songs she is singing and the musicians who are supporting her.
At around 1 am, she begins to talk about how folk music has inspired Bollywood.
"I celebrate the folk roots of my land almost every day on a stage," she says. "But, guess what, I am also part of the Mumbai industry. And what I want to share here is something linked to what we are celebrating today."
"I'm talking about folk music that has been adopted by Bollywood as their own... some of them credit the folk music."
And then, she begins her "celebration of folk music in Bollywood... let's do it statewise."
She starts with Uttar Pradesh and the songs, she's says, are also a celebration of "women like me and Kangana..."
And she moves on to "Banno Tera Swagger Lage Sexy", following it up with "Sasural Gendha Phool."
She then moves to Bihar and Rajasthan.
"Some of my favourite folk artistes, like Malini Awasthi and Sharda Sinha, are from Bihar. And Ila Arun, of course, is from Rajasthan."
Then, south Indian folk music gets play with "Aa Ante Amalapuram."
Sona ends the evening, or rather morning, with another energy-filled number, Duma Dum Mast Kalander.
"I know hundreds of artistes have interpreted this song, but jahan pe bhi jaayen (wherever we go), in any part of the world, the desis get it!"