Chef Aditi Handa is someone who has definitely made her mark on the Indian culinary landscape.
In 2012, at the age of 28, she founded The Baker's Dozen along with her husband Sneh Jain, an IIM-Ahmedabad alumnus.
Her inspiration was very simple. "No one was really making good bread," she reveals.
To learn the art of breadmaking with hope of mastering it someday, Aditi went to the International Culinary Centre, New York, which had a dedicated bread baking programme.
"On Day 5 of my course, as I was shaping a French sourdough, I knew I had found the purpose of my being," she says.
"I just wanted to bake bread and I knew that everything else would follow." Three years later, Aditi did a patisserie course from Le Cordon Bleu in Paris.
When one thinks of sourdough, it's hard not to think of Aditi, who introduced India to the Sourdough Pav, a take on Mumbai's laadi pav.
Her sourdough range --four-grain sourdough, blueberry cranberry, walnut raisin, baguette and pizza base -- is vast, and her breads are always soul-satisfying.
"Bread is synonymous with my whole identity," she shares. "Baking has given me a purpose in life."
"I don't know how much I love cooking, but I love baking and I'm very fortunate to get to bake as a full-time job.
"Baking really calms me down and I see myself baking for the rest of my life."
The self-proclaimed Indian sourdough protagonist tells Anita Aikara/Rediff.com how it all started, her earliest memories of baking, juggling home and work, staying afloat during the pandemic and the way ahead for the food industry.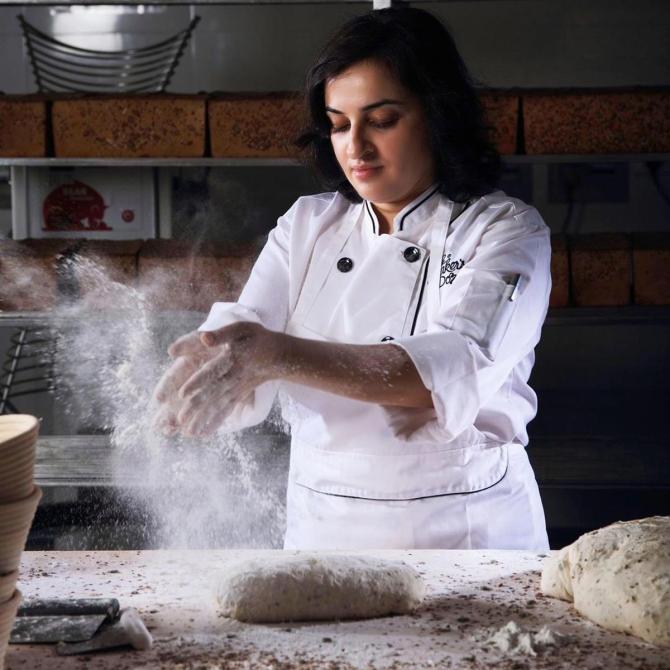 Starting The Baker's Dozen with your husband?
My husband studied pharmaceutical engineering and did his MBA from IIM-Ahmedabad.
I was studying psychology in England and it was during one of my trips back home to India that I met my husband Sneh Jain.
We both were in love with the idea of entrepreneurship.&
Once we got married he got a placement with McKinsey, and I was doing a souvenir business from the IIM-Ahmedabad campus.
Post marriage, we moved to Mumbai and then to Canada for a year.
Once we were back from Canada, we decided to start a business together and that was how The Baker's Dozen came about.
From whom did you inherit your love from baking bread?
There is no one in my family who bakes.
I am not sure from where my love for cooking comes from, but it is most likely from my mother.
She is a great influence in my life. Right from the time I started developing my recipes till date, she has been approving each and every product before it is displayed on the store shelf.
The idea of starting whole wheat bread at The Baker's Dozen was also my mother's.
When I used to make breads which had 90 percent or 100 percent maida, she'd tell me maida is good when you are abroad but Indians want atta (wheat).
Does your mother have any interesting childhood stories of you baking?
Yes! It seems when I was in the 3rd or 4th grade, whenever I'd be upset, I would go in the kitchen and start making atta.
We had a small chakki at home, so I would go to the pantry, take some fresh atta and start kneading the dough. That was my way of venting out.
That's why she says it makes sense I became a baker
Did she have any baking advice for you?
My mom always tells me that whenever one is cooking, what is in their mind eventually reflects in their food.
So she advised me to be in a happy frame of mind whenever I'm baking or cooking.
I remember the time when I baked my first cake, it was somewhere between my 6th and 8th grade, I listened to a Bryan Adams song so that I'd be in a happy mood.
Who gave you the first baking lesson?
I have baked several cakes and cookies as a child, but I always had a love of making food, whether it was experimenting with recipes to make rumali roti or cakes for my friends' birthdays.
My love for baking comes from Chef Johnson and Chef Brynne at the International Culinary Centre, New York, who trained me for two months.
I had attended the institute with a focus that I wanted to return home and start a business of my own.
I remember telling these chefs that I had no background in culinary and in two months I wanted to be trained as a baker and be able to develop my own recipes.
Monday to Fridays I'd attend class and over the weekends I'd sit with them and work on recipes.
They not only taught me the art and science of baking, but they taught me how to speak to my dough, how to care for it and above all how to do justice to it.
Till date baking is the thing that keeps me calm and motivated.
Right now, as it is more about running the business, I end up spending just few hours daily on baking.
However, when I started off, I used to bake for 8 to 10 hours daily because back then we were just a team of three bakers including me.
Looking back, what has been your biggest milestone?
For me there have been few milestones which have really helped carve the path for The Baker's Dozen.
The first milestone was selling my first loaf of bread on January 6, 2013.
I didn't have a store at that time. I'd work from home and tell people to place their orders a day in advance.
I used to get 10-15 orders by 9 pm and the next day, early in the morning, I'd start baking.
By 12 pm the bread would be ready and then the delivery boy would go door-to-door to deliver the products.
It was on a small scale and I was baking just 20-30 loaves a day. After two-and-a-half-months, we opened the first store in Prabhadevi, Mumbai.
We invited our customers and over 500 patrons turned up just because they liked our product even without any advertising. That was the second milestone.
Putting up a 25,000 sq ft factory in Kheda, a village which is an hour away from Ahmedabad, was the third milestone.
Right now, The Baker's Dozen has 26 outlets across the country.
When you started off, you chose to train people than hire experts?
When The Baker's Dozen started off, we didn't have the money to hire good talent as we were self-funded and had to work with very tight budgets.
Also most of the chefs we interviewed loved bread, but they'd talk of knocking the dough and cranking up the temperature in the prover.
They didn't realise that all this would hurt the dough and the bread would not turn out well.
I feel one big mistake bakers make is that they add a lot of flour to the dough.
I was trained to believe that there is no fault with the dough, the fault lies with your hands.
I was taught to treat the dough with a lot of care. I don't know commercial viability, but I know how to make good bread and that's what I expect from my team as well.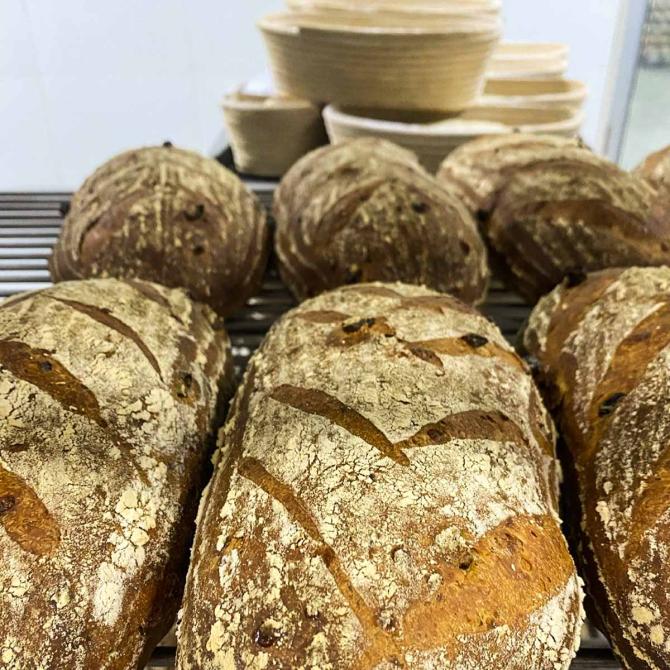 The story behind spearheading the sourdough bread narrative in India?
When I went to New York for my baking course, I was introduced to the sourdough.
After my classes finished at 5 pm, I'd visit bakeries in New York to taste their baked products.
In those two months of my course, I barely ate a normal meal. For breakfast, lunch and dinner I used to have a baked item.
So when I returned to India, I brought the recipe of the sourdough back with me and introduced it at The Baker's Dozen.
It was very well-received by people and our sourdough got really popular thanks to people's curiosity towards the product.
You are a mother to twins. How is it, especially during these times, to juggle work and home?
My sons are four years old and now as I am based out of Ahmedabad, I go to the factory four times a week.
It is the only thing that keeps me sane during the pandemic.
If it weren't for visiting the factory, I would have just gone crazy by now.
Juggling two passions isn't easy, but I enjoy it.
Did you ever feel that you'd have to give up baking for your kids?
I reduced my baking in 2016 when I got pregnant because it was a physical, tiring job and my doctor was against it.
During my pregnancy, I remember telling the doctor that in two months post the delivery, I'll be back to work.
But when the kids came along, I didn't want to get back to work.
I took a two-year sabbatical as I didn't want to feel guilty that I wasn't being around for my kids.
I have always loved being a baker and when I had my twin sons, I fell in love being a mother.
But I was clear that my first baby was The Baker's Dozen and while I got time to spend with my kids, I had to get back to work.
For about two years I was not baking and then in 2019, I started baking on a regular basis again.
Have your kids seen you baking? Do they like what you bake for them?
Post-Covid I haven't been able to take my sons to the factory, but pre-Covid they have been there often.
They are too young to figure things out, but they know their mom makes bread and they like to eat it.
When I am home, I make cooking a fun affair and get them to participate too.
How has The Baker's Dozen evolved post the pandemic?
I think it's fair to say that everyone faced unique challenges during the pandemic and being able to pivot and adapt to the new set of uncertain circumstances was the only way to survive.
At The Baker's Dozen we have been operational throughout the pandemic, the only day we were shut was during the Janta Curfew in March 2020.
A day before the Janta Curfew, I remember mentioning to my husband and father that we should shut the factory for 15-20 days.
That afternoon I stepped out to buy milk and I found that all the packets were sold out.
I realised that food would a priority during the pandemic and we had to keep working so that our bread would reach people.
During the lockdown, we had a 60 member team and we called people in batches of 15.
For the first few weeks, we were serving just the bread menu to our customers.
However, by the time the first lockdown was over, we could go back to our full capacity of 60 people and hire another 60.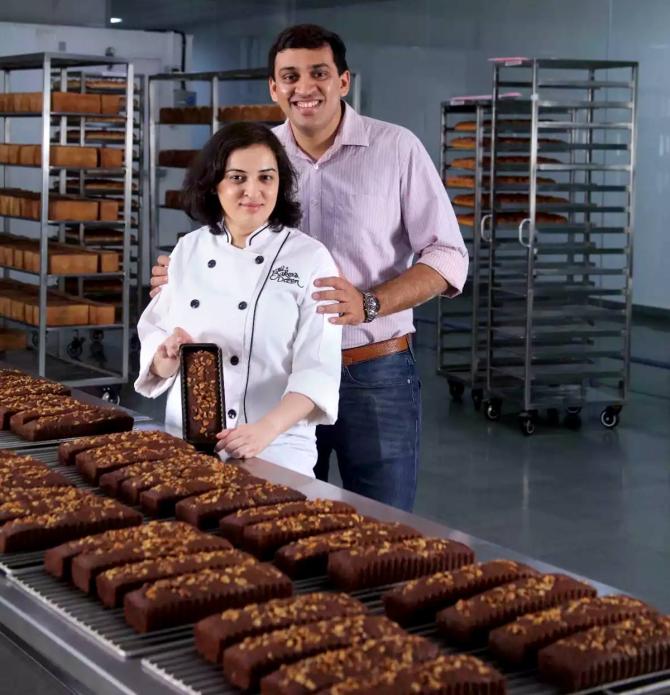 What's the new 'normal' for the food industry?
The new normal for the industry is easy and innovative execution, focus towards deliveries and takeaways, and investment in safety measures for customers.
Do you think the going is tougher for women chefs? Did you face any obstacles?
Honestly, if we talk about the current scenario, the industry is no longer a tough platform for any woman, but it does demand honesty and passion.
If you're in love with what you want to make, no one can be or create any obstacle in your journey.
With respect to my experience, there is an upsetting generalisation that I have often witnessed as a woman baker.
As I'm into baking, people feel that I may not be as business savvy as my husband and co-founder. Every business growth related query is directed to him but not me.
Three qualities one needs to be a good baker.
Passion, honesty and hard work.
Are educational qualifications very important in the food industry or skill is all that matters?
Not education qualities, but skill and eagerness to learn can take one far.
Advice for aspiring bakers?
Be true to your passion, start small and grow gradually while building a strong foundation.
It is always better to start with a small menu in one city and get it right before expanding.