Bangalore Connection 1888 tries to reclaim a piece of the city's past, discovers Nikita Puri.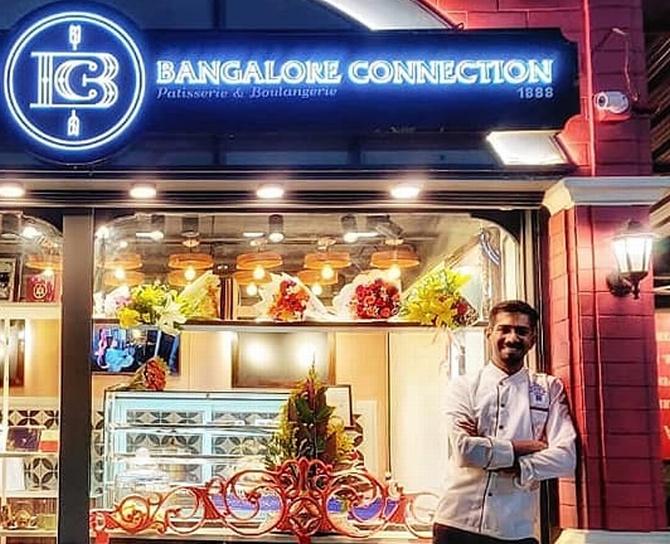 Every morning by 7 am in Shivaji Nagar, Bengaluru, Priyank Sukanand's kitchen comes alive with the thrilling sights and smells of freshly baked produce.
From here the goodies make their way to a cosy red-brick store not far away, on Museum Road.
It's only been about a couple of months since this bakery opened with its quiches, cookies and macarons, but its kitchen holds within its walls a virtual slice of the city's history.
A bakery called Naidu & Sons once stood here. It was founded in 1888, by Sukanand's great-great-grandfather P V Kuppusawmy.
The family bakery shut down in 1982. But Sukanand's own calling seemed aligned with his ancestor's.
So after receiving a master's diploma in baking and pastry arts from Le Cordon Bleu in London, Sukanand returned in 2018 with plans of reviving the family legacy.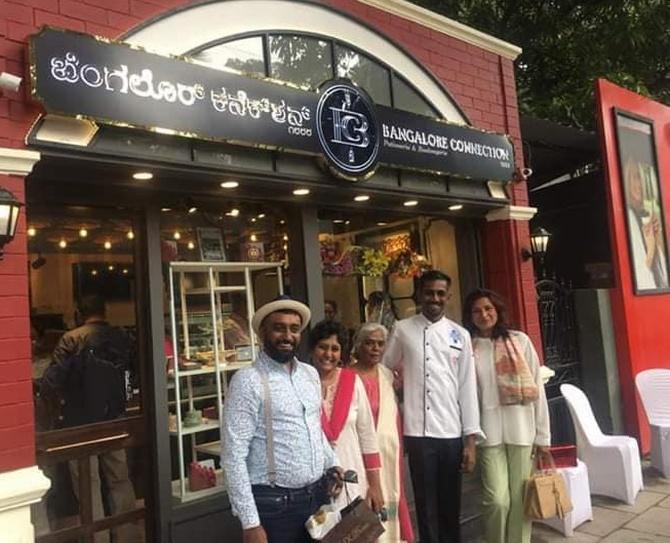 As a young boy he had once promised his grandmother C K Devikarani that he'd reopen the family bakery.
When Sukanand found a picture of his great-great-grandfather tucked away behind another picture in the album, one in which Kuppusawmy sits with his cookies and three-tier wedding cakes, that dream got a new lease of life.
The result of this is Bangalore Connection 1888, a bakery that has a retail business as well as a B2B business which sees the young chef sending off baked goodies to a handful of corporates.
Among more cosmopolitan amenities such as focaccia and custard-filled doughnuts, huge jars of old family favourites like milk bread, butter and masala cookies sit by the large glass window.
His grandmother's brinjal pickle ("more like a chutney") is also up for tasting. "I wish there was a recipe book stashed away somewhere," says Sukanand wistfully.
Failing that, he relies on a generation of older patrons who were familiar with his grandparents's wares.
Where they haven't been able to crack exact recipes, they've introduced more contemporary versions -- Kuppusawmy sold peanut biscuits, Sukanand has peanut butter cookies.
Sukanand is also hoping to offer nutrition bar-like snacks designed for both parental and children-approval. "Makes sense to have healthy snacks parents can pick for their kids," he says.
The story of how Kuppusawmy found his feet in Bengaluru (then Bangalore) is a long one.
His forbears, bangle-sellers from the Naidu community, were forced to leave their home in Chittoor (in modern-day Andhra Pradesh) centuries ago when famine stuck.
They then settled in Padavedu, in Tamil Nadu, but had to move again for the same reason.
This time they settled in Bangalore near the Cantonment railway station which had turned into a buzzing centre of activity under the British.
No one is sure of the finer details, but elders in Sukanand's family say Kuppusawmy learnt how to bake bread in tins placed in hot sand. Among his first customers were British troops.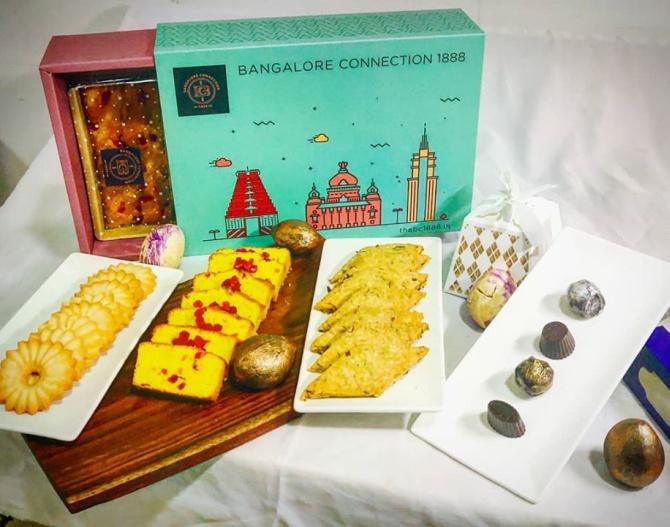 Even as he mulls opening more stores, Sukanand is also considering introducing bread and stew meals at the bakery.
Despite the fact that it's been hard to track down the original bakery's dealings, a study of different archives, including records kept in the British Library, indicate how in times of famine Naidu & Sons dug deep into their reserves to serve stew and bread to the people they could.
Serving the same combination at Bangalore Connection 1888 would be a way of honouring not just one family's past, but also a collective perseverance and community spirit.