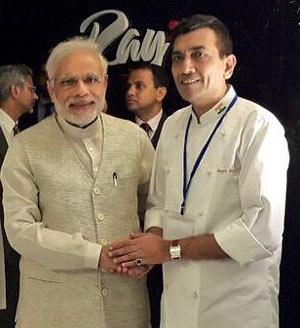 In August 2015, Chef Sanjeev Kapoor -- who has been awarded the Padma Shri in the 2017 Republic Day honours list -- cooked a meal for Narendra Modi during the prime minister's visit to the United Arab Emirates.
During his recent visit to Rediff.com, Kapoor spoke to Syed Firdaus Ashraf about the PM's food preferences.
'Cooking for Narendra Modi gave me a sense of pride'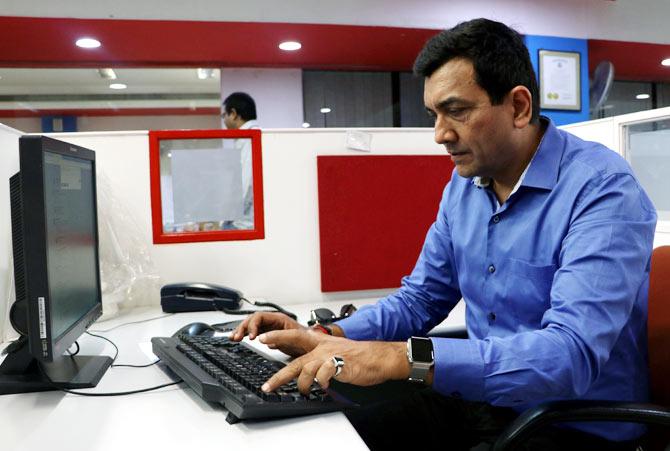 IMAGE: Chef Sanjeev Kapoor interacting with readers during the Rediff Chat. Photograph: Hitesh Harisinghani/Rediff.com
Cooking for celebrities is nothing new for me; I have done it all my life.
But cooking for Prime Minister Narendra Modi gave me a sense of pride.
The invitation to cook for Prime Minister Modi came from the UAE rulers when he had gone to the UAE for an official visit.
I was tense before cooking the food. I am always tense before I cook for someone.
I feel a cook must always have a slight sense of nervousness and that is good because it keeps you on your toes.
As a cook it does not matter whoever tastes your food, you always have to think about the outcome of the taste after the cooking part is done.
Even if I am making a salad, I always have to think whether I have to put more salt in it or not.
'I made him taste 25 to 30 different vegetarian dishes'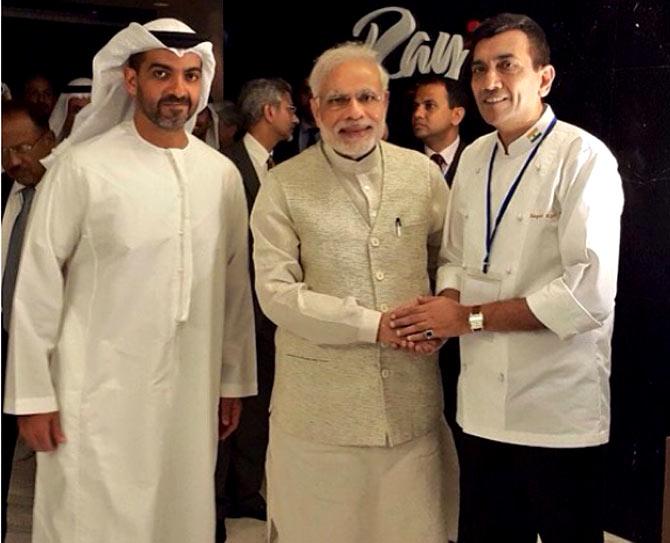 IMAGE: Chef Sanjeev Kapoor interacts with Prime Minister Narendra Modi in the UAE. Photograph: Kind courtesy Sanjeev Kapoor/Twitter
While preparing the food for Modiji, I kept two things in mind.
First, he is a vegetarian and second, I decided to prepare food based on traditional authentic Gujarati cuisines which will have Gujarati taste and flavour.
My wife is from Gujarat, so I am familiar with the taste of Gujarati food. I added my touch of madness.
The good thing about the food we prepared for Modiji was that it was also loved by people who were not vegetarians. The entire experience was very good.
I spent an hour with Modiji and made him taste 25 to 30 different vegetarian dishes. He tasted each and every thing.
He was very kind and very open to everything. That gives an idea about his personality -- that he is always open to something new.
I feel people who are experimental with their food are open to everything in life and that is what I liked about Modiji.
His food habits tell us that he is simple in his approach and is a fearless man.
He is also very creative. He is not afraid to take decisions.
His knowledge on food is fantastic.
In that one hour discussion, he told me how chillies can cure heart problems.
He is very clear on his personal lifestyle.
Exotic things do not attract him and he is a grounded person.
He believes that to know the culture of any place you should taste its food.
In the UAE, I arranged food from the Emirates too and asked him whether he would like to taste it. He readily agreed.
I gave him Ful medames, which is made with beans, onion and tomatoes.
It is a traditional breakfast in the UAE like our pav bhaji.
'He likes green vegetables and simple yellow dal'
When Prime Minister Modi was travelling to the UAE, he was fasting for Navratri.
We got this message that he won't eat anything and then we started to prepare food accordingly.
We worked on our menu, which included fruits and vegetables and things which were non-cereal based.
There are different fasts on different days and on some days, we only served juice.
Please do not ask me for the details of the dishes because he did not give me any chart as such.
In the evenings, he ate dinner after the fast. I feel his favourite dishes were Gujarati style kadhi, Gujarati style vegetables like undhiyo.
I had made undhiyo especially for him and also a Gujarati thali. He also likes green vegetables and simple yellow dal.
I also found out that Prime Minister Modi's food habits are very basic.
He eats hot chapatis and hot vegetables, but not many of them (at one go).
You can say he likes simple home food. He prefers that.
However, he is open to new things as long as it is vegetarian.
In sweets, he is open to eat everything.
I would say his heart is Hindustani and he loves kheer, shrikhand and Gujarati sweet dishes.
He does not go overboard and eats in small quantities.
I am an apolitical man, but after spending time with Prime Minister Modi, I felt he has only one agenda -- how to make India progress.
He is never bothered about himself, only about the country.