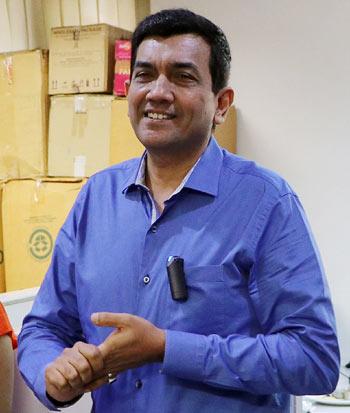 What happens when a celebrity chef visits a corporate office? Let's find out.
Photographs by Hitesh Harisinghani and Rajesh Karkera/Rediff.com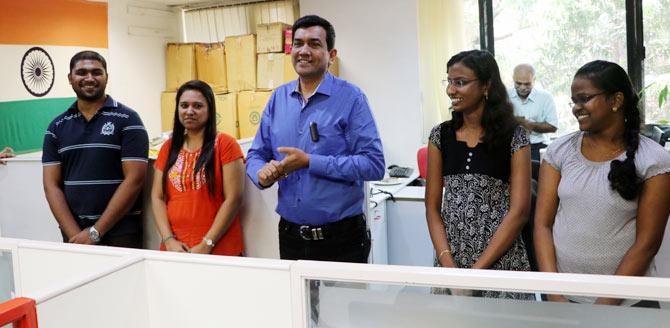 IMAGE: Chef Sanjeev Kapoor, centre, poses with Rediff staffers (LtoR) Austin, Hetal, Adlin and Chitra.
It is one thing to cook for survival. And quite another to participate in a contest and compete with your colleagues.
And if your judge is a Masterchef like Sanjeev Kapoor, the expectations are going to be high as a rocket!
But for Rediff staffers Adlin, Austin, Chitra and Hetal moonlighting as aspiring chefs and showcasing their culinary skills, in a fun, interactive activity, was an event to cherish for life.
The girls bit their nails and Austin pulled his hair out, as Chef Kapoor keenly tasted each of the dishes and rated them on a scale of 1 to 5.
Some of the interesting tips he shared from his decades of experience in cooking and tasting --
Always smell the food "like a dog" before tasting it. Seventy per cent of the flavours can be judged from the smell.
For salads, always cut the veggies and fruits in the same fashion/shape. Don't mix cube sized veggies with julienned ones.
To make a flower decoration from tomatoes, use a sharp knife and peel the skin thinly and evenly throughout.
Patience and practice is the key to success.
Don't you want to know what these dishes are and what their recipes are? Scroll down to find out!
Chocolate Cake Pudding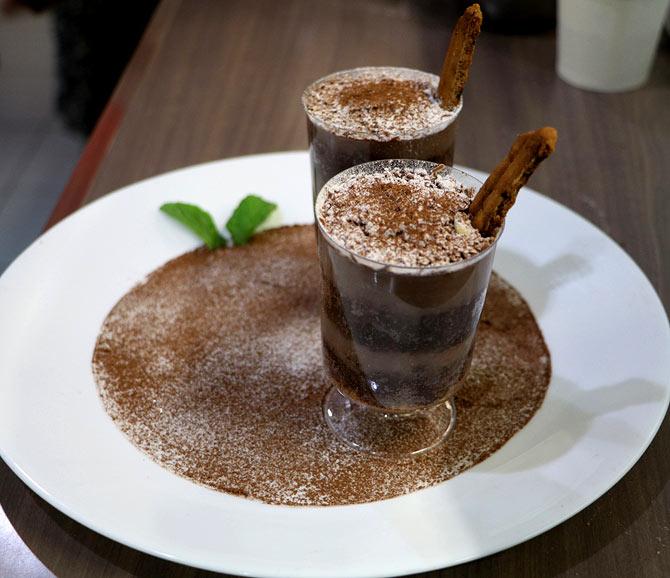 IMAGE: Chocolate Cake Pudding by Hetal Jethwa
Chef Sanjeev Kapoor's score: 4.5 out of 5
Chocolate cake
Ingredients
10 Parle G biscuits
10 Hide and Seek biscuits
1 and ½ cup milk
1 sachet Eno (blue)
1 tsp powdered sugar
1 tsp cocoa powder
A pinch of salt
Method
Grind both biscuits to a fine powder.
In a bowl, add powdered biscuits, sugar and salt. Mix well.
Add milk and make a batter.
Add Eno and beat till they turn slightly fluffy.
Transfer to a cake container.
Bake it in a pre heated oven (180 degree) for seven minutes. You may also pressure cook it by steaming it for 10 minutes on high flame and 10 minutes on low flame.
Chocolate pudding
Ingredients
2 cups milk
½ cup sugar
1 tsp corn flour
2 tsp cocoa powder
Method
In a bowl, mix corn flour and cocoa powder with ½ cup of milk.
Boil remaining milk and add sugar.
When milk boils and sugar dissolves, add the mixture of corn flour and let it boil for a few more minutes till it thickens.
To assemble
Take two glasses.
Cut cake in round shapes as per the size of your glass.
Add crushed biscuits at the bottom of the glass, place the round cake over it.
Moisten cake with sugared water. Add chocolate pudding to the cake.
Make two layers with cake and pudding.
Garnish with grated chocolate and powdered sugar.
Decorate with mint leaves and serve.
Apple Coleslaw Salad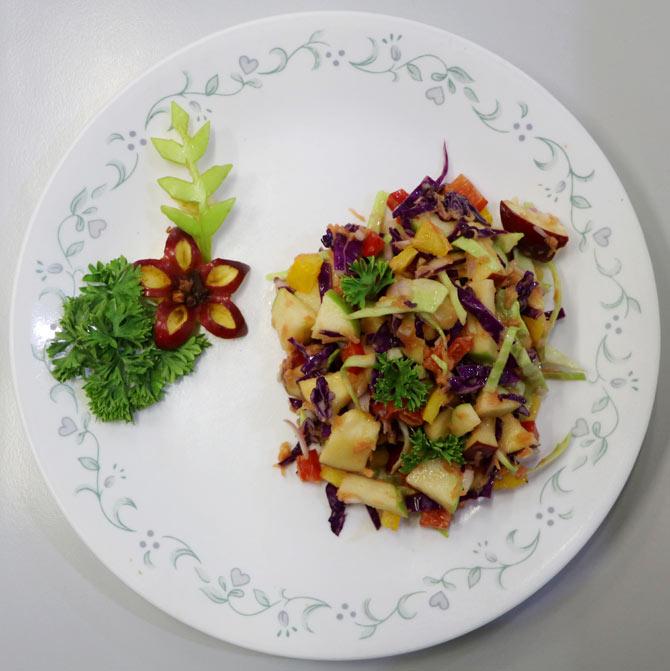 IMAGE: Apple Coleslaw Salad by Chitra R
Score: 4 out of 5
Ingredients
3 cups chopped cabbage
1 unpeeled red apple, cored and chopped
1 unpeeled green apple, cored and chopped
1 carrot, grated
½ cup finely chopped red and yellow bell pepper
2 red onions, finely chopped
For dressing
1/3 cup mayonnaise
1/3 cup jaggery or brown sugar
1 tbsp lemon juice, or to taste
Method
In a large bowl, combine cabbage, red apple, green apple, carrot, red bell pepper, and green onions.
In a small bowl, mix together mayonnaise, brown sugar, and lemon juice.
Pour dressing over salad.
Mix well and serve.
Mojito Fruit Salad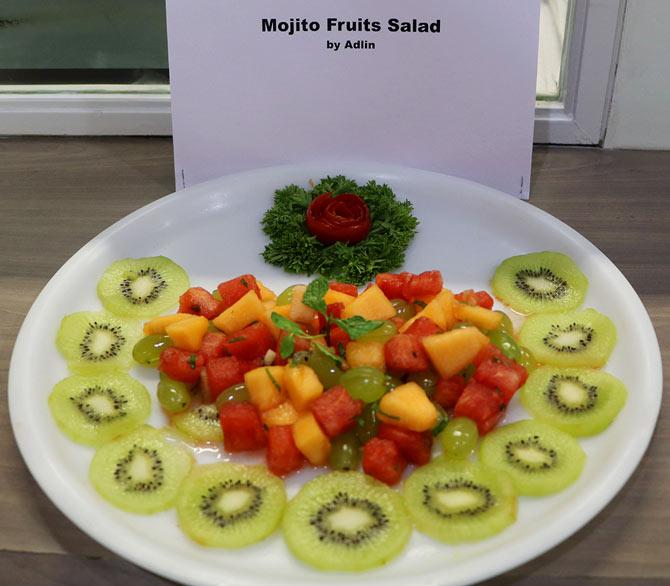 IMAGE: Mojito Fruit Salad by Adlin
Score: 3.95 out of 5
Serves 6
Ingredients
1 cup watermelon cubed
1 cup seedless grapes
1 cup musk melon cubed
1 cup kiwi skinned, sliced
3 sprigs of fresh mint
2 tsp white sugar or honey
3 tbsp fresh lime juice
Method
Mix watermelon, grapes, cantaloupe and kiwi in a bowl.
Add mint, sugar, and lime juice together in a bowl, crushing the mint with the back of a spoon while mixing to extract flavours.
Pour this over the fruit mixture.
Seal the bowl with a lid and refrigerate for at least an hour.
Just before serving, gently flip the sealed bowl several times to coat the fruit with the dressing.
Grilled Chicken Salad with Vinaigrette Dressing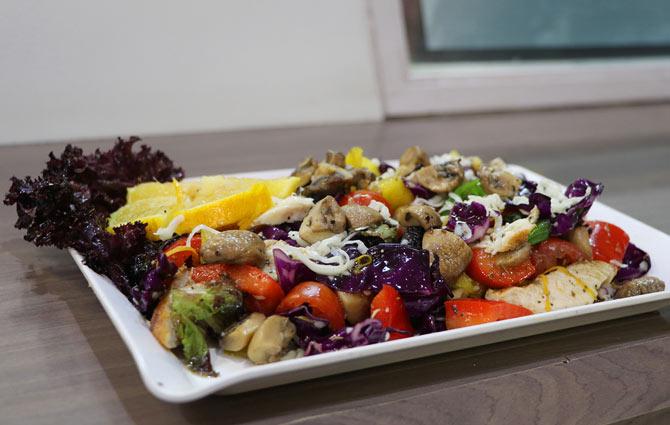 IMAGE: The winning dish -- Grilled Chicken Salad with Vinaigrette Dressing by Austin Noronha
Score: 4.95 out of 5
Ingredients
300 gm chicken breasts (butterfly cut)
1 cup orange juice
1 orange zest
4 tbsp lemon juice
A medium sized bunch of lollo rosso lettuce leaves chopped
1 medium red bell pepper, cut in square pieces
1 medium yellow bell pepper, cut in square pieces
150 gm mushrooms
4 to 5 cherry tomatoes, halved
Olive oil
2 tbsp peri peri powder
8 to 10 basil leaves
Salt to taste
½ tsp pepper powder
1 tsp mixed herbs (dried oregano, thyme, rosemary, sage and basil)
Grilled Chicken
For marination
Wash the chicken breasts and pat dry with a kitchen towel.
In a bowl place the chicken and add peri-peri powder, 1 tbsp lemon juice, 1/4 cup orange juice, half the orange zest.
Season with salt and pepper and mix well. Keep aside for an hour.
Heat olive oil in a grill pan on medium heat and once the pan is hot, add the chicken breast and cook for 15 to 20 minutes on both sides till it is well cooked. Don't overcook it, as the chicken tends to dry out.
Once done, take it off the heat and keep aside to rest for 10 to 15 minutes so the juices are fully absorbed.
Cut the chicken into chunky strips.
Cut the mushrooms in quarters and cook it in the same grill pan.
Add salt and pepper powder as per taste.
Grill it for 3 to 4 minutes on medium heat and take it off the flame.
Vinaigrette dressing
In a non reactive bowl, mix together 3 tbsp of extra virgin olive oil, remaining lime juice, orange juice and orange zest.
Add salt as per taste and dried herbs.
To assemble
Add bell peppers, cherry tomatoes chop 3/4th of the lollo rosso leaves and tear 6 to 7 basil leaves into it.
In a big bowl, add the grilled chicken and salad. Toss it well.
Just before serving, add the vinaigrette dressing, drizzle a little extra virgin olive oil and toss again.
Presentation
Take a white plate, place the remaining lettuce leaves and place the tossed salad on it.
Garnish with some sliced orange wedges and chunks of chicken breasts.
Serve.
Click here to watch Sanjeev Kapoor's advice to aspiring chefs! Video by Hitesh Harisinghani and Rajesh Karkera/Rediff.com
---