We asked you, Dear Readers, what would you cook for US Vice President Kamala Harris?
Culinary expert, recipe developer and food curator Gita Hari recommends Mixed Vegetable Sambar with Urulai Roast as a side dish and Mysore Pak for dessert.
"Sambar is counted as a wholesome dish from south India and is a staple in every Tamilian household," says Gita, who curates Sattvik food and the micro-cuisine of Palakkad for premium hotels across India.
"This nourishing tamarind-based gravy preparation is loaded with proteins from dal, nutrients from a variety of vegetables, antioxidants from spices and contains the goodness of ghee," she explains.
"The versatile dish can be mixed with rice for a healthy meal or had as an accompaniment for dosas, idlis and medu vadas.
"The medley of vegetable variety is optional. It can be prepared with just any three or more of your choice from the below ingredients.
"Once you have the vegetables cut and ready, it is easy to prepare."
Mixed Vegetable Sambar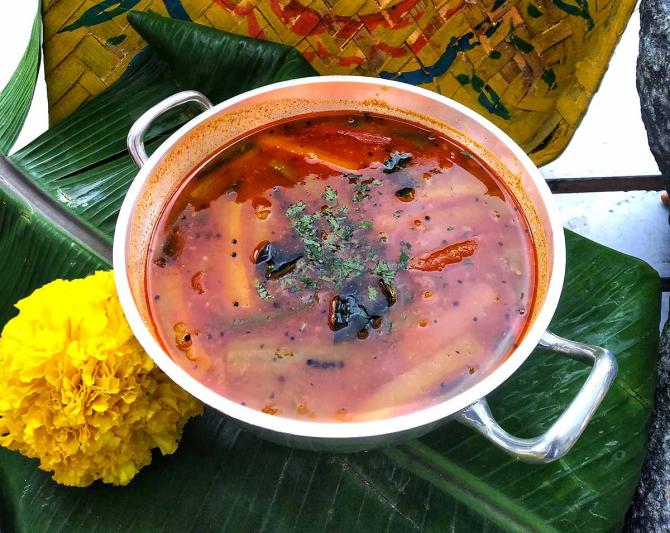 Ingredients
3 tbsp tamarind paste (1 tbsp tamarind deseeded and soaked in 5 tbsp hot water; strain after the tamarind is well soaked and releases its pulp)
6 one inch cubes ash gourd
6 one inch cubes yellow pumpkin
3 medium-sized tomatoes, halved
1 drumstick (cut into 1" pieces)
2 medium-sized eggplants, quartered
2 red onions, quartered
2 potatoes, cubed
1 ½ cup tur dal,pressure cooked
½ tsp turmeric powder
2 tbsp sambar powder (any store bought sambar powder will do; this is only for extra flavour)
½ tsp asafoetida powder
Salt to taste
A sprig of curry leaves
Coriander leaves for garnish
2 tbsp ghee
Mustard seeds, methi seeds and whole red chillies for seasoning

Method
Heat a deep-bottomed pan. Pour in 4 glasses of water and the tamarind paste. Mix well.
Wash and introduce the vegetables to the tamarind water.
Add turmeric, sambar, asafoetida powders, salt and curry leaves.
Cook till the veggies are just done (make sure they are not overcooked) and the water is reduced to 1/4th its volume.
Now stir in cooked tur dal and add 4 glasses of water.
Let it boil for 3 to 4 minutes. Keep stirring to prevent the dal from sticking to the bottom of the pan.
Add salt, if needed.
Heat ghee separately in a small pan and season with seasoning ingredients. Add this to the sambar curry.
Garnish with chopped coriander leaves.
Serve hot with rice or idlis.
---
Urulai Roast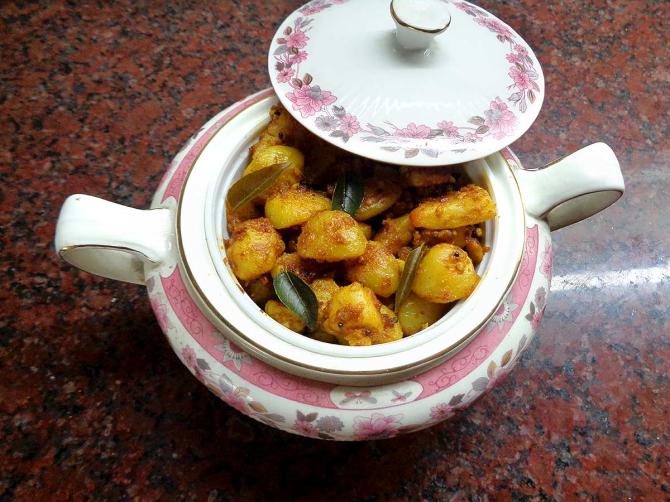 According to Gita Hari, potato or urulai roast is a "simple and easy-to-make side-dish which goes with sambar, rasam or curd rice.
"It is a mandatory crispy potato dish in any Chennai feast as the aromatic sambar spices added to it enhance the culinary experience," she adds.
Ingredients
4 large boiled potatoes
6 tbsp oil
2 tbsp sambar powder (any store-bought powder will do)
½ tsp asafoetida powder
½ tsp turmeric powder
Salt to taste
A sprig curry leaves
1/2 tsp mustard seeds
4 dried red chillies
Method
Remove the jackets from the boiled potatoes and cut them into cubes.
Heat oil in a pan. Season with mustard seeds, red chillies, asafoetida powder and curry leaves.
Introduce potato cubes.
Sprinkle salt, turmeric and sambar powder. Give it a good mix.
Saute it on a medium-low flame while stirring sporadically to allow potatoes to roast evenly.
Serve hot with rice or rotis.
---
Mysore Pak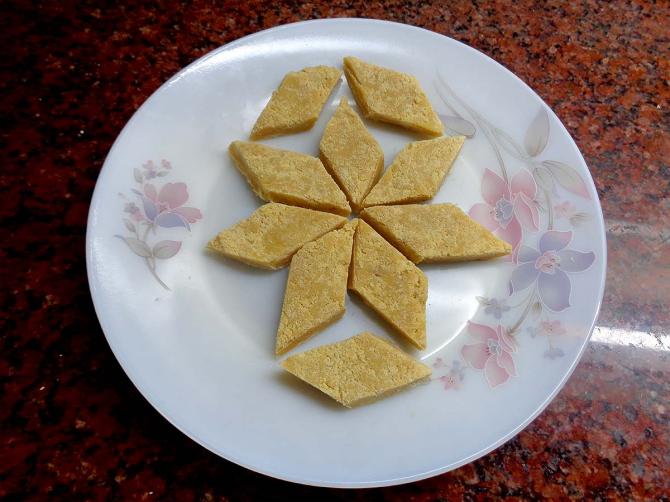 Mysore pak is a favourite and iconic sweet dish from South India, prepared especially during Diwali and other festive occasions.
"With just a handful of ingredients like besan and sugar, it packs enough punch to pander to your sweet tooth," says Gita.
"It has to be prepared on medium-low flame and stirred consistently to get the desired pak," she warns.
"Clarified butter or ghee is its mainstay -- the more ghee added, better the melt-in-the-mouth taste!"
Ingredients
1 cup besan (gram flour)
2 cups sugar
2 tbsp milk
2 cups ghee
Preparation
Grease a stainless plate with ghee and set aside.
Method
Melt ghee and set aside.
Sieve besan. Put it in a stainless steel bowl. Add 1 cup hot ghee and mix till you get a smooth paste.
Take care to add the ghee gradually and keep mixing to avoid lumps.
Heat a heavy-bottomed kadhai (pan). Add the sugar and enough water to immerse it.
Add 2 tbsp milk to the boiling sugar water to remove the scum.
Once the sugar becomes frothy, pour in the besan paste while stirring continuously.
Keep stirring for 5 to 10 minutes till it mixes well with sugar syrup.
Now pour in the remaining ghee intermittently while continuing to stir. This will take around 20 minutes.
When the paste leaves the sides of the pan and the ghee oozes out, it is done.
Transfer it immediately (while it is still hot) to the greased plate and spread it evenly.
Cut into desired shapes and allow it to cool.
Remove the mysore pak pieces gently and store in an airtight container.
---
What would you like to cook for Kamala Harris?
Mail your recipes to getahead@rediff.co.in (subject: Recipe for Kamala) along with your NAME and the place where you LIVE.
Please don't forget to share pix of your dish. And a video too, if you have it. We'll publish the best entries on Rediff.com.