These healthy small bites can be either boiled or steamed and then stir fried.
"They are ideal as a tea-time snack," says Bethica Das who shared the recipe.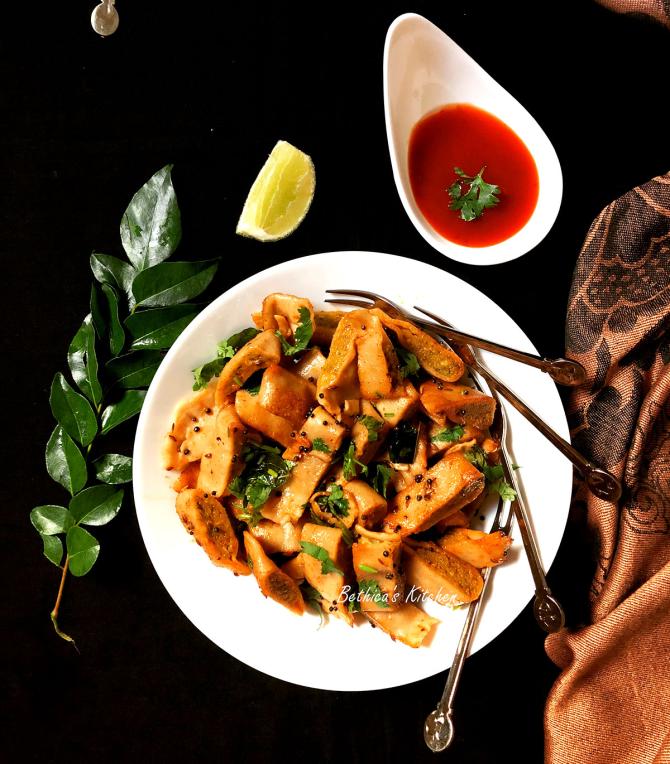 Mixed Dal Farre
Ingredients
For the dough
½ cup whole wheat flour
A pinch of salt
1 tsp oil
Water as needed
For the stuffing
½ cup mixed lentils, soaked overnight
2-3 garlic cloves
½" ginger
2 green chillies
½ tsp cumin seeds
½ tsp turmeric powder
A pinch of asafoetida
½ tsp garam masala powder
A handful of coriander leaves, chopped
Salt to taste
For the tempering
2 tbsp oil + 1 tsp
½ tsp mustard seeds
½ tsp cumin seeds
1 spring curry leaves
1 tsp red chilli powder
1 tbsp coriander leaves
Method
For the dough
In a bowl mix together whole wheat flour, salt and oil.
Add water, little at a time, and knead to a tight dough.
Cover with a wet cloth and keep aside for 10 minutes.
For the stuffing
Blend together the soaked dal, ginger, garlic, green chillies and cumin seeds into a coarse paste.
Do not add any water.
Add the rest of the ingredients and keep separate.
For the farre
Divide the dough into equal small balls.
Roll and flatten each of the balls like a poori.
Place some of the stuffing and seal all the edges with a fork.
Fill all the farre and keep aside.
In a pan bring sufficient water to boil.
Add some salt and 1 tsp oil.
Gently drop the stuffed farre and boil for 15 minutes.
When done, remove with a spoon and keep aside.
After it cools, cut into pieces and keep aside.
For the tempering
Heat 2 tbsp oil in a pan and temper with mustard seeds, cumin seeds and curry leaves.
After it stops spluttering, add chilli powder and give it a stir.
Add the farre pieces and give it a toss.
Stir fry for a minute and switch off the flame. Garnish with coriander leaves and serve.
---
We ask you, Dear Readers what is your go-to dish in the winter?
It could be a green leafy vegetable sabji or a immunity boosting soup.
Do you have a special hot chocolate recipe? Or is gajar halwa your winter favourite?
Please share your recipes and we'll publish the best ones on Rediff.com.
Please mail your recipe(s)/video(s) to getahead@rediff.co.in (Subject: Winter Recipe) along with your name, location and, of course, the recipe(s).