Looking for the ultimate fun meal which is indulgent, tasty yet soothing and cosy?
These recipes by Devina Row and Zelda Pande are next level and perfect for a special night meal.
The wonderfully creamy, cheesy Baked Truffle Mashed Potatoes is a game-changer -- chives, garlic and black pepper, makes it taste extra festive, especially if you can enhance the dish with a dash of truffle oil.
Do try the Broccoli Pine Nut Rice, to which prawns can be added optionally.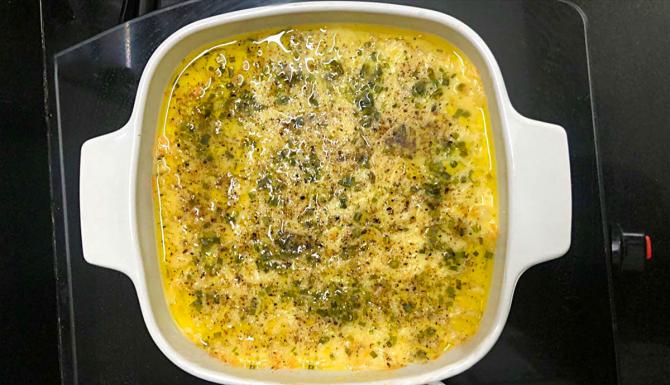 Baked Truffle Cheese Mashed Potatoes
Recipe by Devina Row
Serves: 4-5
Ingredients
8 medium-sized potatoes
5 garlic pods
¼ to ½ cup milk
½ cup cream cheese or any long-life cream (like Amul)
½ tsp garlic powder
¾ tsp black pepper powder
Salt to taste
4 tbsp butter
½ cup grated cheese
2 tsp fresh chopped chives or 1 tsp dried chives
Dash of truffle oil, if available
For the roasted garlic, if using
1 head/bulb unpeeled garlic
1-2 tbsp extra virgin olive oil
For the herbed butter, if using
1 tbsp butter
Few pinches dried or fresh herbs like chopped parsley, rosemary, thyme, dill which pair well with potatoes.
Method
Peel and chop the potatoes into equal-sized pieces.
Add them to a large saucepan of cold water.
Add 1-2 tsp salt and the garlic pods.
Boil over high heat till the potatoes are completely soft.
Drain.
Mash with a fork/masher or run through a ricer.
The garlic pods can also go through the ricer or can be minced finely/blended and added to the mashed potatoes.
Beat the mashed potatoes with an electric beater/hand beater till smooth and creamy, adding in the butter, the cream cheese, ¼ cup of the grated cheese and then the milk, slowly, till you have a desired consistency.
Transfer the potato mixture to a baking dish.
Top with ¼ cup more grated cheese, dash (2-4 tsp) truffle oil, and dried chives.
Bake at 220°C till cheese melts and becomes a little crusty.
If using fresh chives, garnish with the chopped chives when the mashed potatoes come out of the oven, just before serving.
Pro-tip #1: Alternatively, use lovely, creamy, roasted garlic.
Chop off the scraggly bottom of a whole head/bulb of garlic.
Drizzle with the olive oil.
Wrap in aluminium foil and roast in an oven at 220°-250°C for nearly an hour.
When done, the pods of garlic should have almost caramelised and should squeeze out like a garlic cream.
Pro-tip #2: If a more herbed kind of mashed potato is preferred, melt the 1 tbsp butter carefully and add choice of herbs, dried or fresh.
Saute 1-2 minutes. Keep aside and pour warm onto portions while serving. If using the herb butter, you may like to reduce the butter in the mashed potato recipe.
---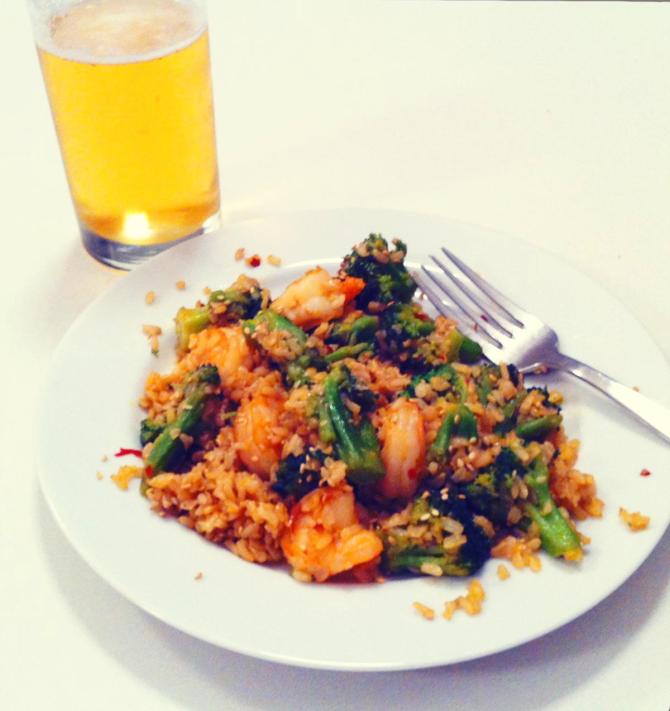 Broccoli Pine Nut Rice With/Without Prawns
Recipe by Zelda Pande
Serves: 3-4
Ingredients
1½ cups uncooked Basmati rice
1½ cups water for cooking the Basmati rice
1 small red onion, chopped
2½ tbsp garlic paste
200 gm broccoli florets
½ red capsicum or green capsicum, chopped
2 stalks spring onions, white bulbs and greens finely chopped separately
1½-inch piece ginger, grated
1-2 tbsp extra virgin olive oil
4 tsp butter
1½ tbsp pine nuts
1½ tbsp soy sauce
1 tsp rice vinegar or white vinegar
2-3 tsp Tabasco
Salt to taste
15-20 medium prawns, de-veined, optional
Method
In a large saucepan cook the Basmati rice with the water over low heat till done and the grains grow long and thin and the water is absorbed.
Toss lightly with 2 tsp of the butter.
In a large non-stick pan, stir fry the chopped white spring onion bulbs, onion, garlic paste, broccoli florets, red/green capsicum in the olive oil for 5-7 minutes over high heat.
Add the prawns and stir fry for 4-5 minutes till they turn pinkish-white.
While the vegetables and prawns are cooking, carefully saute the pine nuts in a small frying pan with the remaining 2 tsp butter, stirring frequently.
When pinkish -- not brown -- and are dotted with pink spots, take off heat.
Empty onto a plate; if they remain in the hot frying pan they will continue to cook and can burn.
Keep aside.
To the sauteed prawns and vegetables, add the rice, soy sauce, grated ginger, rice vinegar, Tabasco and cook over low heat for another 10 minutes.
Add the roasted pine nuts and mix. Turn off heat.
Garnish with the finely chopped green onion stalks and serve with the baked mashed potatoes and maybe a lettuce salad or a few slices of bread on the side.
Note: While stir frying the vegetables, instead of broccoli or in addition to broccoli can add 3-4 chopped mushrooms, half a carrot julienned. If adding more vegetables, in addition to broccoli, reduce the quantity of broccoli to a few florets.
Vegans can make this recipe without butter or prawns.