Sample this fragrant delight made from crispy puff pastry stuffed with savoury chicken by Nadiya Sarguroh.
Bursting with the flavour of the spices, green chillies, ginger, garlic, these Chicken Pockets can be served as a starter with ketchup and/or mayo or as an anytime munch.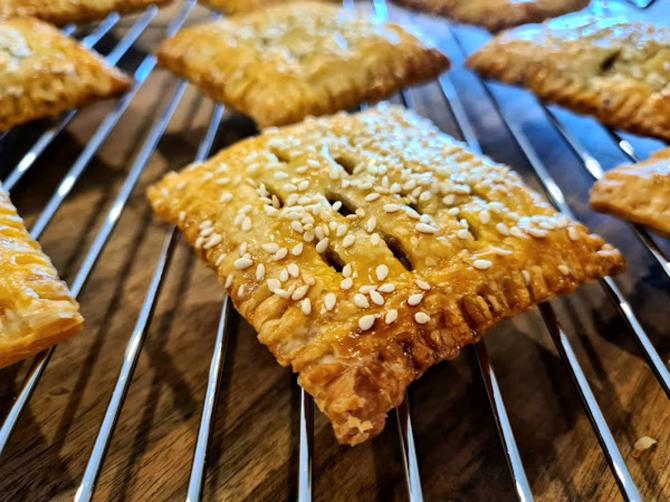 Chicken Pockets
Servings: 9 pieces
Ingredients
1 tbsp oil
1 egg, lightly whisked
250 gm chicken mince
2 sheets puff pastry, thawed, available in gourmet stores or food apps
1 small onion, chopped
1 medium tomato, grated
1 tsp ginger-garlic paste
2 green chillies, slit
A small bunch fresh green dhania or coriander or cilantro leaves, chopped, for the garnish
¼ cup water
Salt to taste
½ tsp Kashmiri chilly powder
¼ tsp haldi or turmeric powder
1 tsp garam masala powder
White til or sesame seeds, to garnish
Ketchup, to serve
Mayonnaise, to serve
Method
Pre-heat the oven to 200°C fan-forced setting (at this setting a fan distributes the heat within).
Line a baking tray with parchment paper.
Heat the oil in a heavy-bottomed kadhai or pan over medium-high heat.
Add the chopped onions and saute until they turn translucent.
Add the grated tomato, ginger-garlic paste, chilly powder and turmeric powder, garam masala and mix well.
Add the slit green chillies, chicken mince and salt.
Give it a good stir.
Add ¼ cup water and saute on high heat for 2-3 minutes.
Cover and cook for 10 minutes on low heat or until the water evaporates.
Garnish with the chopped coriander leaves, take off heat and set aside.
Place a pastry sheet on a flat surface and cut into 9 equal squares.
Repeat the process with a second pastry sheet.
Place a square on the lined baking tray and scoop some of the chicken filling onto it.
Cover with another pastry square and seal the edges using a little water to avoid any leakage (please see the video below).
Use a fork to make designs on the edges of each filled pastry.
Repeat the process with the remaining pastry squares.
Brush the squares with the egg and sprinkle few sesame seeds on top.
Place the tray in the oven and bake for 20 minutes or until the pastry turns golden and is puffed.
Take out of the oven, set aside to cool and serve with ketchup, mayonnaise or any dip or chutney of choice.
WATCH: How to make Chicken Pockets
Nadiya Sarguroh lives in Mumbai and publishes the food blog HautePot.