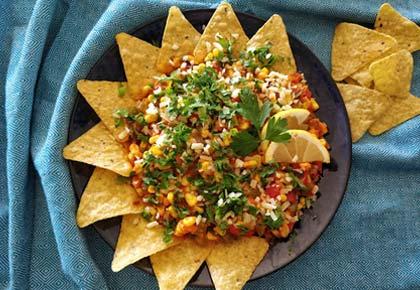 As the week begins, work can get hectic and cooking an elaborate lunch or dinner is next to impossible.
Let Nadiya Sarguroh inspire you with her Tomato and Corn Salsa -- it's loaded with veggies.
Serve it as a dip with tortilla chips or with eggs or in tacos.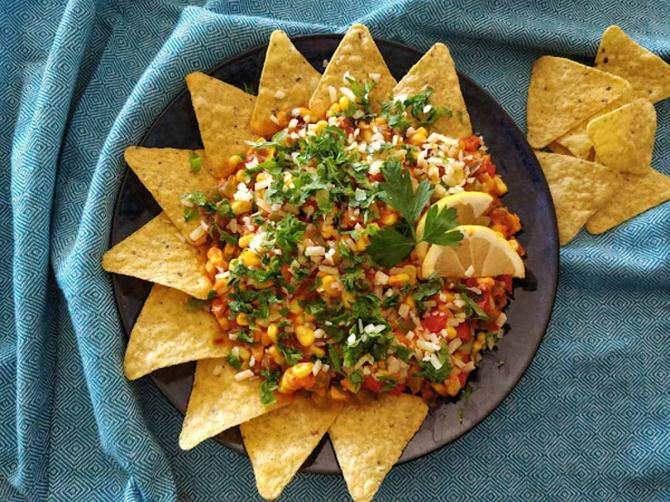 Spicy Mushroom and Corn Salsa
Serves: 3
Ingredients
400 gm steamed corn kernels
1 red capsicum, diced
1 green capsicum, diced
½ cup finely chopped scallions
1 cup finely diced mushroom
1 tbsp or less red chilly flakes
2 tbsp finely chopped green dhania or coriander or cilantro
1 tbsp powdered or icing sugar
1 tbsp white vinegar
1 tbsp extra virgin olive oil
2 tbsp butter
¼ tsp haldi or turmeric
Salt to taste
For the sauce
2 large tomatoes, roughly chopped
1 large red onion, chopped
½ red capsicum, diced
1 green chilly, finely chopped
2 garlic pods, finely chopped

Water, if required
To serve
Tortilla chips
Olives
Grated cheese
Lemon slices
Method
For the sauce
Grind the tomatoes, onion, red capsicum, chilly, garlic in a blender/mixer till smooth, preferably without water.


For the salsa
Heat the olive oil and sauce in a large saucepan or frying pan over medium heat.
Cook the sauce for 10 minutes or until it turns dark red and starts to simmer.
Add the turmeric, icing sugar, salt, vinegar.
Simmer over low heat for 5 minutes or until the sauce gives off an aroma.
Add the chilly flakes, red capsicum, green capsicum, mushrooms to the sauce and cook for 5-7 minutes.
Add the corn kernels, butter, scallions and cook over low heat for 7 minutes.
Take off heat.
Garnish with the coriander.
Serve with tortilla chips, olives and grated cheese.
Or stuff in tacos or have atop eggs and make a meal of it.
Note: Tortilla chips are salted, so add salt to the salsa sparingly.
Nadiya Sarguroh lives in Mumbai and publishes the food blog HautePot.