Kale Chips wont't be everyone's favourite.
Like karela, it's an acquired taste that builds over time.
Belonging to the over-pungent, odiferous cruciferous vegetable family -- bhai-behen to cabbage, radish, bokchoy -- kale has a strong taste that is addictive. A winter vegetable, plenty of curly leafed kale is around this season.
When carefully roasted in the oven, as per Zelda Pande's recipe, kale leaves are magically transformed into a crunchy, nutritious snack or side to a meal.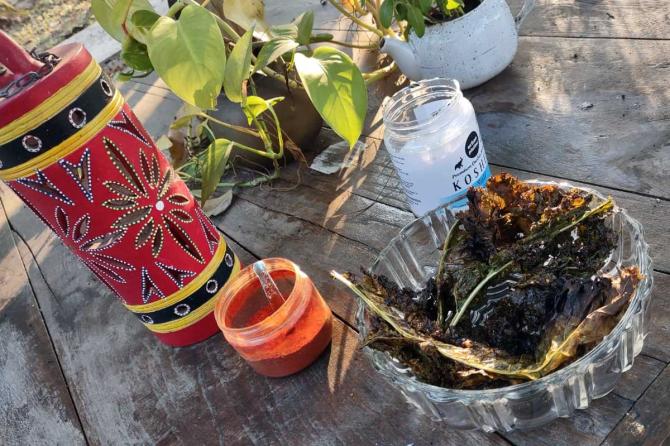 Kale Chips
Serves: 3-4
Ingredients
250 gm fresh kale leaves, keep stalks
1-2 tsp salt, preferably sea salt
2-3 tbsp extra virgin olive oil + 2 tsp for greasing the trays
2 baking trays
For the seasoning, optional
1 tsp lemon juice
2 tbsp grated cheese
2 tbsp roasted pine nuts
1 tsp or less red chilly powder
Method
Line each of the baking trays with aluminium foil and grease the top of the foil of each tray with 1 tsp olive oil.
Divide the washed, dried kale leaves between both trays.
Sprinkle the olive oil, salt on the leaves and toss till well coated.
Bake in a 180°C oven for 15-20 minutes and using tongs flip the leaves.
Bake again for another 15-20 minutes till leaves lose bright green colour, have darkened and turned crispy.
The final crispiness can be achieved by grilling in the oven for an additional 5 minutes, but do not burn the leaves.
Cool.
The crisped leaves can be served as is and the stalks discarded as you eat. Or using scissors trim the leaves off the stalks and serve the leaves in a bowl.
If additional seasoning is preferred -- although crisp kale tastes just great seasoned with only salt -- opt to sprinkle the crisp leaves with lemon juice and/or grated cheese (preferably Parmesan) and/or pine nuts and/or chilly powder.
Do you have any recipes to share? Please mail the recipe/s to getahead@rediff.co.in (SUBJECT: RECIPE) with photographs/videos of the recipe, your name, location and a photograph of yours.