Soya chunks does not always figure on home menus much. But it should. Apart from being pretty flavourful, soya in its various forms are high on protein.
Vishaka Rautela chooses Tuesdays, often, to put together her Soya Mattar Masala.
"Tuesdays are the days my husband fasts, and we try and eat vegetarian food that day,' she says.
"Soya is one ingredient I don't enjoy, except maybe in a galouti kebab, but he absolutely loves soya. The basic gravy of this Soya Mattar Masala is what I use for different vegetarian masala curries."
This unusual dish can be served with hot steamed rice, rotis and parathas.
Vishaka, a home chef and blogger, bakes cakes of any shape or theme, cooks great Mangalorean food and tries her hand at any cuisine.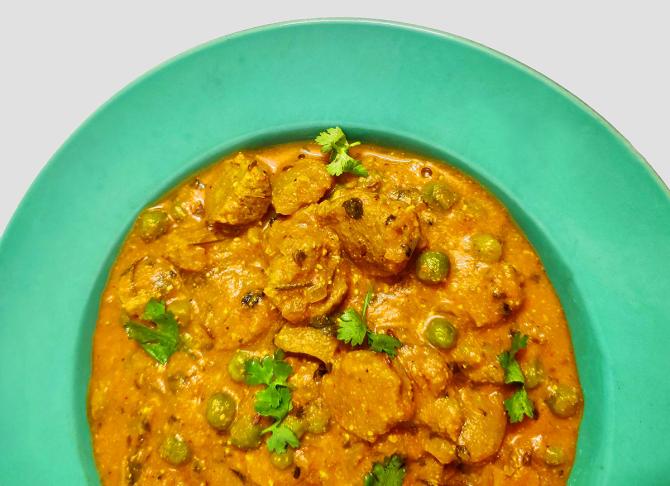 Soya Mattar Masala
Serves: 2-3
Ingredients
1½ cups soya chunks, washed and drained
1 cup boiled green peas
3 tbsp oil
2 onions, chopped
2 tomatoes, chopped
6 garlic pods, chopped
1-inch piece ginger, chopped
7-8 cashews
2 green chillies, chopped
100 gm tomato puree
3 tbsp yoghurt
1 tsp jeera or cumin seeds
1 tej patta or bay leaf
1-inch stick dalcheeni or cinnamon
1 tsp red chilly powder
1 tbsp dhania or coriander powder
½ tsp haldi or turmeric powder
1 tbsp crushed kasuri methi or fenugreek leaves
½ tsp Kitchen King Masala (please see the note below)
Salt to taste, around 1 tsp
Water
Chopped green dhania or coriander or cilantro leaves, for garnish
Method
Cook the soya chunks in a pressure cooker with a little salt and 3 cups water for 3 whistles.
Reduce the heat to low and let the soya chunks cook for about 3 minutes.
Take off heat and let the pressure release on its own.
Open the cooker, and when cool, strain the soya and squeeze it dry.
Keep aside.
Heat 2 tbsp of the oil in a kadhai or large saucepan.
Add 1 of the chopped onions, ginger, garlic, green chillies.
Saute till the onions brown.
Take off heat and cool.
Blitz the fried onions etc in a mixer to make a puree.
Keep aside.
In the same kadhai or saucepan, add the remaining 1 tbsp oil, jeera seeds, cinnamon, bay leaf.
Add the other chopped onion and saute till golden brown.
Add the onion-tomato puree, tomato puree, coriander powder, chilly powder, haldi.
Fry for a few minutes more.
Add some more water to get thickish gravy consistency.
Add the yoghurt, salt, kasuri methi, Kitchen King Masala and mix.
Add the cooked soya chunks, green peas.
Cover and cook for 10 minutes.
Garnish with chopped coriander.
Take off heat and serve hot with steamed rice, rotis, parathas or even naans.
Editor's Note: Kitchen King Masala is made by several brands and is a mixed spice powder that packs a whole slew of spices. It contains coriander, fennel, turmeric, red chilly, black pepper, cinnamon, cloves, allspice, dried fenugreek leaves, dried coriander leaves, dried green chillies, cumin, dried mango, dried ginger, salt, mace, cardamom, asafoetida, mustard, cloves.
To veganise this recipe, skip the yoghurt.
For a Jain version, skip the onions and garlic and use 2 tsp saunth or dried ginger powder instea of fresh ginger.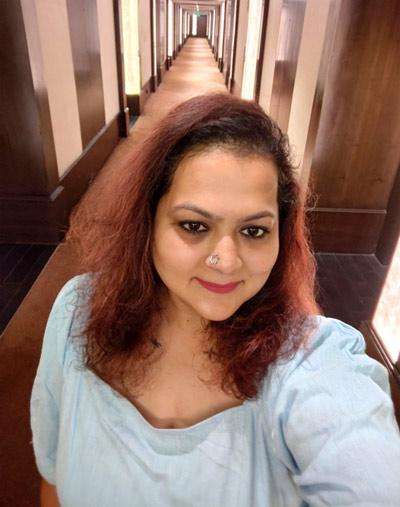 Vishaka Rautela, a Hyderabad-based home chef and baker, is the creator of the blog, Vishual Foodie.Along with a bunch of fellow gastronomes, she runs an online group, Foodies' Central (external link) and hosts an annual bakers meet, The Bakers Collective.