Scour the streets of Darjeeling and you can't miss coming upon someone making Aloo Dum.
"It can be found throughout the year and everywhere, including at school canteens, tourist spots, markets, and near bus stops," says Chef Anthony Tamang. And it's quite a different recipe from the cherry-on-top, unauthentic Kashmiri Aloo Dum that unfortunately lurks in the Mughlai food sections of about half the restaurants in India.
The chef adds "I particularly enjoy having (the Darjeeling variety of) Aloo Dum with Wai Wai." That's a brand of instant noodles that is "predominantly consumed in Darjeeling and Nepal.
"In Darjeeling, when it rains, it doesn't seem to stop for a week or even two, and the weather becomes quite cold. Enjoying hot Aloo Dum and Wai Wai with friends, accompanied by their gossip, creates a unique experience that I find difficult to explain."
The chef merged his love for the two to create a splendid chatpata dish Aloo Dum Wai Wai that will soothe your tastebuds and remind you of your vacay in the bustling town in the eastern Himalayas.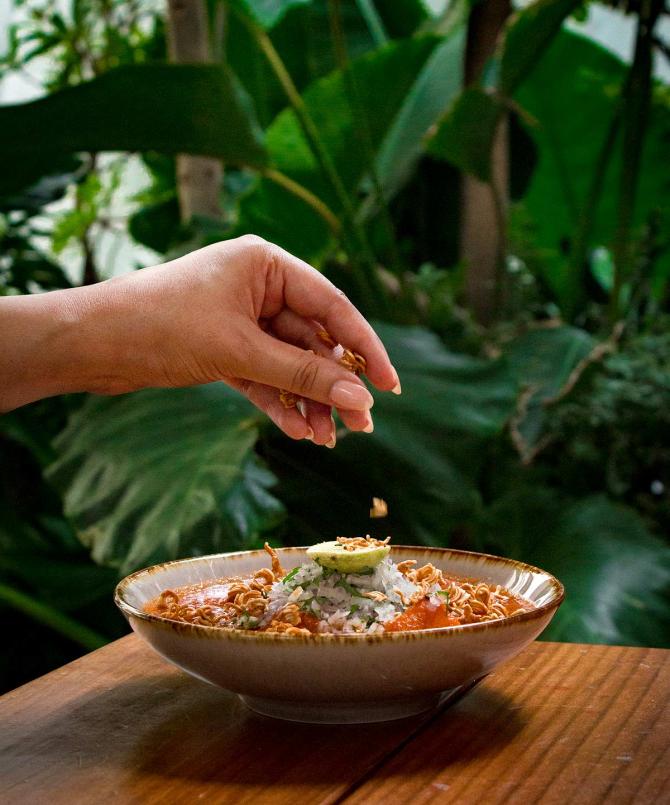 Aloo Dum Wai Wai
Serves: 2
Ingredients
300 gm potatoes
50 ml rai or mustard oil
10 gm kalonji or nigella seeds
120 gm tomato puree
5 gm green chillies, chopped
5 gm Kashmiri red chilly powder
1 tsp haldi or turmeric powder
10 gm garlic paste
15 gm ginger paste
Salt to taste, around 1-2 tsp
200 ml water
To serve
20 gm onions, chopped
Small bunch fresh green dhania or coriander or cilantro, chopped
Lemon wedges
1 packet Wai Wai vegetable noodles, cooked (you can also use cooked Maggi)
Handful deep-fried noodles, for garnish
Method
Boil the potatoes in a pressure cooker with water over high heat for 3 whistles.
Take off heat, cool, open the pressure cooker and drain water.
Meanwhile, in a small bowl, combine the Kashmiri red chilly powder, turmeric, salt and 200 ml water.
Mix well and keep aside.
Peel and slice the cooled potatoes into medium-sized cubes.
You may refrigerate the boiled potatoes for about 10-15 minutes after they have cooled -- it helps make them firm and easier to cut into cubes.
Heat the mustard oil in a kadhai over medium heat.
Add the kalonji seeds.
Then the ginger paste and the garlic paste.
Add the chopped green chillies.
Saute for a few minutes.
Add the tomato puree.
Simmer for 4-5 minutes.
Add the potato cubes and stir.
Fry lightly so that the potatoes are well-coated with the masala.
Add the red chilly powder-turmeric-salt-water mixture.
Stir and cover the kadhai and let the mixture simmer until its gravy thickens a bit.
Don't let the ras or gravy dry up completely.
Take off heat.
Garnish with chopped coriander leaves, onions, fried noodles and a lemon wedge (please see the pic above).
Serve hot with the cooked Wai Wai noodles.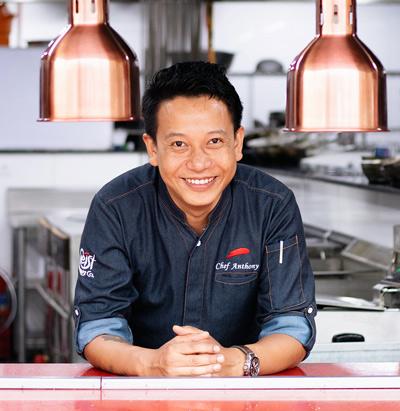 Anthony Tamang is the executive chef at Geist Brewing Co, Hennur, Bengaluru.