Don't like your sourdough plain?
Then this intriguing cheese-apple-beets recipe by Chef Aditi Handa of The Baker's Dozen is clearly meant for you.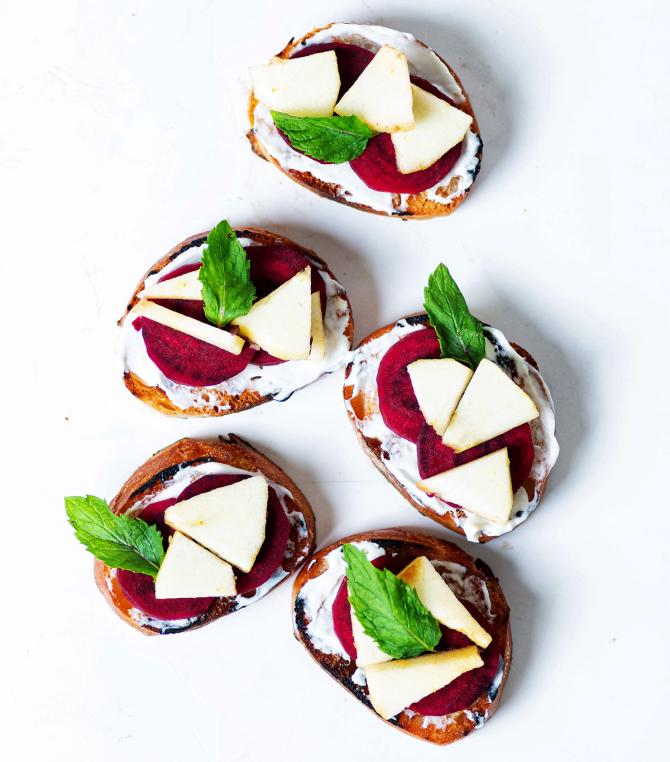 Sourdough Baguette with Goat Cheese, Beetroot and Apple
Servings: 6
Ingredients
6 slices of a sour dough baguette, a long loaf type bread with a crisp crust
1½ tbsp butter, melted
3 tbsp goat cheese, crumbled or substitute with feta (please see note)
1 small beetroot, parboiled
¼ cup diced apple, preferably the Granny Smith variety, ie a sour green or red apple

A few basil leaves for garnish
Method
Brush both sides of each of the baguette slices with melted butter and toast in the grill or a toaster.
Once lightly browned place on a plate or tray.
Slice the beetroot thin and arrange on the toasted bread (please see the picture above)
Add the diced apples on top.
Garnish with the crumbled goat cheese, and basil leaves and serve.
Note: Goat cheese or chevre is very strongly flavoured and is being made in India by a couple of leading brands and is available in gourmet food shops.
Feta is a tangy, salty Greek cheese, readily available in grocery stores and long-life versions can be purchased online.
If you are unable to locate a loaf of sour-dough baguette can substitute with thinly sliced paav or the Goan poi.