Kishwar Chowdhury presented her version of Panta Bhaat during round one of MasterChef Australia's finale and ever since the dish has been trending.
She paired the smoked rice with Aloo Bhorta, a kind of potato mash, along with an onion salsa and sardines marinated in a white soy and ginger.
The Bangladeshi-origin contestant felt it was a privilege to get an opportunity to cook the humble rice dish on such a global stage.
Sharing a post with fans and followers on Instagram, she wrote: 'This is my final dish for Masterchef 2021. The extraordinary chefs and mentors I met on my journey here, inspired me to research ancient traditions and techniques and reimagine dishes that have been passed down from generation to generation'.
'Culinary genius Heston Blumenthal had me thinking about the exciting concept of 'smoked water'. Meeting Chef Scott Pickett and finding out he has Charcoal Smoked Water on his menu, gave me the confidence to reach into my repertoire of dishes that people from my culture only serve at home,' Kishwar added.
'So here is my last and final homage to a dish that deserves this stage. As Chef Jock Zonfrillo put it, this food belongs here. It's been an honour to be able to bring this food to the Masterchef Australia platform'.
We bring you the recipes of Kishwar's Smoked Panta Bhaat, along with her White Soy Ginger Sardines, Aloo Bhorta and Onion Salsa.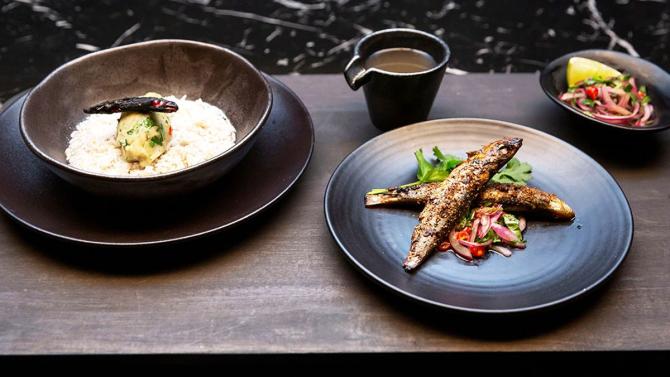 Smoked Rice Water with Aloo Bhorta and Sardines
Serves: 4
Ingredients
For the Panta Bhaat
¼ cup Basmati rice, uncooked
95 ml water

½ dried red chilly

¾ cup iced water
Sea salt flakes as per taste
For the white soy ginger sardines
8 fresh sardines, scaled and gutted
2 long red chillies
90 gm fresh ginger
¼ cup white soy or the Japanese shiro shoyu (can use the closest but not very adequate substitution option: Regular soy)
1 tsp honey
2 tsp jeera or cumin seeds
2 tsp coriander seeds
2 tbsp mustard oil
2-3 tsp lime juice, or as per taste
For the smoked Aloo Bhorta
3 unboiled potatoes, peeled
3 tbsp ghee
½ shallot, finely diced
1 garlic pod, finely diced
1 dried red chilly
1 fresh bird's eye chilly, finely sliced
2 tsp mustard oil
1/3 cup fresh dhania or coriander or cilantro leaves, julienned
Salt as per taste
For the onion salsa
1 red onion, finely sliced
1 fresh bird's eye chilly, finely sliced
¼ cup fresh dhania or coriander or cilantro leaves, julienned
2 tbsp mustard oil
½ lime, juiced
Method
For the Panta Bhaat
Rinse the rice three times under running water until water runs clear.
Place into a rice cooker or small saucepan with the water.
Bring to a boil, cover, reduce heat to low and cook until tender, about 10 minutes.
Don't drain.
Transfer to a bowl and allow steam to evaporate.
Cover with ice cold water and set aside.
Burn the dried red chilly over open flame until blackened and add to the rice.
Stir through a pinch of salt and allow to steep for 30 minutes.
Strain the rice through a lined sieve over a bowl and reserve the Panta Bhat rice and the water separately.
Discard chilly.
For the White Soy Ginger Sardines
Wash and dry the sardines and place into a dish.
Place the chillies and half (45 gm) of the ginger into a small food processor and process to a paste.
Grate remaining ginger and place into a piece of muslin cloth.
Squeeze the ginger over a bowl to collect one tablespoon of juice.
Mix the ground chilly ginger paste (should be about 1 tbsp) with the white soy sauce and honey in a small bowl.
Rub the sardines with this mixture, ensuring the cavities are coated also.
Set aside to marinate for 30 minutes.
Place the balance spices into a frying pan over medium heat and toast until fragrant.
Grind to a fine powder and set aside.
When ready to serve, heat the mustard oil in a large frypan over medium high heat.
Fry the sardines until a char forms on skin and flesh is just cooked through to the bone, about 3 minutes and take off heat.
Finish with a squeeze of the lime juice and a sprinkle of the ground spices.
For the Aloo Bhorta
Boil the potatoes in a saucepan over medium heat in salted water until soft and starting to fall apart.
Drain and allow potatoes to cool.
Heat the ghee in frying pan with the shallots and garlic. Cook until golden brown. Keep aside.
Hold the dried chillies over an open flame until blackened then set aside.
Once the potatoes are cooled, knead them gently first crushing by hand, then working from outside in, till lumps are removed and potato is bound together well.
Add the shallots, garlic, chilly, mustard oil, salt and coriander and mix gently. Set aside at room temperature.
For the onion salsa
Combine ingredients in a bowl with a pinch of salt.
Crush with fingers to release juices.
Set aside in a small serving bowl.
To serve
Place the Panta Bhaat rice in bowl. Rewarm the reserved Panta Bhaat smoked water, that was kept aside earlier, and serve in a cup.
Top the rice with a quenelle or ball of potato mash and the charred chilly.
Place the sardines onto a serving plate and garnish with the green coriander.
Serve the onion salsa on the side.
Pour the Panta Bhaat smoked water over the rice just before eating.