Chef Farah Mohamed's recipe for Chicken Tagine, a traditional Moroccan dish that is packed with spices.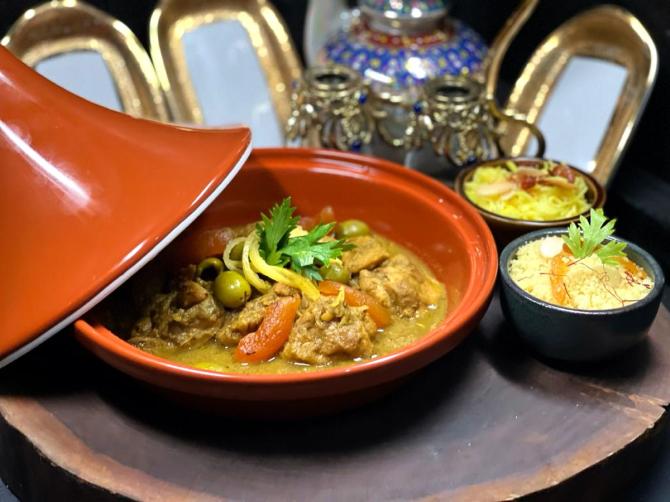 Chicken Tagine
Serves: 3-4
Ingredients
1 whole chicken, approximately 1 kg, skin removed, cut it into medium pieces
2-3 tbsp finely chopped garlic
¼ tsp kesar or saffron strands
¼ tsp ginger powder
¼ tsp jeera or cumin powder
¼ tsp haldi or turmeric powder
1 tsp sweet paprika, or substitute with black pepper powder
2 large onions, sliced thin
½ inch cinnamon
8-10 olives, pitted and halved
Zest of 3 small lemons, preferably the preserved variety that's available in gourmet stores
1 cup chicken stock
½ cup lemon juice or less as per taste
Handful of parsley, chopped
Salt to taste
Dash of black pepper
Oil for frying
Method
In a large bowl combine the garlic, ginger, paprika/pepper powder, kesar, jeera and haldi.
Add the pepper, salt and chicken pieces. Give it a good mix.
Cover the bowl with cling wrap and place it in the refrigerator to marinate for 3-4 hours.
In a heavy-bottomed kadhai or frying pan heat the oil over medium-high heat.
Add the marinated chicken and fry until brown. Keep flipping to ensure that it cooks on all sides.
Drain excess oil and keep aside.
In a tagine (a ceramic or clay pot with a circular base and cone-shaped top) fry the onions over medium heat for 15-20 minutes or until lightly browned.
If you don't have a tagine, use a skillet or large frying pan.
Add the cinnamon stick and the fried chicken pieces.
Cut the lemons into quarters, scoop out the pulp and slice the skin into thin strips and add in.
Next, throw in the olives and pour in the chicken stock and the lemon juice.
Cover and cook over low heat for 30 minutes.
Take off heat and garnish with parsley.
If you are using a skillet, transfer to another dish and serve topped with thick-cut, double-fried Belgian fries or French fries and a side of rice.
Farah Mohamed is the Chef de Partie at Sangu Beach, Ozen Reserve Bolifushi, Maldives.