Have a go at this easy-to-cook recipe, loaded with health benefits, from Mumbai food blogger Satyajit Kotwal.
The kachnar tree blooms purple in the spring and its flower buds are edible. Many believe kachnar buds help with digestive issues, can rid you of a cough and has other medicinal properties.
Three varieties of the kachnar tree grow in India. And local communities relish their flowers, leaves and seedpod veggies, which are all seasonal favourites.
Remember Kachchi Kali Kachnar Ki from the 1993 Akshay Kumar-Suniel Shetty starrer Waqt Hamara Hai? The song was inspired by this tree!
The buds, though not easy to source, can be found, in the spring, in community vegetable markets that specialise in native produce.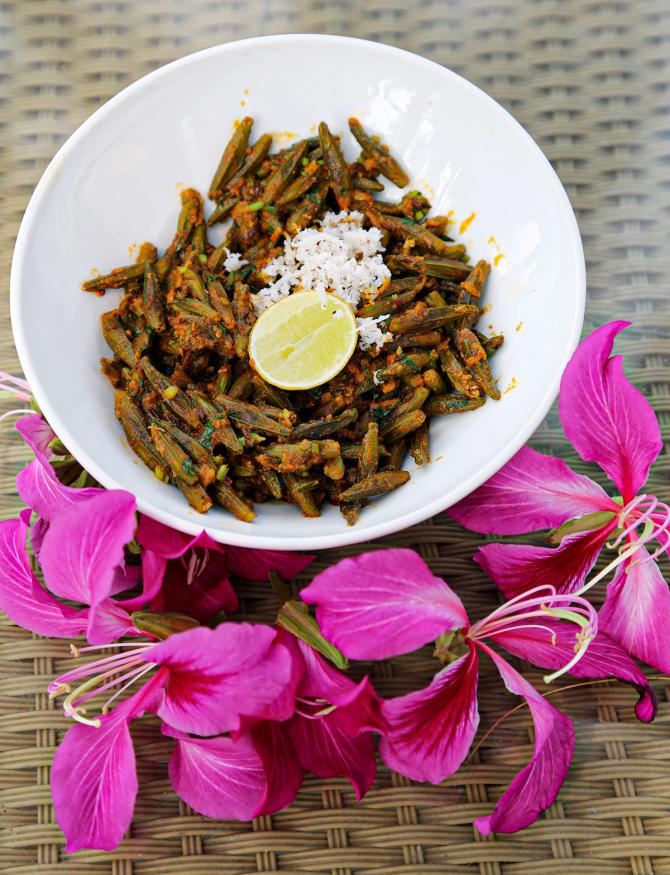 Kachnar Ki Kali
Ingredients
200 gm kachnar kali or purple bauhinia
5 tsp ghee or oil
½ tsp grated ginger
½ tsp green chilly paste
½ tsp jeera or cumin powder
½ tsp cinnamon powder
½ tsp red chilly powder
½ tsp haldi or turmeric powder
½ tsp dhania or coriander powder
½ amchur or dry mango powder
1 tsp lemon juice
½ tsp grated coconut, optional
Salt to taste
Method
Boil the kachnar kali in salted boiling water for 3-4 minutes.
Once cooked, take off heat and drain.
Rinse the flower buds in cold water and keep aside.
Heat the oil or ghee in a kadhai or wok.
Add the cumin and cinnamon powder.
Then the grated ginger, green chilly paste and fry for a minute.
Add all the dry spices, except the amchur powder.
Add a little water, if required, to prevent the spices from burning or sticking to the bottom of the kadhai.
Fry the masala until the oil separates.
Add the boiled and cooled flower buds and salt.
Mix well and fry for a few minutes more.
Add the grated coconut, amchur powder and lemon juice.
Serve hot with dal and rice or roti
Satyajit Kotwal is the author of the food blog Satyajit's Kitchen.