A popular preparation in Himachal Pradesh, deep-fried Babrus are usually eaten at breakfast.
The sweet version features jaggery syrup, while the savoury one is stuffed with urad dal.
Food blogger and home chef Sarada Krishnan's version is made with desiccated coconut, fennel seeds and jaggery.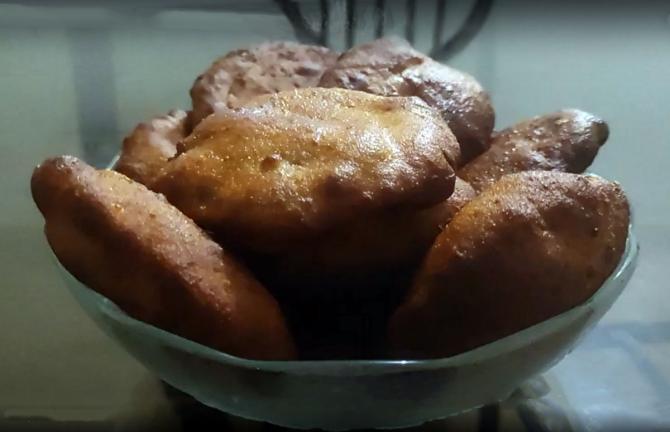 Babru
Servings: 15
Ingredients
1½ cup aata or wheat flour
1 cup jaggery
2 tbsp saunf or fennel seeds
2 tbsp grated desiccated coconut
Oil, for frying
1 tbsp yeast
Few tsp warm water, for proofing the yeast
A pinch of sugar, for proofing the yeast
Method
In a small bowl or katori combine the yeast with a little warm water and a pinch of sugar.
Let it sit until foamy. Stir well with a spoon or a fork until the yeast dissolves.
In a heavy-bottomed saucepan, melt the jaggery over low heat.
Add a little water if needed. Once the jaggery has melted, run it through a sieve to remove any lumps.
In a large, flat vessel add the wheat flour.
Add the fermented yeast and slowly add the jaggery.
Add the fennel seeds and the desiccated coconut.
Knead the wheat flour for 4-5 minutes until it's a smooth dough.
Rest the dough for 4 hours.
Roll out small balls, of about 1 inch diameter, from the dough and flatten them with your hands like pooris.
Make sure the the pooris are not too thick nor thin.
Heat the oil in a heavy-bottomed frying pan or kadhai over medium-high heat.
Fry the pooris in batches of 2-3.
When they begin to turn brown on one side, flip over and fry well on the other side too.
Drain excess oil and transfer onto a plate lined with tissue or paper towel.
Serve warm.
Watch the video for the detailed step-by-step process.