This recipe by Nadiya Sarguroh is delicious, takes a jiffy to make and requires just three ingredients.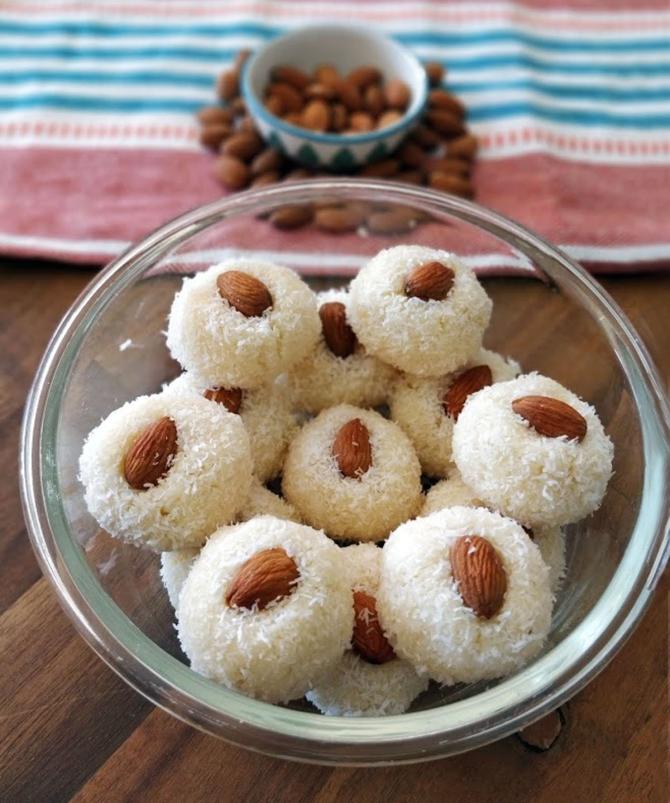 Desiccated Coconut Balls
Servings: 15
Ingredients
250 gm desiccated coconut
200 ml condensed milk
10-15 almonds
Method
Saute 200 gm of the coconut in a heavy-bottomed pan over low heat for 3 minutes.
Keep stirring continuously to avoid having the coconut stick to the pan or getting burnt.
Add the condensed milk and stir until you get a sticky consistency. Take off heat and let the mixture cool a little.
Take a two tbsp of batter and roll it into a ball.
Repeat the process for the entire batter.
In a separate bowl take the remaining desiccated coconut and roll the balls in it so that they are well coated.
Gently press an almond on top of each ball.
Place the coconut balls in a container and refrigerate for a few hours for it to set.
These desiccated coconut balls can be served chilled or at room temperature.
Nadiya Sarguroh lives in Mumbai and publishes the food blog HautePot.