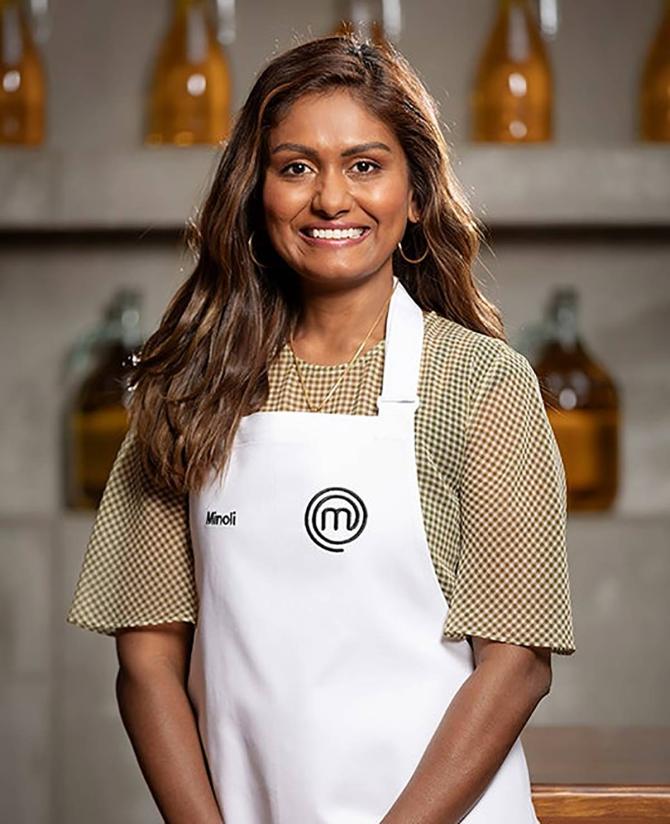 Chemical engineer Minoli De Silva, 34, takes great pride in cooking Sri Lankan food, especially the delicious curries and spicy sambals.
She was introduced to traditional Sri Lankan recipes by her mom, who also taught Minoli how to trust her palate and focus on flavour.
It comes as no surprise that the MasterChef Australia Season 13 contestant's favourite dish is her mom's Sri Lankan curry.
As a kid, she remembers her mother using seasonal produce, and ingredients like bitter gourd, jackfruit and dried fish, to cook mouth-watering curries at their Melbourne home.
Minoli shares the recipe for her Jackfruit Curry, which is served with Crispy Rice and Spicy Salsa. Mildly seasoned and comforting, the curry is full of fragrant spices.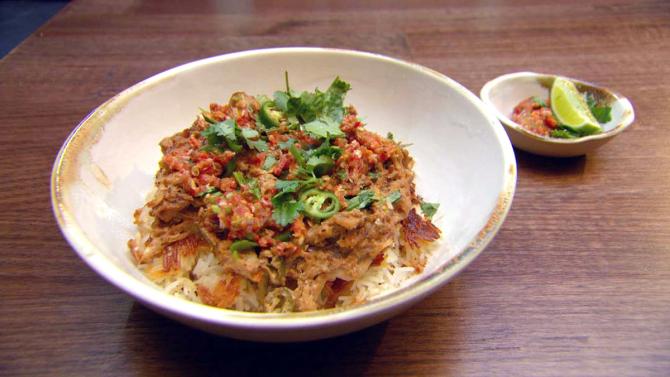 Jackfruit Curry with Crispy Rice
Serves: 4
Ingredients
For the jackfruit curry
1+ ¼ tbsp jeera or cumin seeds
1 tbsp coriander seeds
1 tbsp saunf or fennel seeds
1 tbsp rice
2 tsp black peppercorns
1 tsp rai or mustard seeds
2 green elaichi or cardamom pods
1 clove
2 sprigs fresh curry leaves
2 tbsp coconut oil
1 red onion, sliced
4 garlic pods, crushed
1 slice of ginger, around a cm, grated
10 gm fresh turmeric, finely chopped, or substitute with 2 tbsp haldi or turmeric powder
3 green chillies, chopped
565 gm fresh or canned jackfruit, drained and cut into chunks
1 cup fresh tomatoes
400 ml coconut milk
1 tsp apple cider vinegar
1 tbsp castor sugar
Salt and black pepper powder, to taste
For the crispy rice
2 cups basmati rice
2 tbsp plain yogurt
2 tbsp ghee
4 tbsp oil
Salt
For the spicy salsa
2 cups fresh tomatoes, roughly chopped
1 red onion, roughly chopped
1 bird's eye chilly or use a regular green chilly
1 tsp fish chips or substitute with Japanese bonito flakes or dried anchovies
1 tbsp desiccated coconut

Lime juice and salt to taste
For serving
Chopped fresh green dhania or coriander or cilantro for garnish
Chopped fresh green chillies
Lime wedges, to serve
Method
For the jackfruit curry
Place 1 tbsp cumin seeds, coriander and fennel seeds, rice and peppercorns in a heavy-bottomed frying pan and toast over medium heat for 3 to 5 minutes, until the rice starts to colour.
Add the remaining spices and 1 sprig of the curry leaves into the pan and toast, without burning, until the spices have turned a deep brown.
Cool.
Grind to a powder in a blender and set aside.
Place a kadhai or deep frying pan over medium heat.
Add the coconut oil and when hot, add the onion and saute for 2 minutes.
Add the garlic, ginger, remaining cumin seeds, turmeric, chillies, remaining sprig curry leaves, jackfruit and tomatoes.
Saute for 5 minutes and then add the coconut milk and reduce the heat to low.
Add the vinegar, sugar and season with pepper and salt to taste.
Cover and cook for about 30 minutes, topping up with a little coconut milk if required.
Set aside for serving.
For the crispy rice
Wash rice under running water until water runs clear. Drain well.
Add the rice, salt to the pot of boiling water, stir, and cook for 6-8 minutes until al dente.
Drain the rice and rinse under cold running water. Set aside.
Place yoghurt, ghee and 2 tbsp oil into a bowl.
Add half of the cooked rice and mix to coat evenly.
Place a heavy-bottomed kadhai or pan over medium heat.
Add 2 tbsp oil and after 1 minute, add the yoghurt rice mixture and spread out evenly.
Add remaining cooked rice to the pan, mounding it towards the centre.
Using a wooden spoon, make 5 or 6 holes in the rice right to the bottom of the pan. You should see the oil sizzling at the sides of the pan. Add a little more oil if needed.
Cook the rice over low-medium heat for 10-15 minutes, turning the pan a quarter turn every few minutes to ensure rice browns evenly and forms a crust.
Reduce heat to low and cook until rice has a golden crispy base and the remainder of the rice is tender.
Take off heat and set aside for 5 minutes.
Cover the pan with a large serving plate.
Carefully and quickly flip the pan over.
For the spicy salsa
Place all the ingredients, except the lime and desiccated coconut, into a blender and process until very finely chopped.
Strain through a sieve. Set aside for a few minutes to drain, then transfer the mixture to a bowl.
Stir in the coconut and lime, salt and pepper, to taste.
Serving
Spoon jackfruit curry onto rice and drizzle the salsa on top.
Garnish with fresh coriander and chopped fresh chillies and serve remaining salsa on the side with some lime wedges.
MasterChef Australia airs on Disney + Hotstar every Monday to Friday at 9 pm.