A refreshing, sweet-salty Mediterranean salad from home chef and food blogger Vindhya Karwa.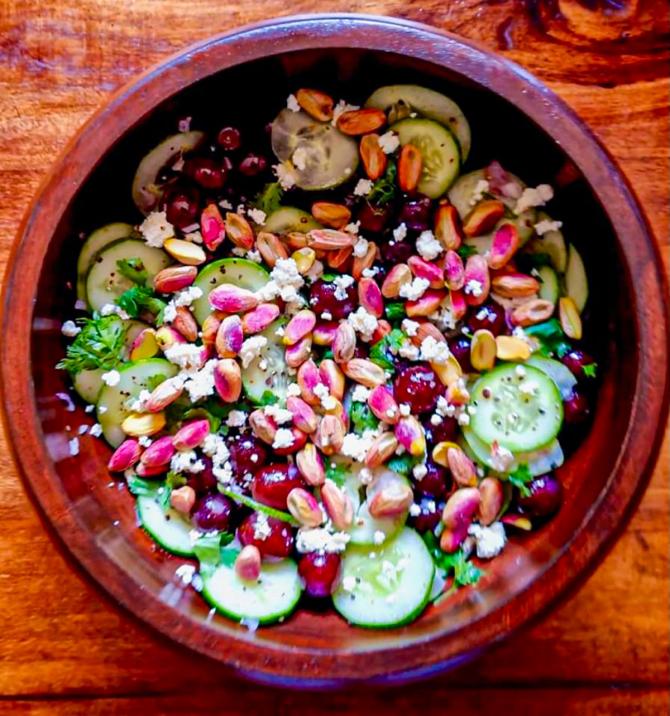 Cucumber, Pistachio and Feta Salad
Ingredients
2 tbsp minced red onion
2 kheera or English cucumbers, sliced thin
A bunch of red grapes
1 tbsp chopped dhania or green coriander or cilantro
2 tbsp or more feta, crumbled (feta is a tangy, salty Greek cheese, readily available in grocery stores and long-life versions can be purchased online)
1/3 cup pistachios, shelled
2 tbsp extra virgin olive oil
¼ tsp freshly ground pepper
Sea salt as per taste (you can use kosher salt too, available online, but it's expensive)
A squeeze of lime juice
Method
In a large serving bowl combine the cucumber slices, grapes, minced onion and cilantro.
Drizzle the olive oil over it and mix well.
Top with the crumbled feta.
Sprinkle pepper. Add the salt carefully. Feta is salty and very little additional salt may be necessary.
Squeeze the lime juice over the salad.
Toss.
Let the salad chill in the refrigerator.
Before serving add the pistachios.
Vindhya Karwa posts vegan and vegetarian recipes under the Instagram handle @vinsplate.