What makes musabaha different from standard hummus is that it features whole chickpeas. Unlike the smooth texture of hummus, musabaha is coarse and chunky.
Chef Ajay Thakur uses tahini sauce, hung curd, lemon, green chilly pesto and plenty of olive oil to create a Chilly Pesto Curd Musabaha that goes brilliantly with flatbread.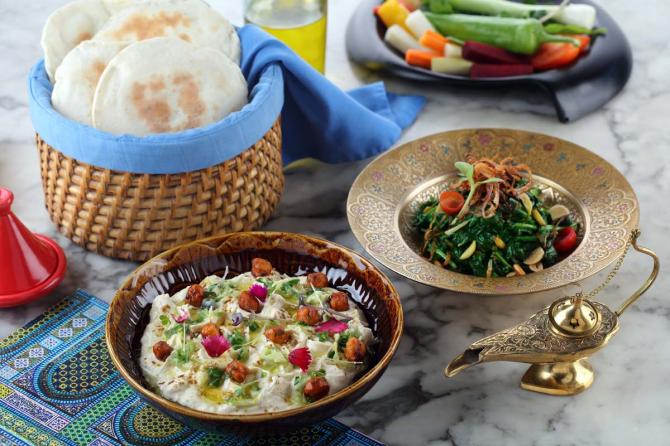 Chilly Pesto Yoghurt Musabaha
Serves: 2-3
Ingredients
For the hummus
250 gm or 1½ cups kabuli channa or chickpeas
1 tbsp tahini paste
1 tsp lemon juice or to taste
Salt to taste
2-3 pods garlic
Few cubes ice
1-2 tsp extra virgin olive oil
For the chilly garlic pesto
Few green chillies or to taste
2-3 pods garlic
2 tsp lemon juice
Salt to taste
To assemble
75 gm hung curd or yoghurt
25 gm chilly garlic pesto
1 tsp jeera or cumin powder
1 tbsp chopped parsley
2-3 tsp extra virgin olive oil
50 gm boiled chickpeas
35 gm fried chickpeas
Method
For the hummus
Soak the chickpeas for 12 hours.
Drain the water and rinse the chickpeas.
Boil the chickpeas in a pressure cooker with plenty of water over high heat for 5-6 whistles.
The chickpeas should be soft and mushy.
Open the pressure and set aside to cool.
If the chickpeas are not mushy, cook for a few more whistles.
When cool wash the chickpeas again to remove any skin and drain.
Transfer the chickpeas into a blender along with the olive oil, garlic, ice.
Blend till it becomes a smooth paste.
Add in the tahini and blend on high speed.
If the mixture is too thin, add more tahini paste to thicken it.
Add the salt and lemon juice per taste.
Transfer into a bowl and refrigerate.
For the chilly garlic pesto
Transfer all the ingredients to a mortar and pestle and grind until to a coarse paste.
Set aside.
For the assembly
In a bowl mix the hummus, hung curd, olive oil, boiled whole chickpeas and cumin powder.
Place the mixture in a serving bowl.
Top with the chilly garlic pesto.
Garnish with chopped parsley and fried chickpeas.
Serve with flatbread and chopped raw veggies.
Chef Ajay Thakur is the corporate chef at Bayroute, a restaurant in Mumbai.