Chef Jihad El Chami, Mabruk, Hotel Sahara Star, Mumbai shared these recipes.
Recipes and photographs: Kind courtesy Hotel Sahara Star
Trying out healthy food is the latest fad.
An increasing number of people who travel, especially Indians are now trying Mediterranean cuisine.
It is colourful, healthy and good for overall health.
Presenting three traditional recipes for you to try at home:
---
Kharouf Mahshi (Lamb served with rice and nuts)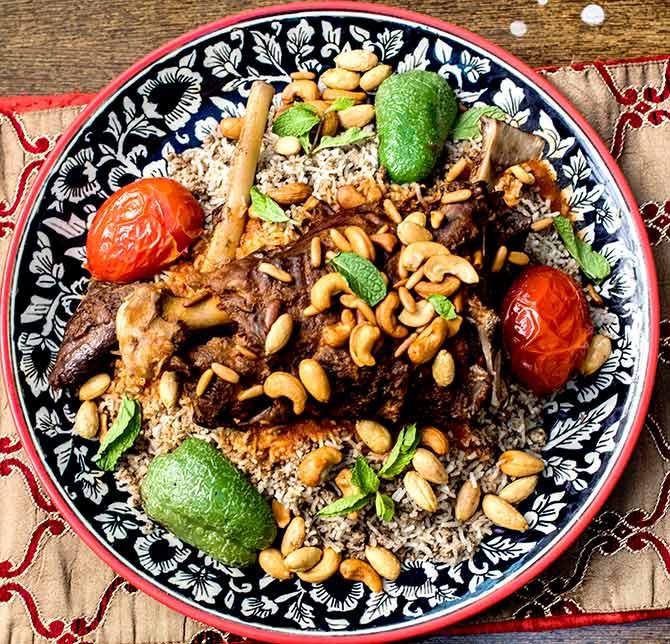 Ingredients
For the lamb leg
1 pc baby lamb leg
30 ml oil
4 onions
2 carrots
3 leeks
1 celery stick
2 gm whole black pepper
2 gm cinnamon sticks
2 gm green cardamom
2 gm cloves
5 bay leaves
20 gm tomato paste
Salt as per taste
Method for lamb leg
In a vessel heat oil. Add whole spices, onion, carrot, leek, celery and tomato paste. Saute well.
Meanwhile, grill the lamb leg to give it some colour.
Add lamb leg and enough water to cook.
Boil till lamb is done.
For the rice of kharoof mahshi
500 gm lamb minced
500 gm rice
30 ml oil or ghee
50 gm onion chopped
5 gm seven spice
5 gm cinnamon powder
5 gm green cardamom powder
2 mg nutmeg powder
Salt as per taste
Method
In a vessel, heat oil or ghee add chop onion cook till golden brown.
Add mince meat and stir fry till till dry.
Add soaked rice and spices. Add water, cover and cook.
To cook the rice, instead of water you can add the stock of lamb leg for better taste and flavour.
Plating
In a large platter, place cooked rice.
Now place the baby lamb leg.
Garnish with mixed nuts and serve.
---
Kibbe Maklieh
It's a type of croquette made from burghul (cracked wheat) and minced meat.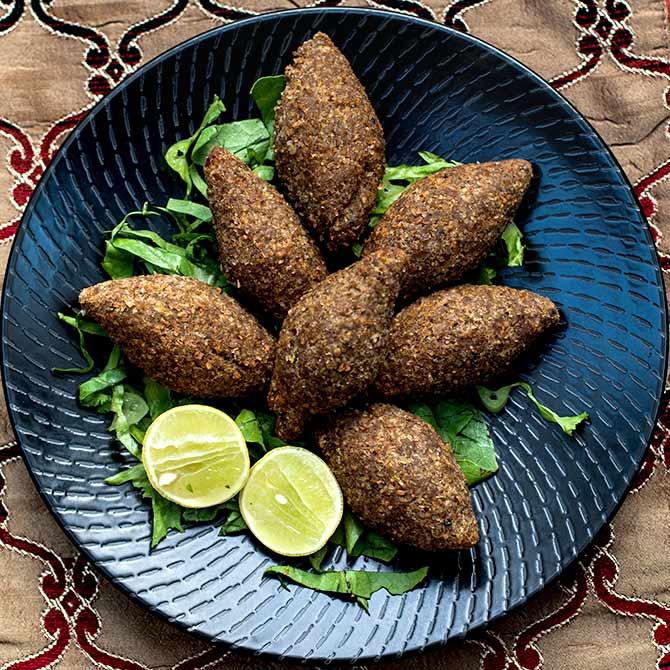 Ingredients
1 kg lamb minced
500 gm burghul (Cracked wheat, hulled and parboiled)
350 gm chopped onions
10 gm fresh basil
5 gm mint
5 gm cinnamon powder
3 gm green cardamom
2 gm nutmeg powder
40 gm pinenuts
50 ml oil
Salt as per taste
Ice
Method
For kibbe stuffing
In a vessel, heat oil, 200 gm onion and saute till golden brown.
Add 500 gm lamb and cook well to a thick consistency.
Add spices and pinenuts.
Stir well till you get a thick mixture for stuffing.
Keep aside to cool.
For kibbe cover
Take the other half of the raw lamb. Add fresh basil, mint, onion, salt and soaked burghul.
Blend the mixture till you get a smooth texture.
While blending the mixture add half amount of ice to maintain its temperature.
Refrigerate the mixture for 24 hours.
For the kibbe
Stuff the cooked mixture inside the raw meat mix.
Shape it like a kibbe (oval shape with pointed edges)
Deep fry and serve with lemon wedges.