Do you think apples are only meant for desserts? This Apple Kebab recipe will change your mind.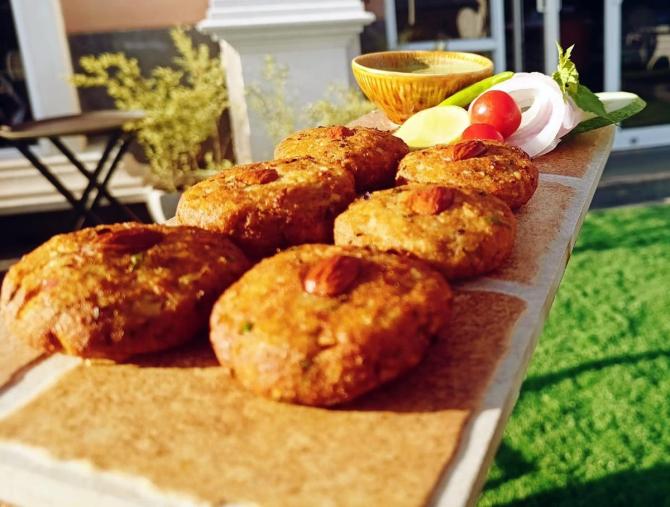 Himachali Apple Ke Kebab
Recipe courtesy: Welcomhotel Tavleen Chail
Servings: 6-8 pieces
Ingredients
2 apples
150 gm potato, boiled, peeled and grated
100 gm paneer, crumbled
5 gm almonds, chopped
5 gm cashews, chopped
5 gm pistachios, chopped
5 gm raisins, chopped
1 green chilly, chopped
5 gm green dhania or coriander or cilantro, chopped
2 gm garam masala
2 gm chilly powder
2 gm chaat masala
5 gm grated processed cheese
50 ml or more oil for frying
Salt to taste
Laccha pyaaz or masala pickled sliced onions, to serve
Mint chutney, to serve
Almonds, for garnish
Lemon slices, to serve
Method
For the tikki mixture
Peel and finely chop one apple.
Keep aside.
In a bowl combine the grated potato along with the crumbled paneer.
Add the chopped green chilly and coriander.
Add the garam masala, salt, chilly powder, chaat masala and mix.
Add the chopped apple and mix well.
Keep aside.
For the nut, raisin and cheese filling
Peel and grate the second apple.
In a bowl mix the chopped nuts, raisins along with the processed cheese and grated apple.
Keep aside.
For making the tikki
Roll the tikki mixture into small balls.
Flatten the centre portion, fill it with the nut-cheese filling, close shut and roll back into a ball and lightly flatten.
Heat the oil in a heavy-bottomed kadhai or frying pan.
Shallow fry the tikkis, one by one, until they turn golden brown.
Drain excess oil and place on a plate lined with a paper towel or tissue.
Garnish each tikki with an almond and serve warm with laccha pyaaz, slices of lemon and mint chutney.
Note: Lachha pyaaz can be quickly made up by spicing sliced onions with lemon juice, red chilly powder, a little finely chopped green dhania, a little finely chopped green mint, finely chopped green chillies and spices of your choice like dhania powder, garam masala, black salt, chaat masala.
Do you have the recipe for a dish from any part of India to share?
Please mail your recipes to getahead@rediff.co.in with the subject line 'Indian recipes'.
And please don't forget to add your name, location, and photos, if possible, of you as also the recipe.
We'll publish the best ones on Rediff.com.