A young woman from Mumbai has been working towards reducing the stigma around menstruation through her organisation Red is the New Green.
Anita Aikara/Rediff.com finds out how she did it.
Everyone remembers when they got their first period.
But do you remember the time when you got your periods at work, school or college and didn't have a sanitary pad with you?
Did that experience put you in a really awkward situation?
Did you have to rush to the loo, hide from people's sight to clean the stains off your clothes and later call a friend to bail you out of the situation by rushing to the nearby chemist to buy you a pack of pads?
During those few life-changing minutes of panic, anxiety and probably shame, did you ever wish that your office, school or college had period products (sanitary napkins, cloth pads, menstrual cups, etc.) in their medical kit just the way they stock up on medicines and Band-Aid?
Makes one wonder if our worlds are designed as though periods don't exist.
Deane De Menezes experienced something on the similar lines and that incident lead her to founding the organisation Red is the New Green (RING).
Sharing her story, she says, "Once when I was at work, I got my periods and I didn't have any sanitary napkins with me. I think this is something that many women may have experienced at some point in their life.
"It was just something very normal and I realised I could go to the nearest medical store and purchase a sanitary napkin and continue with the rest of my day."
However, that incident stuck with Deane. She just couldn't stop thinking about how that experience didn't have to be an issue in the first place.
Probably if her office would have stocked up on sanitary napkins, she could have easily got access to it.
"Also, I was not comfortable asking someone in office for a pad. Back then, I had an inherent bias which even I was not aware of. At some level I was also ashamed to speak of my periods openly," she reveals.
The incident led to her to thinking more about periods. "I started doing a lot of research. I read up, trying to see find some statistics and what I discovered was beyond horrifying.
She got to know back then in 2016 only 33.6 per cent women in rural India used sanitary napkins.
According to the National Family Health Survey report of 2015-2016 around 59.2 per cent women used sanitary napkins in urban India, and the figures were 33.6 per cent in rural India.
A recently published report in Business Line revealed that India has the lowest penetration of pads in the world.
The Business Line article also highlighted another problem. 'Prices of products are still high. An average 5-7 day period costs an average of ₹88, a significant chunk of the daily minimum average wage rate at ₹180,' it revealed.
That's where Deane's organisation fits in.
They have been helping menstruators face their monthly periods with dignity by educating them about menstrual health, giving them access to period products and providing solutions to dispose period waste in a hygienic manner.
Distributing sanitary pads to menstruators in need
Back in 2016 when Deane founded RING, her goal was simple: To normalise periods and lessen the stigma associated with menstruation in India.
"When I started RING, I wanted to fix a very specific problem of reducing the low attendance rates in schools.
"Students often cited poor access to sanitary napkins and lack of education about menstruation as being the main reason of skipping school when they get their periods.
"Secondly, waste management was a big concern. The lack of infrastructure in schools for disposing menstrual waste in a hygienic way posed a challenge as sanitary napkins were being flushed down toilets."
Deane and her team worked to tackle both these problems through engaging and interactive menstrual health sessions.
They distributed period products so that more students could attend school during their periods.
Sanitary napkin vending machines were installed, along with incinerators that destroyed menstrual waste in a hygienic manner.
Deane's efforts were recognised and in 2019 she made it to the Forbes 30 Under 30 list.
That was a year after she was felicitated by Queen Elizabeth II as part of the Queen's Young Leaders Programme that celebrates and supports exceptional young people from across the Commonwealth for taking the lead in their communities and using their skills to transform people's lives.
"I applied for it because I really needed guidance and advice. I was so new to the field and didn't know enough about leadership, running a team or even seeing the big picture," she says.
"For a year I had an online training programme with the University of Cambridge which helped develop my skills in various aspects.
"When I was in London, I got a chance to meet some really bright youth across the Commonwealth who have been doing great work.
"I attended residential programmes with organisations like BBC and there was a meeting with (then British prime minister) Theresa May at 10 Downing Street as well.
"It all finally cumulated in getting an award from the queen." From all the awardees, Deane was one of the three people who got a private audience with the queen.
"I owe a lot to the programme. It gave me the opportunity to learn and make good friends across the Commonwealth, who do such good work. I can still reach out to them today."
Hailing from a middle-class Goan family residing in Wadala, north central Mumbai, Deane shares that there was a time when they didn't have conversations around periods at home.
Also it was rare for people to have careers like the one she is pursuing back in 2016, when she started off.
However, her parents have been extremely supportive of what she does. "They are curious yet have been very helpful. I'm very grateful for the support I get at home," she says.
Lockdown diaries
During the lockdown RING distributed over 240,000 sanitary napkins across India.
"When the lockdown started in March 2020, we realised that sanitary napkins were not listed among the essential items for manufacturing by the government.
"That caused a huge issue in the production of pads. It took a while to get this amended and new guidelines to come out, but it also threw light on how it's so important to have a gendered lens when we look at policy-making.
"If sanitary napkins can be missed out of a list of essential items of service, it really shows there is a lot more work that needs to be done and periods are not represented with the urgency it deserves."
According to Deane, the lockdown meant income losses, especially for daily wage workers.
She knew she had to act fast as in a metro city like Mumbai, there were going to be upward of 1 million to 1.5 million menstruators getting their periods for the first time.
"When you don't have school, don't have friends to talk to, and are stuck at home, it's extremely isolating for many young girls and women, especially the ones who lost their jobs during the lockdown.
"At home there was not enough money to buy groceries let alone sanitary napkins.
"It started becoming a crisis and they were using old cloth or different types of products which had questionable hygiene in a time when good health was of life and death importance."
That's when RING really hit the ground with whatever funds and period products they had and started distributing it.
"We identified areas and zeroed in on NGO partners who were strong in those places. As an organisation we realised we couldn't do everything.
"We needed to collaborate and work with partners and match up each other's strengths."
Deane worked with organisations who were strong in their fields and they helped them get access to pads and on ground distribution could take place.
During the lockdown RING also launched a relief effort campaign called #PassOnThePad to supply and support NGO partners on the field working with urban slum communities with period products.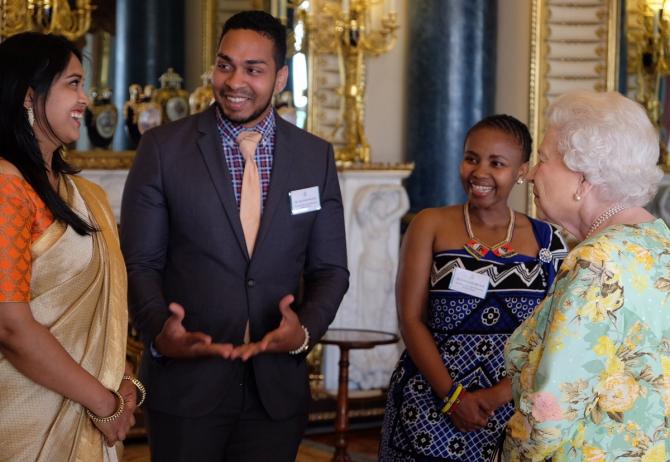 Stumbling blocks and lessons learnt
RING aims to look at an age-old issue -- periods -- with absolutely no lens. "The idea is to see it not as a problem, but mostly a challenge."
"Our plan is not to be legacy players in any space. If there is no taboo around periods, there won't be a need for RING to be around," says Deane.
As a founder, she feels that many people don't take a young person too seriously.
"Not only are you a girl, you are also very young," she explains, revealing that many people in the non-profit space are way more experienced.
"But it did give me a chance to learn from some amazing people and organisations."
The other challenge during the field work was how could Deane and her team ensure accountability, transparency and build trust?
"Because at the end of the day we were working with people we didn't know and they could potentially misuse or take advantage of the work that we are doing."
She adds, "It was also very tricky for us to figure out logistics."
This was the first time that RING expanded its work to Jammu and Kashmir as well as Sikkim.
"While I'm talking to you, I'm thinking whether our sanitary napkins have reached Assam," says Deanne, revealing that RING went all out this year and sent period products for flood-affected victims in Kerala and Karnataka.
"With sanitary napkins the common misuse is that it gets stolen. With any relief fund or work, you have to make sure that accountability is there; that the products are not sold again.
"We make sure that our partners are local, genuine organisations.
"In some case if there is a motivated individual who wants to help, we don't limit them.
"However, we do ask for details, locations, plan of distribution, images and a report for them whenever possible."
Deanne also throws light on some of the challenges menstruators faced during the lockdown.
"The lack of supply of sanitary pads meant that it was being sold over-the-counter at mark-up prize.
"Also in the pandemic, women weren't taking care of their health.
"There was a rise in infections and other health issues, and our team kept receiving calls from several women asking us what to do as they couldn't visit doctors due to the lockdown.
"So this year, during the second wave, because we were much more prepared, we decided to support a lot of healthcare workers, medical staff, support and labour staff in hospitals.
"We provided them with access to sanitary napkins, and not only disposable ones but also the reusable kind like period underwear."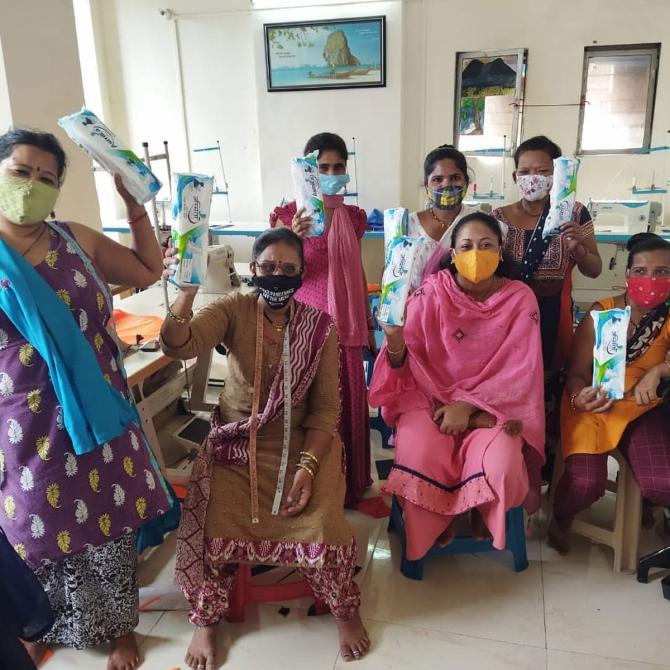 Normalising menstrual health and why there's nothing to be ashamed about it
"When we talk about menstrual health, one needs to understand that it is a body process," says Deane.
"We need to make people realise that periods are something that happen scientifically in a person's body. They are just chemical triggers.
"Periods are very personal for every person and you need to be comfortable with it. Definitely it is nothing to be ashamed about."
"One shouldn't worry about seeking help or asking information if need be."
Despite advising people on menstrual health for the last five years, Deane is still learning on the job every single day.
According to her, menstrual health is necessary for the well-being of a person's body.
"When we look at our mothers, we realise that for them it has always been about taking care of the family; that was a priority and eventually their health would take a backseat.
"Very often you'll hear people telling women, 'Deal with your period pain.'
"But we can't ignore the fact that some people get crippling pain where they can't get out of bed.
"Very often this is not period pain but maybe an underlying sign of a more serious medical condition that deserves treatment.
"What I'd like to enforce here is if you need help, ask for it because you really deserve it. It is your health at the end of the day, and you need to take care of that."
Conversations centered around demystifying periods
The need of the hour is more focused conversations when people talk about periods.
"We need to be talking about issues and we need to be talking with people. That is really important," she shares.
"With the government, they do a lot of work in terms of schemes and the type of infrastructure they have set in place.
"But giving sanitary napkins, putting incinerators and vending machines is not like putting a Band-Aid on the problem. It will not change things overnight.
"We need structural changes, right from the school curriculum to sensitise parents to have normal conversations about it at home."
Ask her how the government can help, and she says, "While creating access to sanitary napkins is highly appreciated, we need to create solutions on how we are ensuring the next generation of kids grow up without thinking about the taboo around menstrual health. That's our goal.
"Also waste management is another area we require a lot of government support.
"Menstrual waste management is an important issue and the challenges it puts on our environment and climate is real. It needs to be tackled."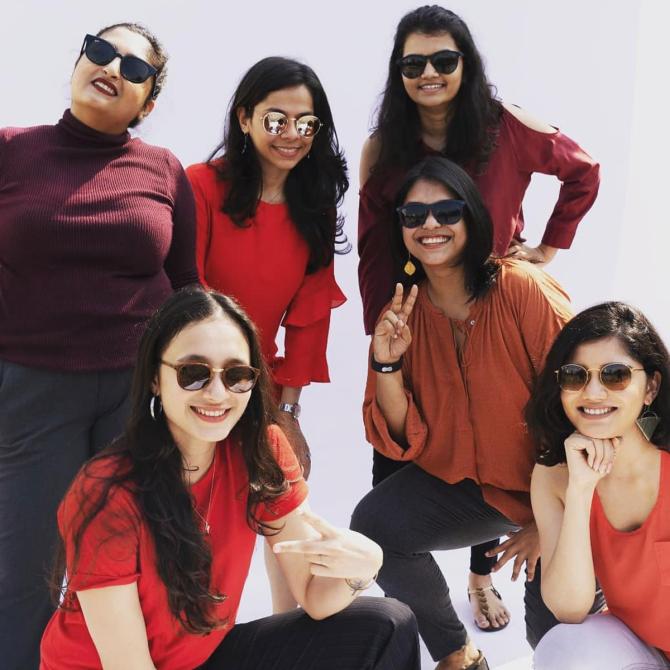 Moving towards a sustainable, eco-friendly solution
With menstrual cups and reusable pads, Deane and her team have seen a pretty good reception in the last few years. She credits it to the increased awareness on the Internet.
Also the cups are extremely comfortable and have several benefits -- they are cheaper in the long run and environment friendly too.
"We do advocate heavily the use of reusable products if you have access to clean water, information and privacy, along with someone to support and guide you through the process," she reveals.
RING is also making women self-reliant and increasing their livelihood by encouraging them to make sanitary napkins.
Under the Jeevan Rath initiative supported by UNICEF, RING has joined hands with Citizens Association for Child Rights to create a skills development project that equips women in underserved communities to stitch reusable cloth pads and provide them to women who can't afford menstrual supplies.
For the next few months RING's plan is to understand how to tide through the third wave and support vulnerable communities.
"We understand that there is still a lot of work to do. We're planning on focusing more on streaming and doing more events on menstrual health and challenges.
"Online sessions do help, but a lot of the people we work with don't have access to online mediums. They are living in a tiny house and sharing their mobile phone with the other family members."
---
You can support RING with your time and donations. Sign up to Red Is The New Green by logging into Red Is The New Green. You can follow RING on Instagram: @redisthenewgreen_
If you'd like to help them financially or provide support with distribution of sanitary napkins, please write to them at redisthenewgreen1@gmail.com