'If we can celebrate people's birthdays, then why not the reason for their birth?'
'In many homes, a woman who has her periods has to sleep separately. Some women are not allowed to sleep on the bed.'
'This is discriminatory. It's a violation of women's basic human rights.'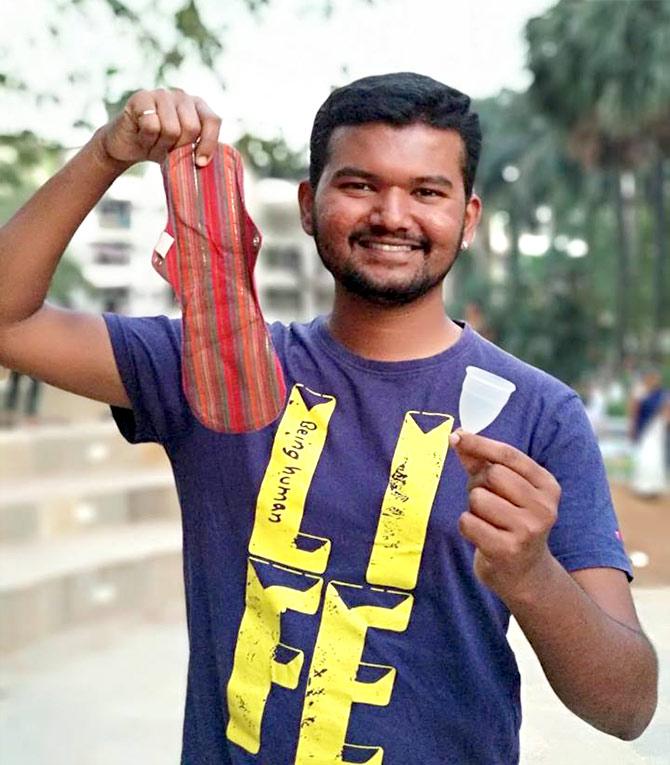 Nishant Bangera, 27, moonlights as a crusader for women who are having their menstrual cycle.
He has zero first-hand experience of what a woman goes through during her periods.
He has never experienced menstrual pain or discomfort.
But he refuses to let the subject be cloaked in secrecy and shame.
Instead, he has chosen to celebrate it. And he clearly doesn't need an excuse.
"If we can celebrate people's birthdays, then why not the reason for their birth?" he questions.
Nishant is the founder of the Thane-based NGO Muse Foundation (Thane is located adjacent to Mumbai), which works towards spreading rational thinking among the youth.
His A Period Of Sharing campaign focuses on menstrual health and hopes to get women to talk about their periods openly.
"We started the campaign in 2014 to create awareness about sustainable menstruation," he says.
"Since then, we have been urging women to use cloth pads instead of disposable sanitary napkins.
"Disposable napkins are made of plastic and have a lot of chemicals. They not only impact the environment but also affect the health of the women."
Women should be proud of their periods, not ashamed
When the NGO started a drive to make women aware of sustainable menstruation, they realised that just sharing technical information would not resolve the issue of health management.
A study they conducted at several locations in Mumbai revealed the many taboos, rituals and practices associated with women and menstruation.
Nishant says, "In many homes, a woman having her periods has to sleep separately. Some women are not allowed to sleep on the bed.
"At times, these women are suffering from PCOD (polycystic ovarian disease) and they are not even aware of it. They could be suffering from other menstrual disorders too.
"Their bodies need rest as they are already in pain. Sleeping on the floor will make them even more uncomfortable.
"This affects the health of the women in many ways and is discriminatory. It's a violation of women's basic human rights."
Menstruation is not openly discussed in India
Women from less-privileged backgrounds do not feel that it is normal to talk about the pain and discomfort they experience during their menstrual cycle.
"They feel embarrassed to discuss their period problems with their husband.
"This needs to change and the change can happen only when we start talking about periods.
"We cannot only change the mindsets of the people with just talk; we need to have awareness too.
"You can build a million toilets, but it is of no use until you tell people how to use them.
"Similarly, you can donate a million sanitary napkins, but all is vain until you give women access to clean, hygienic toilets.
"An Indian girl will always be embarrassed to dry her cloth pad in the open because she's worried about what her neighbours will say.
"From an individual to a societal level, everybody needs to come together and discuss menstruation in a way that is light and also create awareness."
Celebrating menstruation through Maasika Mahotsav
Maasika Mahotsav, which is in its third year, literally means 'menstruation festival'.
It's an extension of the NGO's A Period Of Sharing campaign and they have decided to celebrate the festival from May 21 to 28.
It is a full week of menstruation celebration; the festival coincides with the World Menstruation Day that falls on May 28.
"It's very difficult for us to get people out of their homes (for the festival). So we do not tell them it is about menstruation.
"We tell them it is a celebration of sorts and we want to speak about women's health.
"Once the women come to attend the festival, we gradually break the ice."
The stigma around periods
Nishant founded the NGO when he was just 20 years old.
"Back then, I was in college," says the activist, who first discovered what periods meant when he was in Class X.
"In school, the reproductive lessons were omitted. That was a big mistake. How do you expect to have people with aware minds, if you can't even talk about periods openly?
"My mother never spoke to me about it. I always wondered what secret she kept in her cupboard and why she asked me not to touch her suddenly."
When Nishant was working with a design agency, his HR told him about a school in Dahanu (a coastal town about 110 km from Mumbai, it is located in Maharashtra's Palghar district) that did not have a consistent supply of sanitary napkins.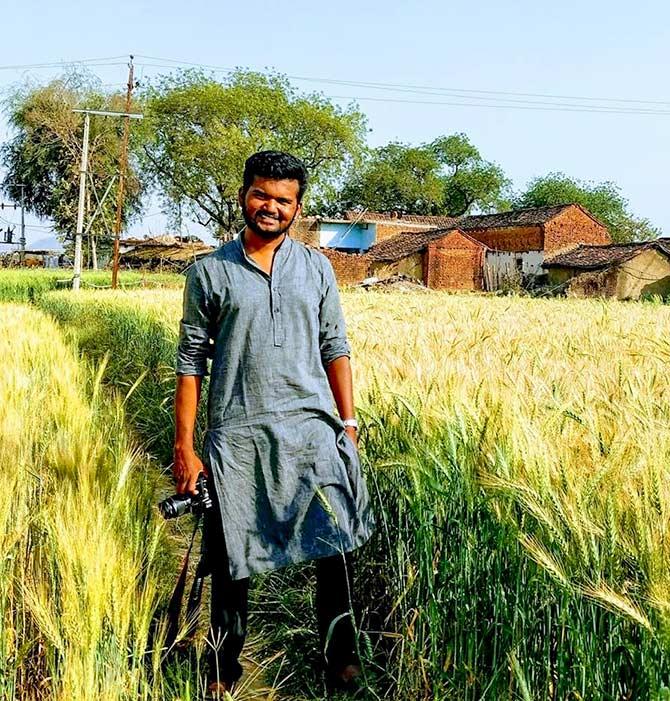 "Till then, I always thought it was something as basic as having food everyday.
"I felt it'd be simple to connect people in the cities to donate to the school and get a regular supply of sanitary napkins. That was how A Period Of Sharing started.
"Eventually I got to know about sanitary napkins and how bad they are and the health issues they cause."
Nishant, who works for a travel company, has self-funded his NGO. "We do have some good wellwishers too," he reveals.
"I have given up on my personal life. Juggling a full-time job and social work means I have to sacrifice a lot.
"I have just 24 hours in a day. I travel for three hours, work for eight hours and the remaining time is dedicated to the NGO.
"I can't go out and party nor can I have a girlfriend. Somewhere, I have to compromise."
As Nishant started discovering more about menstrual issues, he figured that women cannot be generalised.
"You need to consider women with physical and mental disabilities, fat women, blind women, etc.
"Some of the public toilets are so tiny that it is impossible for an obese woman fit in, leave alone change her sanitary napkin at ease.
"Most of the public toilets are full of poop," he adds.
Awkward stares
Often women just stare at Nishant when he speaks about menstruation. It is unusual for them to hear a man talk about it.
So he gets female volunteers to chip in. Many times, though, all the women do is listen and keep mum.
"You want them to open up. You want them to talk and communicate. You want them to tell you what problems they are facing and what is happening in their homes," he says.
When he speaks to men, they feel awkward too. But, more than the awkwardness, it is their indifference that worries Nishant.
"I was astonished when I had gone to deliver a lecture at one of the top institutes in Manipal. I heard some male students saying that it (menstrual issues) is none of their business.
"Are these men never going to get married? Won't they ever have children?" he asks.
"Indian women have been facing several issues with sanitary napkins. But it is all undocumented and unrecorded. They face these issues secretly."
Another revelation for Nishant was the disconnect women feel with their blood.
"Young girls have an issue touching their own blood, because they have been using sanitary napkins.
"We need to tell them that it is your blood and it is absolutely fine to touch it."
Let's talk about periods
Nishant feels that if India needs to have an open conversation about menstruation, everyone needs to be a part of it -- the government, religious heads, society and individuals.
"More women need to be part of the government," he says. "More women involved in the decision-making process. Only then will the change trickle down to the grassroots level.
"People generally feel that it is enough to donate sanitary napkins to the needy.
"But you also have to go into homes and talk to the husbands.
"You need to tell them to stop asking their wives to not touch them when they are having their periods.
"As for women, when they buy sanitary napkins, they should turn the packet around and see what goes into it. You need to make companies accountable."
Continuing to keep silent on the subject only means that women and girls will continue getting a raw deal.
They will not be able to get the facilities and support they need to be able to deal their menstrual issues.
The government's role doesn't end with giving women sanitary napkins.
"Women must have access to clean toilets.
"If they are using a menstrual cup, they need water to clean up.
"Most women living in slum areas burn the pads or bury it and animals find it.
"Moreover, public toilets don't have dustbins to dispose the sanitary napkins.
"We have pictures of women sticking their sanitary napkins in the windows of the public toilet because they don't have any other way of disposing it. No woman likes to do that, but she is forced to."
A message for women (and men)
"I'd like to remind the men about their first home, the uterus. You were born there and you should never forget that.
"Men need to think about their wives and every woman they're associated with.
"Understand what women go through during their periods. Try and be there for them. That's how you can truly express your love."
He adds, "I'll tell the women not to get swayed by ads.
"Choose a product which suits your body. Do your research and be prepared to fight for your rights.
As for being a part of the Maasika Mahotsav, he shares, "You can always go out and spread the word. Adopt a community. Take a session. Conduct a workshop.
"If you don't have the time, then the least you can do is to talk to your maid. Understand her period problems. If she is doing something wrong, correct it and help her out."