By evaluating their loan rate against the best available every year, borrowers can achieve considerable savings over the entire tenor, suggests Sanjay Kumar Singh.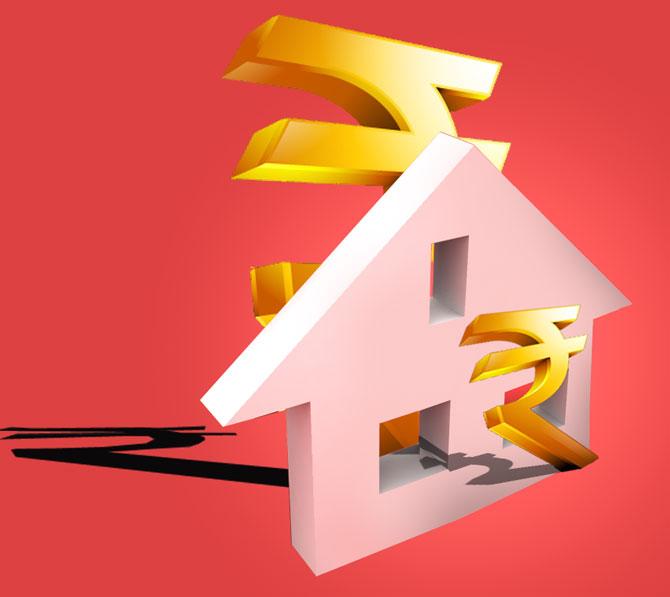 Robin Chaudhary, 41, lead business analyst specialising in e-governance and HR Management Systems at Humanitics Dimensions Software purchased a house in Sector 76, Noida, in 2010.
The three-BHK apartment cost him Rs 37 lakh.
Chaudhary took a floating rate loan of Rs 20 lakh from Axis Bank.
At present, he pays an interest rate of 9%.
Chaudhary is not sure about the benchmark his loan is linked to, but believes it is the benchmark prime lending rate (or BPLR, the benchmark that existed in 2010).
He has never switched his loan.
Since 2010, the benchmark that home loan rates have been pegged to has changed thrice--the base rate (introduced from July 1, 2011), the marginal cost of funds-based lending rate (or MCLR, introduced in 2016), and the external benchmark-linked regime (from October 1, 2019).
Each benchmark was meant to increase transparency and secure faster transmission of rates to customers.
But like Chaudhary, many customers never switch their loans to benefit from either a more transparent benchmark regime or lower interest rates.
According to a recent media report, about 25% of the State Bank of India's total home loan portfolio of Rs 3.72 lakh crore is still on the base rate regime, and about Rs 5,000 crore worth of portfolio is linked to the BPLR.
"Customers on the base rate or BPLR could be paying up to 3.5 percentage points higher than the best rates available today," says Navin Chandani, chief business officer, BankBazaar.
Lack of awareness
A combination of factors is responsible for home loan customers not switching.
"Some are not aware that a more transparent benchmark regime has been introduced, or that they can get better rates now. Others are aware but keep procrastinating," says Aditya Mishra, founder and chief executive officer, SwitchMe, a digital home loan broker.
Banks that have a higher proportion of current account savings account (CASA) deposits have a lower cost structure and hence can price their loans more attractively.
By evaluating their loan rate against the best available every year, borrowers can achieve considerable savings over the entire tenor.
Negotiate with current lender first
If your current lender charges you a higher rate than the one it offers to new customers, negotiate with it for a better rate.
Doing so has many advantages.
"The fee you pay is minimal -- as little as Rs 1,000. You avoid bigger charges like processing fee and stamp duty. The process is much quicker. You could be on a lower rate within two days," says Mishra.
Only switch if your current lender is unable to match the best rate you are getting from another player.
Existing borrowers under the MCLR, base rate and BPLR interest rate regimes can switch their loans to the external benchmark regime without incurring any fees.
"They will only have to pay administrative and legal costs.
The interest rate charged after the switchover will be the same as the rate charged for a new loan of the same tenor and amount," says Ratan Chaudhary, head of home loans, Paisabazaar.com.
When to switch
When deciding whether switching makes sense, use the following rule of thumb.
"If the difference in your current interest rate and the rate being offered by another borrower is 25 basis points and the tenor is more than 15 years, then it is usually beneficial to switch. If the tenor is less, use a calculator to work out the savings," says Mishra.
Many online home loan balance transfer calculators are available.
Deduct from the savings the various charges you will have to bear while transferring.
Go ahead only if the net saving is substantial since transferring will also require time and effort.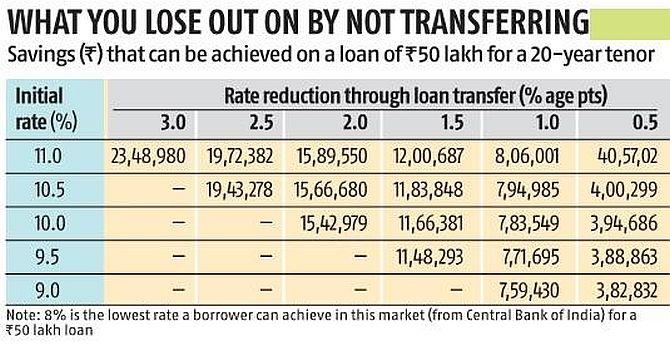 Many lenders also offer a top-up loan while sanctioning a home loan balance transfer.
"For those who require additional financing, the availability of a top-up loan can be a consideration. It does not come with end-usage restriction and carries a lower interest cost and longer tenor than other financing options," says Chaudhary.
Transfer procedure
Once you have decided to switch, write to your current lender informing it about your decision.
It will issue a consent letter or no objection certificate (NOC), mentioning the total amount of loan outstanding.
Next, put together all the documents the new lender will demand.
These typically include proof of income, copy of property title documents, and the old lender's NOC.
A list mentioning all the documents held by the old lender will also have to be submitted.
Other papers you could be asked for include the occupation or completion certificate, architect's plan, and so on.
Next, apply to the new lender.
After scrutinising your application, it will decide your loan eligibility and then sanction the loan.
It will then give its approval in writing, mentioning the interest rate offered and other terms of the loan.
The new lender will then issue a cheque or demand draft in the name of the old lender, which should be submitted to the latter.
At this point, you will have to sign a mortgage agreement with the new lender.
The old lender will then schedule a time for the release of property documents.
"You need to be present at the time when the property deed moves from the old lender to the new one," says Mishra. The old lender will also cancel any outstanding post-dated cheques or ECS mandate from you.
Costs involved
The first is the processing fee charged by the new lender.
This is usually in the range of 1 per cent of the loan amount.
Lenders often have special offers, so that this cost gets restricted to Rs 5,000-10,000, or is waived entirely.
The biggest cost element usually is the stamp duty paid on the mortgage deed.
It varies from one state to another.
In Mumbai, for instance, it is 0.2 per cent of the loan amount.
Home loan balance transfer can take anywhere from 15 days to five weeks.
---
Sanjay Kumar Singh covers personal finance for the Business Standard newspaper.