Before inserting your card, always check for any signs of tampering on the ATM machine, warns Aditya Shankar.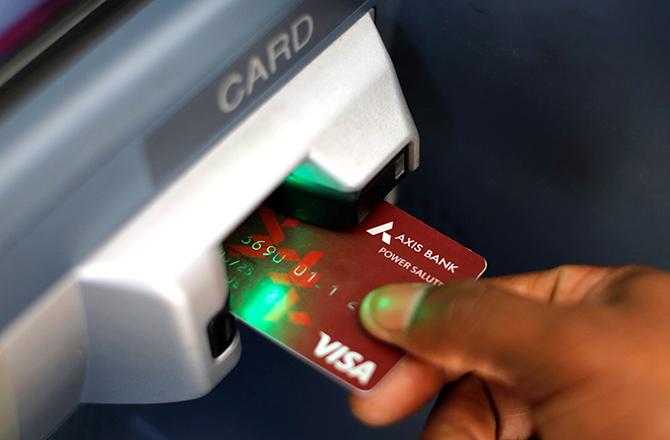 An automated teller machine (ATM) enables us to perform various banking transactions at ones convenient time and place.
ATMs have now essentially become a vital part of each of our lives and hence are now located at variety of locations -- high streets, malls, railway stations, airports, supermarkets, petrol stations, etc.
The omnipresence of such locations and the rise in customer transactions also increases the need for people to be aware, cautious and recognise few signs that can prevent their card from being skimmed or their data being revealed to a fraudster.
Video surveillance
Machines that are not monitored or have no CCTV cameras are more likely to be targeted by criminals.
Most ATMs have two security cameras one inbuilt in the machine and the other a wall/ ceiling mounted CCTV camera.
One should ensure that the ATM they are using has video surveillance -- this acts as a simple, but very effective deterrent.
Check for any irregularities
Before inserting your card, always check for any signs of tampering on the ATM machine. These may include :
Scratches on the machine body, around the card reader, PIN pad or display screen.
PIN Pad keys are sticking in
Sticky residue from a tape
Loose parts on the ATM machine, anything overlaid on or around the PIN Pad
Any loose or extra attachments on the card reader
If you notice any of the above signs or any other irregularities, quickly stop and cancel your transaction.
These could be signs of skimming -- a very popular method that fraudsters use to steal your card's information and the PIN.
ATM premises
Whenever using an ATM choose to do so wisely, please check its surroundings.
If you notice anything or anyone suspicious please visit the ATM later or go to an alternate ATM location.
If you happen to visit an ATM at night, always check to ensure it is located in a well-lit area with security personnel and has signs indicating that not just the ATM but the area too is covered under surveillance.
Here are some precautions you can take to make your transaction safe:
Memorise and do not disclose your PIN
Your PIN should be a random number and not one that can easily be guessed.
It should be memorised, most banks accept a 4 digit PIN and you can choose from any one of 10,000 possible combinations.
It is crucial your PIN is never shared or given out over the phone to strangers, as a lot of people tend to get cheated on receiving fraudulent calls from thieves pretending to be bank staff.
Never write down your pin or keep it with your ATM card as this is the easiest way for someone to access your account.
DO NOT accept help from strangers
Before withdrawing cash always be vigilant and check to see if there are any suspicious looking people in the area.
Never accept any help from a stranger during a transaction.
Skimmers cheat people by offering help and easily getting their card information using hidden devices.
If your card is stuck in the machine or the machine is unable to dispense cash and is stuck, don't accept any assistance from strangers.
In a situation like this, stay calm.
If you have completed your cash transaction but your cash is stuck in the dispenser and you are unable to retrieve it, don't leave the machine, alert the security personnel and/or contact the bank for instructions.
Lately technology has helped curb a lot of criminal activities related to such ATM attacks by incorporating innovative software and technology but being conscious of few signs helps making your ATM transaction safe.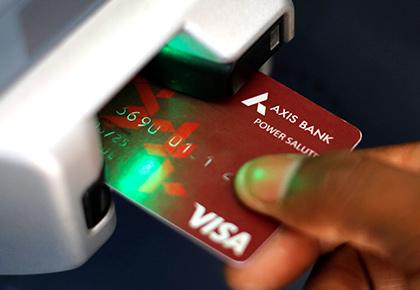 Aditya Shankar is head, software sales (India), Diebold Nixdorf that provides software solutions to financial and retail industries.