Handle cards like you would handle cash.
Do not leave it unattended or disclose your PIN.
Be always alert for small value transactions from merchants that you are unable to identify warns Niranjankumar Upadhye.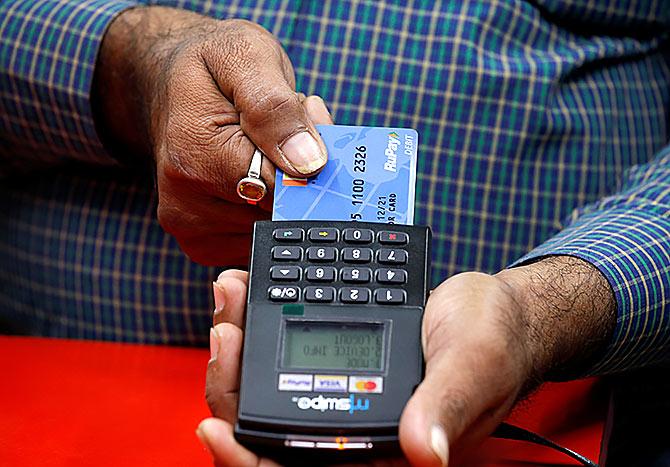 If you have had a credit or debit card for some time, chances are that you would have experienced a fraud or an attempted fraudulent transaction on the same.
If you have not experienced it yet, it may happen sometime in the future.
Fraudsters do not love you or hate you to target your card.
You happen to be their victim, if you are negligent or just plain unlucky.
Here are some tips to help you prepare for an eventuality and minimise your exposure or loss.
1. Never leave it unattended
Do not leave your cards lying about in an unsecured manner in your home or workplace.
Also not in your car, your gymnasium locker, swimming pool locker etc.
Why tempt thieves?
Handle cards like you would handle cash.
2. Update your latest credentials
When you move residences or jobs or when you ditch an old phone number or email address, update your latest contact details with your bank.
It lets them contact you in case there is a suspicious looking transaction on your card. It also ensures correct delivery of any replacement or reissued card to your current address.
3. Your PIN shouldn't be an easy guess
Do not write the PIN on the back of your card, or keep the PIN mailer along with the card.
Do not share your PIN with anyone, including family members, and do not have the same PIN for all your cards.
Also choose a PIN that's easy for you to remember but difficult others to guess.
No, it should not be your 'milestone event' year. Many people know such details which makes your PIN easy to crack!
4. Secure your documents
Keep your financial and income records, government IDs, credit bureau reports and statutory documents like tax returns in a locked safe, so that no one can misuse those to get credit facilities by impersonating you.
Clear your mailbox periodically and shred or finely tear any such documents before discarding them.
5. Use an App
If you lose your wallet or purse, how do you expect to remember the card numbers and your various banks' contact centre details to help you block the cards ?
Use an App like 1Password that will securely store the details of your cards in an encrypted local container on your phone or device.
It can also store the data securely on cloud that you can access from any internet -- connected device after a robust authentication process.
Connect it to a service like Dropbox to recreate your archive in a jiffy, when you modify the data or change or add devices, rather than having to type-in the data all over again.
The beauty of synchronization!
6. Read your text and mails carefully
Look out for SMS/e-mail alerts for small rupee/ dollar value amounts for authorisations taken on your cards, which you did not initiate or weren't expecting.
Remember, thanks to the early steps taken by our very own RBI, India is miles ahead compared to many Western countries when it comes to robust authentication requirements of transactions coming from local, card-not-present merchants ( Internet/ Mail-order/ subscription merchants).
Many merchants domiciled abroad, however require no more than your card number and expiry date to attempt a small value transaction.
Card data can be compromised in a variety of ways.
Anyone in possession of your card details can therefore try to misuse your card at such merchants.
When a test transaction succeeds, they will attempt high-ticket transactions.
Be always alert for such small value transactions from merchants that you are unable to identify. If need be, call up your bank and get your card blocked and replaced.
7. Don't fall for fraudulent calls/messages
Do not respond to any e-mail/ SMS/ voice call ostensibly from your bank that asks you to submit some details of your account, log-on credentials, PINs, Passwords, OTPs, UPI credentials validation message etc for 'some services not to be discontinued' or 'to validate some of your credentials/ data.'
Always call the published number of your bank's Helpline number printed on the back of the card or the bank's statement etc.
Not a number located from Google search.
Fraudsters can list their numbers under businesses with deceptively similar names since Google allows the user community to edit data (in order to rectify genuine mistakes and to provide updated information), which fraudsters utilise toward bad purposes.
8. Pick the right apps
Use only trusted Apps on your phones and tablets.
Use Google's 'Play Protect' service before downloading apps from the Play Store on Android devices.
Apple's App Store can be trusted much better not to have rogue apps!
9. Lock your apps
This sounds a really stupid suggestion, but please enable locks individually for the apps on your phones.
And by all means, have a password, biometric tool or pattern to lock the phone itself.
It's a good idea to set-up enhanced security by way of enabling wipeout of a phone in case of 10 or more incorrect password entries for unlock attempts.
10. Keep your common sense about
If you get intimation of a lottery/ job offer or a legacy left by a dictator and meant for you to enjoy, wake up and ignore that intimation.
Niranjankumar Upadhye is general manager, fraud risk management division at Worldline India.