'When money has taken up almost all your space in the relationship, it is time to act,' advises marriage coach Leena Paranjpe.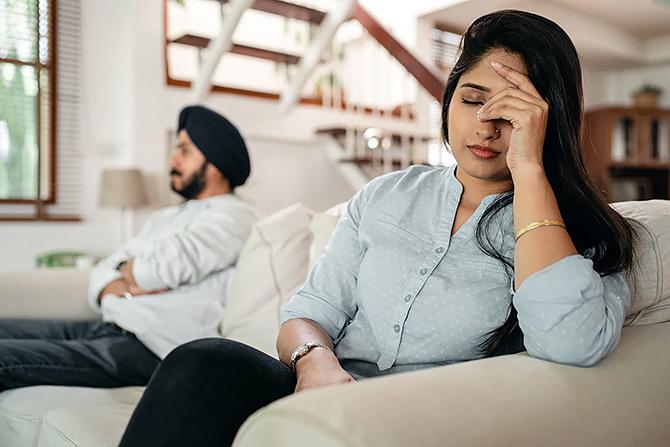 The COVID-19 pandemic has reshaped our personal relationships in an unprecedented way forcing us to live closer together with some people and further apart from others.
Most notably, the high-pressure environment of confinement, combined with the financial stress brought about by how COVID-19 has burdened the economy, is giving rise to marital conflict.
Financial problems pose a great deal of stress in any relationship.
Marriage is a long-term commitment, but many times the foundation tumbles due to daily conflicts about finance and money that may slowly turn the relationship bitter.
It is necessary for couples to recognise their financial goals together. Some things you should know:
When you are in a troubled marriage, things turn more toxic due to the daily arguments you have with your spouse.
Managing money is complicated. It is natural to have conflicts that will erupt.
To find solutions, communication and teamwork is the key.
Couples should start addressing financial issues at the beginning of their relationship to the smooth functioning of their marriage. The earlier issues are solved, the better.
Conflicts are not easy to deal with. When you get hitched, map your finances along the line and aim at financial goals both of you are comfortable in.
Different individuals have a different perspective on savings and expenditure, and this is all the more necessary to keep in mind in a marriage.
You might be very different from your spouse. Your idea about money might be practical, whereas your spouse might be superficial and a dreamer.
To respect each other's choices is to build a happy marriage.
Here are some tips to deal with any money conflict in your marriage:
1. Be transparent about your finances
Your spouse should be your best friend in the journey of life, just like a captain has his first mate to watch his back.
There should be absolutely no secrets in a marital bond.
When you are transparent and open about your personal goals and share them together, you build the marriage stronger.
It is difficult for some of us to actually share personal space, especially when you have been living alone too long.
Marriage comes with adjustments, caring, and understanding. Being flexible is the key.
Both your payrolls and expenditure should be spelt out for each other to know. That is how you plan your financial goals together.
2. Never hide debt
When you take the decision of getting hitched, remember that concealing your financial problems from your spouse can prove to be a great threat for your marriage.
Keeping credit cards and accounts from your partner is as bad as physical infidelity.
Whether it is a home loan, student loan or any other credit, your partner should always have a good knowledge about the finances you are involved in.
3. Do not power play
'My money is my money and not yours!'
Financial arguments often have these kinds of sentences as verbal outbursts.
This happens when one partner is working and the other help as a house maker.
Financial conflicts can often be attributed to one's background and the perception of money by the individual.
Marriage comes with responsibilities, both social and economic.
When the time comes, you must support your spouse in every way possible.
When you figure out that money has taken up almost all of your space in the relationship and you are facing disruptions, it is time to act.
As I always say, patience is the key to every problem.
With perseverance and endurance, you can win everything.
*Kindly note the image has only been published for representational purposes.