74 contestants from across the globe competed in the 69th Miss Universe beauty pageant which was held in Hollywood, Florida.
Software engineer and activist Andrea Meza, 26, from Mexico beat Miss Brazil and Miss Peru to claim the prestigious crown.
Brazil's Julia Gama, 28, was the first runner-up and Janick Maceta, 27, from Peru the second runner-up.
India's Adline Castelino, 22, finished fourth. Raised in Kuwait, Adline moved to Mumbai at 15.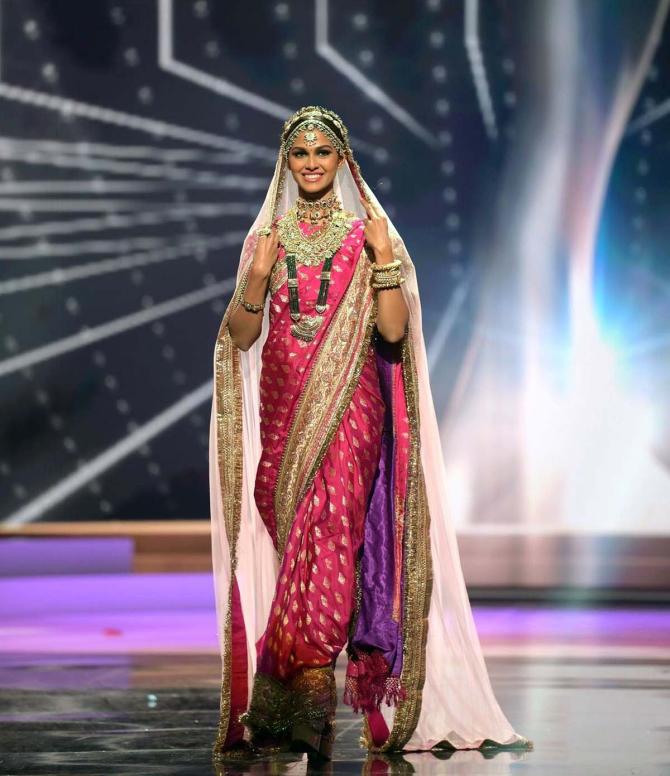 A goodwill ambassador for Smile Train and the face of the PCOS Free India campaign, Adline has a business administration degree from Mumbai's Wilson College.
At the beauty pageant's National Costume Round, she channeled her inner desi diva in a stunning handwoven sari created by Hyderabad designer Shravan Kummar.
Styling the look with traditional jewellery, she rounded it off with a sheer dupatta worn over the head.
The beautiful pink of the sari was inspired by the lotus, India's national flower.
According to the designer, the motifs woven in the sari are traditionally called nemali kannai, which mean peacock feathers.
The border of the sari featured embroidery depicting the 300-year-old Pichwai art form.
'What a feeling to represent the essence of a true authentic Indian woman at the National Costume segment of Miss Universe 2020,' Adline said.
'(When) Zozi (Miss Universe 2019 Zozibini Tunzi) called out India, I walked with pride, love and immense support of my people in my heart.'
'I dedicate my first walk on the (Miss) Universe stage to my fellow Indians back home who are battling this deadly virus. We will walk past this with pride and our heads held high.'
Scroll down to see some of Miss India's beautiful moments from the beauty pageant.