Rejoice, Maharashtra's famous Misal Pav has made it to the list of World's Best-Rated Vegan Dishes!
Tangy.
Crunchy.
Fiery hot.
Misal Pav is really among the best offerings from Maharashtra's rich cuisine.
A unique combination of sprouted beans, spicy curry, topped with farsan, diced onions, green coriander, lemon wedges, and of course, a fresh ladi pav makes this a tantalising snack.
The curry swings between mild and extremely spicy depending in which region of Maharashtra you're having it at.
A staple in every Maharashtrian home, Misal Pav is now being named as the best vegan dish in the world, elbowing out other national favorites like Aloo Gobi and Rajma.
Mayur Sanap looks at the varieties of traditional misals you find in Maharashtra: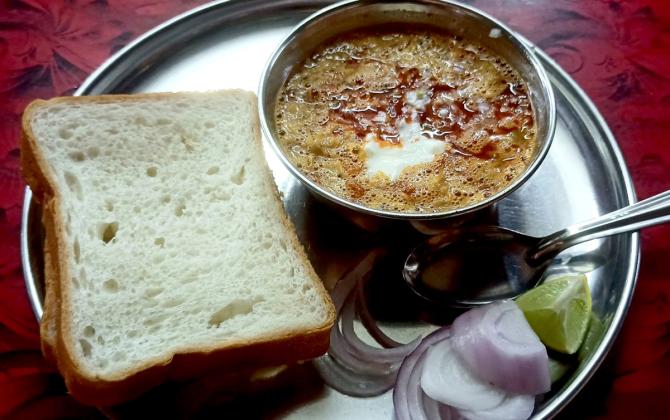 Kolhapuri Misal
Kolhapur bole toh... jhanjanit!
That reflects in the misal which is served in this southwest part of the state.
The bright red-coloured rassa or gravy gives it its signature zingy taste.
It is often referred to as the misal capital of Maharashtra. The main component used in this gravy is the local spice mix known as kanda-lasun (onion and garlic) masala.
What makes Kolhapuri Misal (above pic) unique is that the dish is served with thick slices of bread, not pav.
Misal Pav purists might diss this. But that's Kolhapur being flamboyant at you.
Nagpuri Misal
I belong to Nagpur, but this has to be my least favourite misal.
Why? Simply because it just doesn't taste like misal.
This is also to do with the fact that the Vidarbha region does not have a very strong misal culture as such.
The typical Nagpur-style misal has moth bean sprouts, farsan, tarri (curry) and it is topped with -- wait for it -- kande pohe!
The entire dish is then garnished with fresh grated coconut, which might appease some, but I have always downvoted this misal.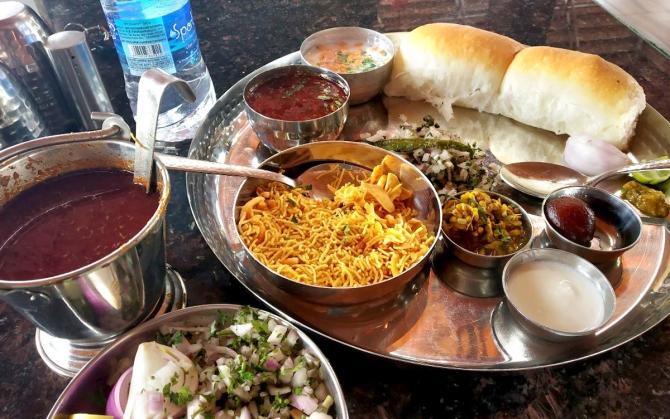 Puneri Misal (check out the recipe here)
The mildest misal of all, Puneri Misal (above) is popular for its distinct taste which has sweet and tangy notes.
It is more chatpatit (zesty) than jhanjhanit (spicy) and it is usually served in an elaborate thali in the city and its outskirts.
Unlike other misals, it contains poha mixture (mixture made from flattened rice) along with sprouted moth beans and curry.
The curry is called kat or rassa in this region of Maharashtra.
Khandeshi Misal
From the first glance you can tell it is Khandeshi Misal because of its distinct black-coloured rassa (curry).
The fragrant kala masala (black spice mix) is a specialty from the north-western region of the state and it packs a spicy punch that is not recommended for the faint-hearted.
Khandeshi Misal is a sizzling blend of kaala rassa, moth beans sprouts, farsan, and onion-lemon pav by its side.
Do try this with a glass of buttermilk or water by your side.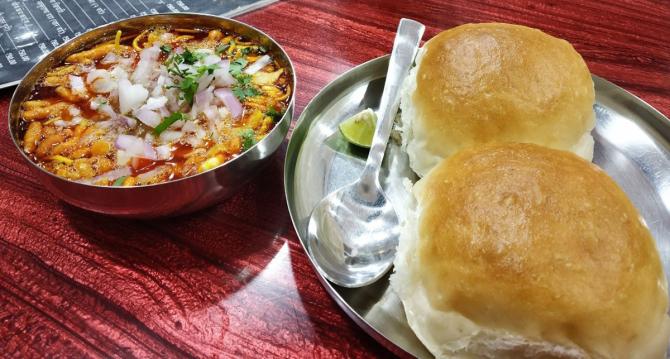 Nashik Misal
Nashik Misal (above) is again a typical affair of sprouted moth beans and farsan with curry and pav, but what makes the Nashik Misal slightly unique is the garnishing of sev (savoury vermicelli made from gram flour).
Also, the misal pav here is served with fried papad and dahi, which perfectly complements the spicy flavours of the dish.