There's more to the cuisine than just vada pav and kanda poha.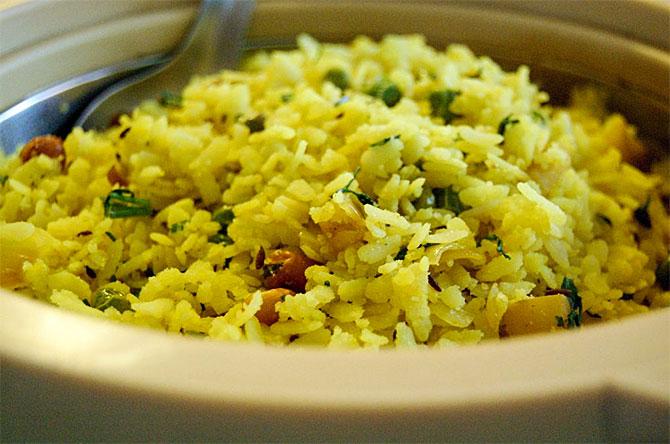 Kanda poha is a popular Maharashtrian breakfast choice.
Photograph: Kind courtesy Scott Dexter/Creative Commons
A hot serving of kanda poha or a plateful of spicy pav bhaji are what we generally associate Maharashtrian food with.
But hold on! The cuisine of this second most populous Indian state is much more than this.
To put it simply, the Maharashtrian or Marathi cuisine is an eclectic mix of fresh flavours infused in tastefully and traditionally made dishes, which are more of a ghar ka khana than being a rich or glamorous menu.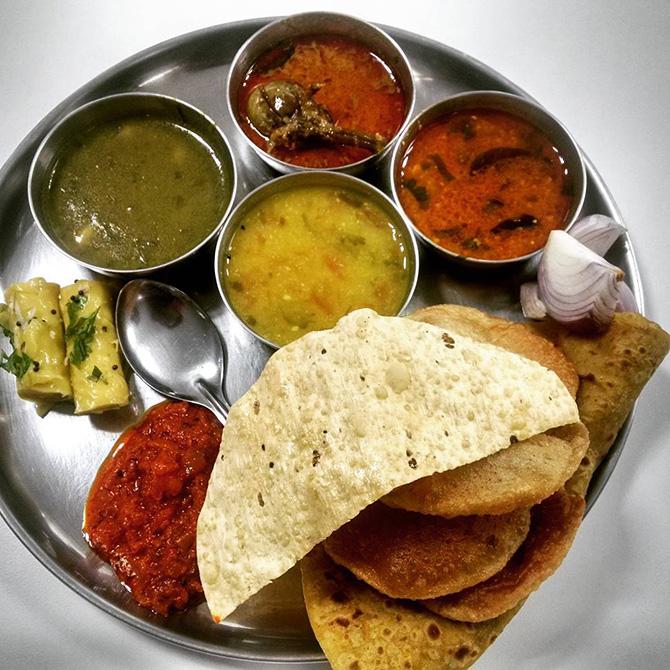 A Maharashtrian thali.
Photograph: Kind courtesy Rashmi Gupta/Creative Commons
The state boasts of a variety of items.
Assembling a Marathi thali is no mean task as it ideally comprises food from the cosmopolitan Mumbai, the spicy menu of Kolhapur and Malwan, and also savouries from Khandesh, Nagpur and Pune.
Celebrity chef Kunal Kapur feels thali is a term given by restaurants so it becomes easier for them to create a plate with basic dishes from a certain region and sell it with variations like vegetarian and non-vegetarian food.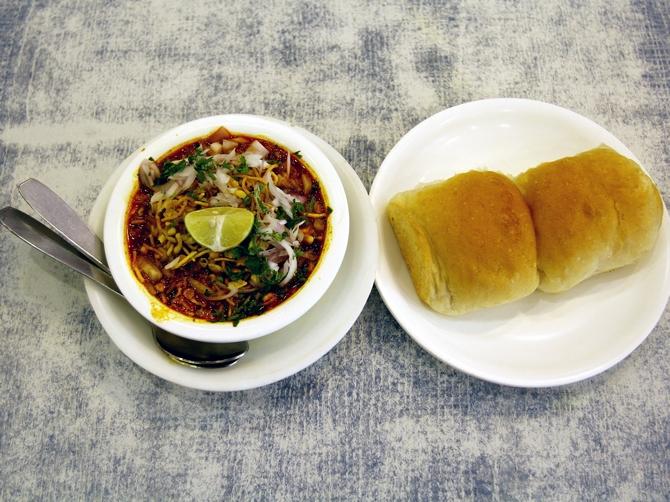 T

he humble misal pav served at Dadar's Aaswad restaurant was named the world's tastiest vegetarian dish 2016 at the Foodie Hub Awards in London.


Photograph:

Hitesh Harisinghani/

Rediff.com
"A thali belongs to a community and within Maharashtra there are different communities," Kapur, who hosts the Utsav Thalis of India show on television, tells PTI.
He says in Maharashtra, a Kolhapuri thali will have pandhra rasa (non-vegetarian white curry dish), tambda rasa (red curry) and other dishes unique to Kolhapur.
"Similarly, there's a Malwan region, the thali of which is made on special occasions. They have lot of seafood in it, whereas Kolhapuri has lot of mutton in it," he says.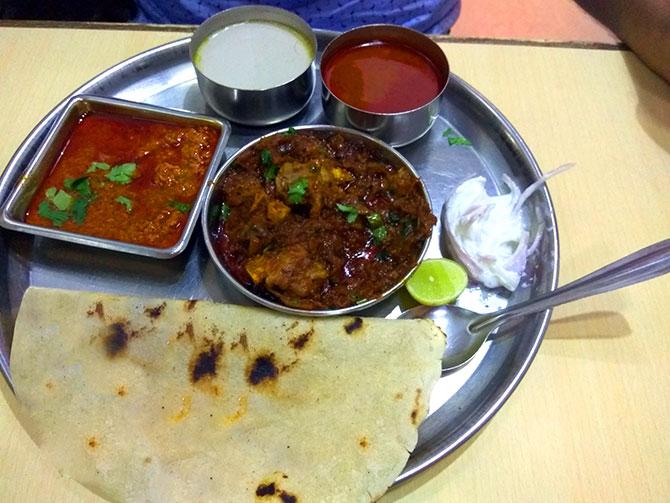 A Kolhapuri thali.
Photograph: Anita Aikara/Rediff.com
"There are sub-categories of thalis from every community, that makes and prepares it, and they are all collectively known as Maharashtrian thalis," he said.
"We have a lot of variety, but there certain tips which across the board everybody loves, like kombdi vada (chicken curry served with rice flour vade in Konkan region), which everybody relates that this is Maharashtrian. The dish is very reminiscent of Maharashtrian food."
Maharashtrian food also has pitla-bhakar (gram flour curry with rice flour or sorghum bread), zunka-bhakar (gram flour based dry dish) among the vegetarian options.
Food writer, author and television personality Kunal Vijaykar shares similar views, saying, "You can't categorise Maharashtrian cuisine" and one needs to taste the Malwani, Kolhapuri, Nagpur or Vidarbha thali to have an experience.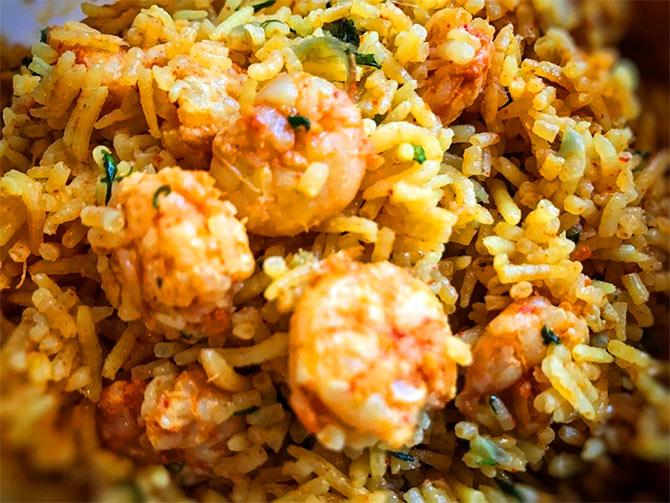 Delicious Kolambicha Bhaat, which is part of the Saraswat cuisine.
'

Thank you Chef Roopa Nabar for sending me this wonderful "Kolambicha Bhaat"! Just made my Sunday lunch!

#prawnbiryani

#pulao

#pilaf

#marathifood#saraswatcuisine,' Kunal Vijayakar captioned this pic.
Photograph: Kind courtesy Kunal Vijayakar/Instagram

According to him, a Maharashtrian thali will have some fish curry or prawn curry from the coast, sukka (dry) mutton with the tambda rasa, pandhra rasa from Kolhapur, food from Nagpur, the Saoji cuisine, which is very spicy, bhakri and varan bhat (yellow dal and rice) with ghee on it.
He says an ideal thali would also have usal (representing Brahmani food from Pune) made out of matki (moth bean sprout) or moong (bean) and some dry sabzi like potato, snacks like patrel (colocasia rolls with gram flour filling) and koshimbir -- made out of cucumber, and green chutney.
"That would be an elaborate Maharashtrian thali."
Kapur says Maharashtra, being a confluence of a lot of people and cultures, the USP of its food is the use of spices.
"It is not a bland cuisine, but a spicy one, and the prominent thing is Maharashtrians can't do without chilly," he says.
The use of coconut is also quite abundant, specially in the coastal areas.
"At the same time, I find Maharashtrian dishes to be quite rustic and simple.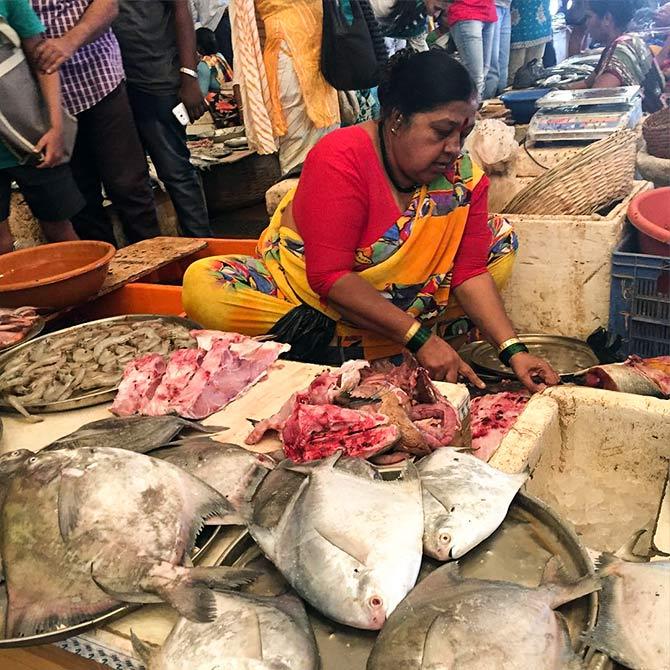 Kunal Vijayakar's pic of a

Sunday fish market at Alibaug.


Photograph: Kind courtesy Kunal Vijayakar/Instagram
"They are not refined, strained pureed sort of curries, they are coarse, very homely and very strong on flavours.
"Even a drink like a solkadhi or a kokum curry, it's very pungent," Kapur says.
There is also the unique and distinct cuisine of Maharashtra's "very small" Pathare Prabhu community.
"There is not a single Pathare Prabhu restaurant in the country or outside.
So, to enjoy a Pathare Prabhu meal, you have to know somebody and have it at their home.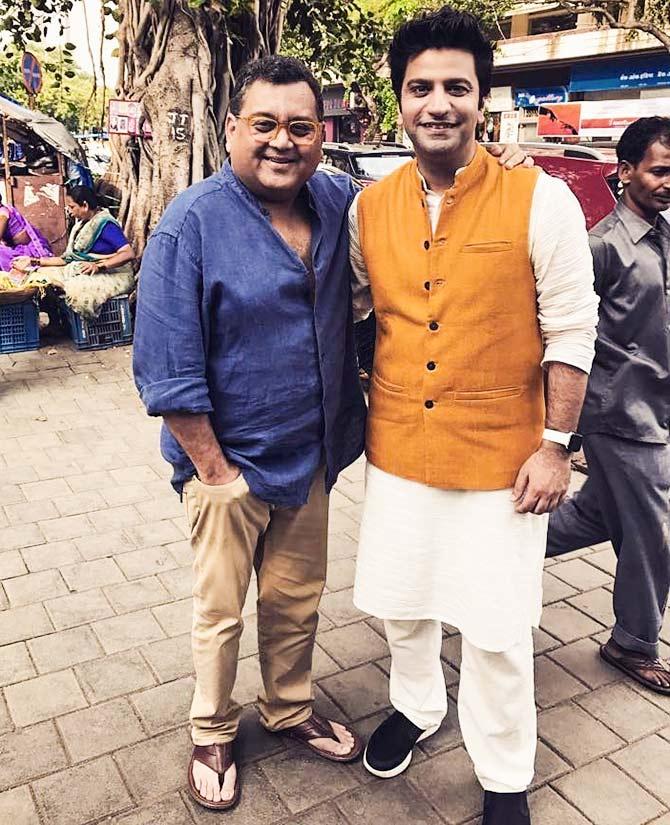 Kunal Vijayakar, left, hails from the Pathare Prabhu community.
'

It's was so awesome to run into

@KunalVijayakar

yesterday while exploring the flavours of Maharashtra,' Chef Kunal Kapur captioned this pic.


Photograph: Kind courtesy Chef Kunal Kapur/Instagram
That way Maharashtrian food is very very unique," he says.
Kapur went with Vijaykar, who hails from the Pathare Prabhu community, to the house of the latter's friend where they relished some unique recipes.
"There Kunal (Vijaykar) showed me how to cook a Pathare Prabhu pomfret, which they call thande tel ka tadka.
"They don't heat the oil, just marinate with everything, oil, add water and give a boil and it's done," Kapur says.
Vijaykar says in Maharashtrian cuisine, a lot of similarity is due to common use of masala and the difference comes from the region, like the coast has coconut, while the mountainous areas use more black masala.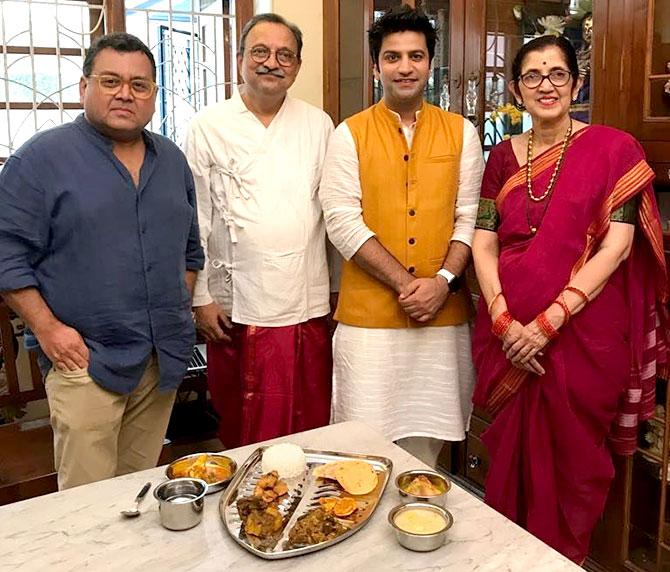 Chef Kunal Kapur went with Kunal Vijaykar to the house of the latter's friend where they relished some unique Pathare Prabhu community recipes.
Photograph: Kind courtesy Chef Kunal Kapur/Instagram
He says the food of his (Pathare Prabhu) community is largely based on the pardhi sambhar masala -- a sort of garam masala -- the primary ingredient in most of their dishes.
"Unlike other Maharashtrian foods, our food doesn't contain huge amount of coconut.
"There is huge use of garlic in and our dishes are very simple, not more than four ingredients, very simple to make and very tasty," he says.
"We have a dish called bhujana, it's a very simple dish you can make it with fish, potatoes or egg or prawns or wal, it's just four ingredients," he says.
"We are a small community, around 5,000 people in the whole world, still our cuisine is going strong and with social media spreading awareness about it, so there's a lot of interest in it and I am happy for it," Vijaykar says.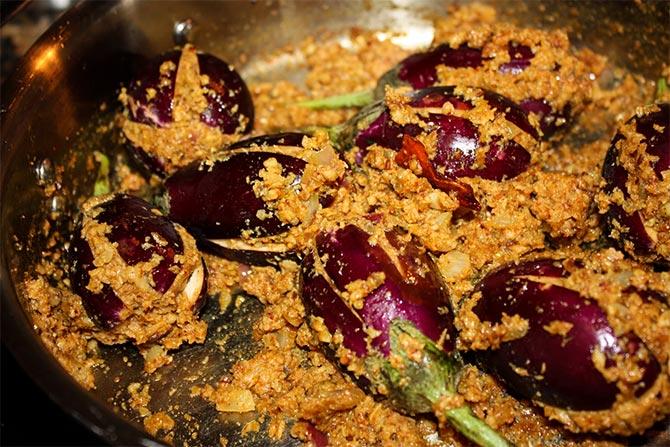 Sunny Pawaskar, who owns three restaurants serving Maharashtrian food in adjoining Thane, says they are trying to bring foods of the entire state, including western Maharashtra, Konkan, Khandesh, Marathwada and Vidarbha, on one platform since he feels these cuisines are not promoted much.
Earlier everybody used to associate Maharashtrian food with vada pav, misal pav, thalipeeth, sabudana khichdi.
People still know only a handful of dishes like bharli vangi (stuffed eggplant), Kolhapuri mutton, while Khandesh, Marathwada and Vidarbha regions are almost untouched, he says.