Misal Pav is the world's tastiest vegetarian dish.
But you probably knew that! No? Read this.
We'll wait for you to finish.
Done? Great!
Now here's how you can make it at home: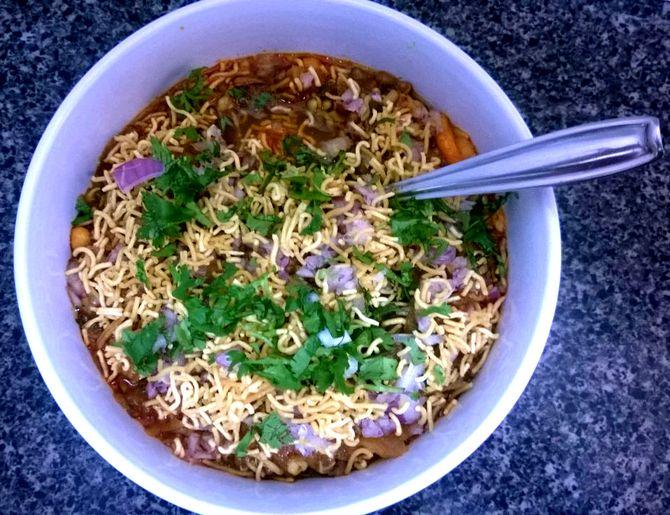 Rediff reader Priya Joshi responded to our invitation to share misal recipes.
She brings to you this recipe of the Puneri Misal.
What differentiates Puneri Misal from the other variants, she says, is the addition of poha (or puffed rice) in it.
And this is how you make it:
Ingredients:
For the Poha:
Oil
A pinch of asafoetida
1/2 tsp turmeric
1 boiled potato cut into cubes (optional)
10 fistfuls of poha
Salt as per taste
Lemon juice as per taste
For the kaat (curry):
10 tbsp oil
1 tsp mustard seeds
A pinch of asafoetida
1/2 tbsp red chilli powder
4 tsp misal masala
3 large or 4 medium onions (finely chopped)
2 large tomatoes (finely chopped)
Water
2 cups sprouted moth beans (soaked overnight and pressure cooked)
Salt to taste
For the garnishing:
10 tbsp farsan
10 tbsp sev
Coriander leaves
Finely chopped tomatoes and onions
Method:
For the poha
Keep aside the poha after washing and draining it.
In a pan, add oil, asafoetida, turmeric and potatoes.
After a while, add the poha.
Saute the mixture for a while and then add salt and lemon juice as per your taste.

For the kaat:
In a pan, heat ten tablespoons of oil. Add mustard, asafoetida, red chilli powder and misal masala to the oil.
Add the onions and fry them till they turn pink in color. Add tomatoes and saute them.
After the above is done, add water to the mixture.
At this point, oil will begin to float on water. Add the cooked moth beans to the pan and bring to a boil.
Assembly:
In a bowl, add the farsan and poha. Now, add the curry to it.
Sprinkle sev and garnish with chopped tomatoes and onions.
Serve it hot with bread or pav.

Note:
If you are health conscious, you can reduce the amount of oil used for making the poha and kaat.
Instead of poha, poha chivda can be used as a good substitute.
Dry coconut powder can also be added to thicken the kat in case it is too watery.
Every home has its unique misal recipe.
Are you as mad about misal as we are? Share your misal recipes!
Email them to getahead@rediff.co.in (subject line: 'Mad about misal') and we will publish them on Rediff.com.
Don't also forget to add a picture of your creation to go with the recipe!
> More food features and recipes here
Photograph courtesy: Priya Joshi